Reacher's Alan Ritchson Wasn't Sure He Could Attain Jack Reacher's Physicality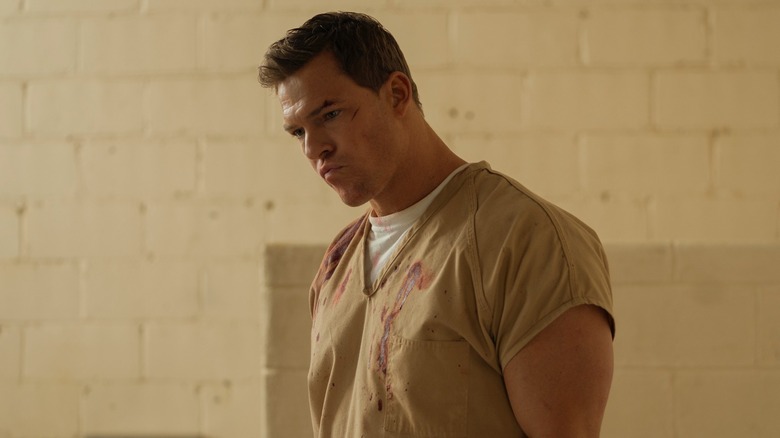 Keri Anderson/Amazon Studios
When first approaching the titular character in Amazon Prime's "Reacher," Alan Ritchson had some doubts about his capabilities. This may be hard to believe since his version of Reacher practically pops off the page of Lee Child's book series. Differing from Tom Cruise's "Reacher" films, many fans feel — as well as Child himself — that Ritchson is more faithful to the book character. 
Towering at over six feet, "The Hunger Games" actor exudes all the massive force that was missing from the feature films. But the look alone wasn't enough to convince Ritchson, who became concerned after seeing the choreography from the prison fight scene. Coordinating with stunt designer Buster Reeves, Ritchson relayed to the Empire podcast that he wasn't sure he could pull off the fight.
"You know, the first time I saw [Reeves] show me the fight design for the prison fight, that absolutely nuts five-on-one fight in the prison bathroom, it was hard to watch," Ritchson said. "I was like, 'I'm not sure I can move like that'. And I'm not a stranger to action sequences. I've spent tons of time doing fight choreography, and this was the first time that I was like, 'Dude ... I don't know how you hit him with that many parts of your body.'" Thankfully, Reeves rightly assured the actor that they would achieve the scene, even though Ritchson had some additional challenges to contend with.
Jack Reacher's mass didn't make the stunts any easier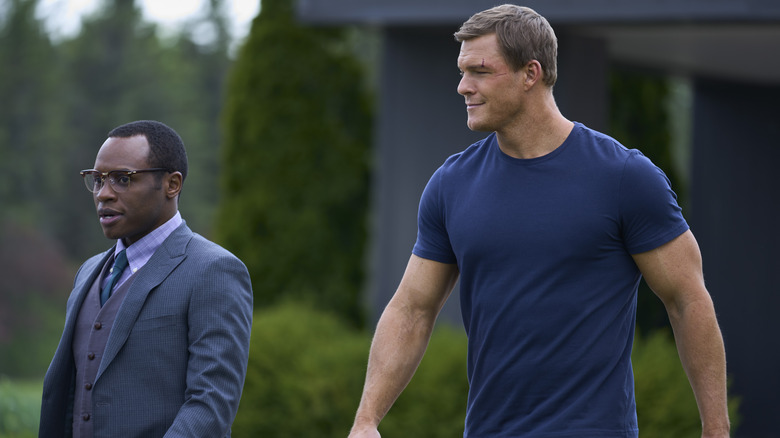 Shane Mahood/Amazon Studios
More than acquainted with fight choreography, Alan Ritchson has more than proven himself ahead of "Reacher" Season 2. With his natural height as an added bonus, the actor has had experience as a bloodthirsty career in "The Hunger Games: Catching Fire." But as much as the odds were in his favor, getting to the impressive fighting mass that Reacher has was a labor of love.
"I had to eat a lot of pizza to bulk up for this role ... I started working out a little more and stepping into that famous Reacher silhouette. And then the fight training was another level," Ritchson told Variety. The actor's training with Reeves was just the tip of the iceberg. While filming the series, Ritchson discovered the difficulties of portraying the massive character. "Reacher's a heavy yoke to wear, he left me a little wounded. I broke a joint, my AC joint in the shoulder. I had surgery when we wrapped ... [And] I tore an oblique in a fight on set." 
However brutal his experience was on set, Ritchson never let it impede his performance. Feeling all the better for his experiences, he went on to say how he was looking forward to more opportunities to play the character. Reacher will be traveling to a new location in the next season and is sure to bump into more conflicts where he will need to use his strength.