Reacher's Alan Ritchson Says He Needs A Twin To Handle The Exhausting Shooting Schedule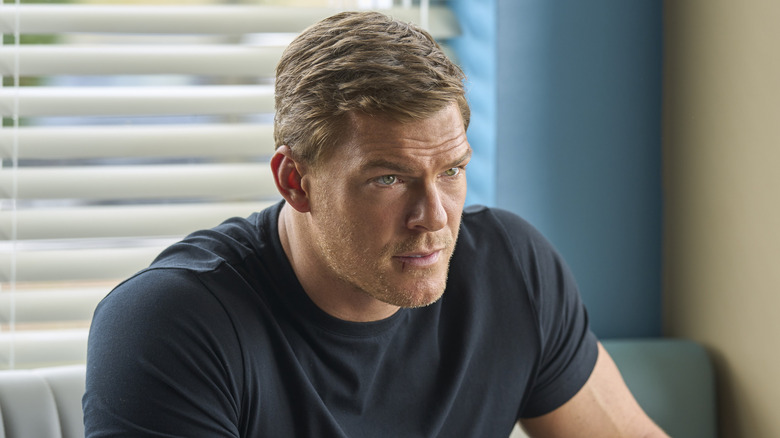 Amazon Prime Video
Lee Child's literary creation Jack Reacher has gained a big fanbase across the world since he made his debut in the 1997 novel "Killing Floor." The former Military Police officer travels across the country, regularly stumbling across mysteries and clashing with criminals. Casting this beloved character has never been an easy task. Tom Cruise played Reacher on the big screen, but book fans didn't like him in the role "because they had built up a very clear image of what Reacher should look like," Child told Metro. In the books, Reacher is a big, imposing man — which is exactly what Alan Ritchson is.
Having someone who fits the description of Jack Reacher in the main role is just one of the many differences between the movies and the Amazon TV series, which has scored rave reviews. Ritchson came to the project after working on the DC superhero series "Titans," in which he plays Hank Hall (aka Hawk). However, nothing prepared him for the level of work required for "Reacher." He revealed how exhausting the show has been in a behind-the-scenes featurette. "Reacher needs an identical twin," he joked. "I would have loved to have a twin on set. It was a tough schedule."
Ritchson eats a lot of food on set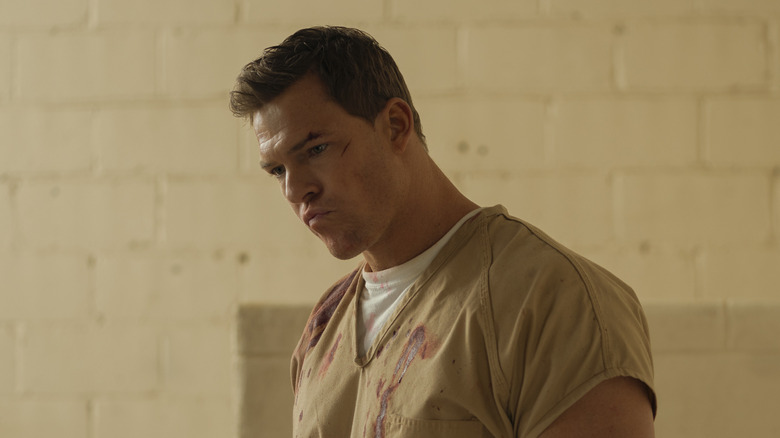 Keri Anderson/Prime Video
Ritchson revealed that the grueling schedule is the worst part about making "Reacher," but what is his favorite part? "In one word I would say food is my favorite thing," he said in the Prime Video featurette. "Reacher eats like no other character I've ever played. I should say it's great until somebody starts forgetting their lines, and then there's like a calorie overload." Considering there's a big fight scene in every episode, the actor needs as many calories as he can get to keep up his energy. Luckily, he's a big foodie in real life. In fact, he can usually be found eating something between takes. "I'm by the craft services because, like I said, I love food."
Ritchson went on to reveal that a lot of work went into making "Reacher" the most faithful adaptation of the books yet, noting that a lot of stuff from "Killing Floor" made it into the first season. This was no doubt pleasing to Lee Child, who has gone on record as saying that he was very pleased when the jacked actor won the role. "I think that the size thing is important to certain parts of the narrative," the author told Metro. "Reacher has got to scare people and you can do that so much easier with one glance of this huge animal rather than a normal-sized actor." Fans of Ritchson will be happy to know that "Reacher" Season 2 debuts in 2023.