Best TV Movies Based On Popular Shows, Ranked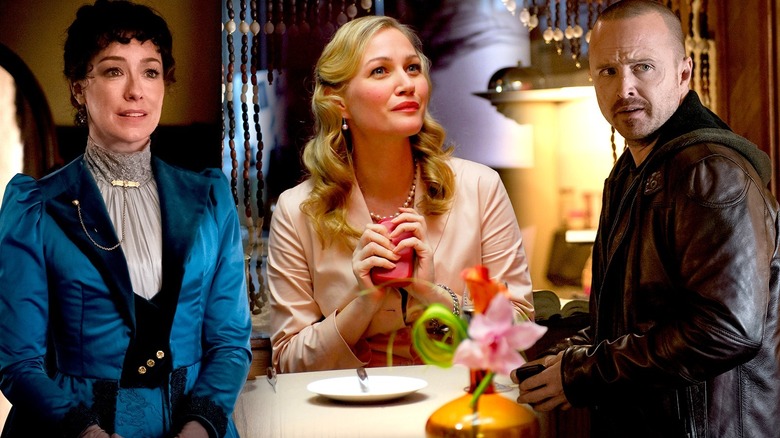 Static Media
Even the most gratifying TV finales are bittersweet because they spell the end of new content for a popular series — or so viewers believe. Of course, the age of streaming and on-demand services makes it easy to re-watch a show, but this doesn't always satisfy audiences' nostalgic cravings. Sometimes, a series leaves such an enduring legacy that it demands short-term resurrection in a new medium. Enter the TV movie — a chance for beloved television characters to return to the small screen for one more adventure.
Although these films certainly add freshness to their respective universes, their most important function is fan service. Viewers miss their favorite shows, so creators give them a welcome taste of the familiar. In addition, the best TV movies feature elements fans wish had been part of the original show, such as improved storyline conclusions or characters facing situations the series never explored. These films thus become memorable entries in their characters' lives and rightfully earn a place in the legacy of their franchises.
14. Dead Like Me: Life After Death
Matching the original series' tone is crucial to TV movie success, but many fail to hit the mark. For example, although 2009's "Dead Like Me: Life After Death" is a decent epilogue for the inventive Showtime series, it loses some of its endearingly dark comedy. Instead, the film tells a new story that feels similar to the show but doesn't command the same level of attention. This movie received a C- grade from AV Club because of its inability to live up to the show's promise, noting that the absence of several original cast members may have contributed to its downfall. 
Like the series before it, "Life After Death" focuses on George Lass (Ellen Muth) and features compelling first-person narration throughout. In addition, it reunites her with a few other memorable characters and introduces new faces to the lineup, including Cameron Kane (Henry Ian Cusick), a new boss who shakes things up in the world of death. However, thanks to its tonal issues and humdrum plot, Reel Film Reviews explains that series fans will likely find this TV movie more enjoyable than those who haven't already fallen in love with George and the rest of the reapers.
13. The Love Boat: A Valentine Voyage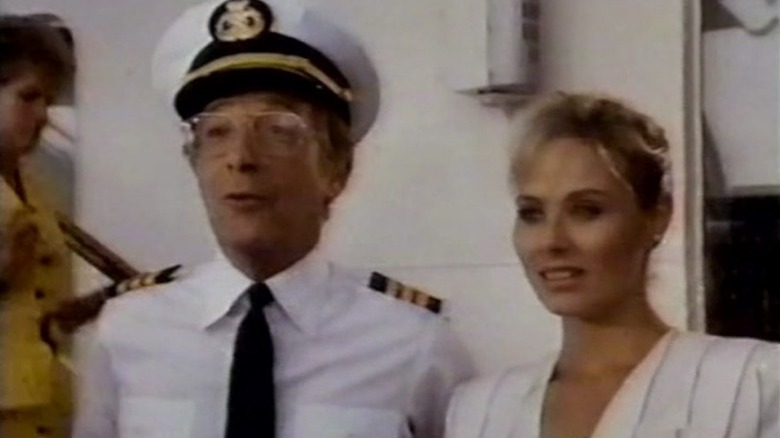 CBS
"The Love Boat: A Valentine Voyage" represents one of the things TV Movies do best: it reunites all of the series' best characters and gives believable, likable updates about their lives. This movie initially aired in 1990 — four years after the series finale. The voyage featured in the film is a sad occasion for Captain Merrill Stubing, who returns to the Bermuda hotel where he and his late wife enjoyed their honeymoon. Most of the other regular characters also return, and their chemistry is as amusing as it was on the show.  
However, as one IMDB user's review describes, the movie differentiates from the series in a way that diehard fans may not enjoy. Those who watch this movie with the hopes of a lighthearted sitcom mood may be disappointed by some of the dramatic turns the film takes. Namely, it features more violence and onshore action than the series episodes. As the reviewer explains, "A Valentine Voyage" begins not with vacationers boarding the Love Boat but with a jewelry store robbery. While this choice adds some intrigue to the plot, it also detracts from the more carefree tone of its source material. 
12. Burn Notice: The Fall Of Sam Axe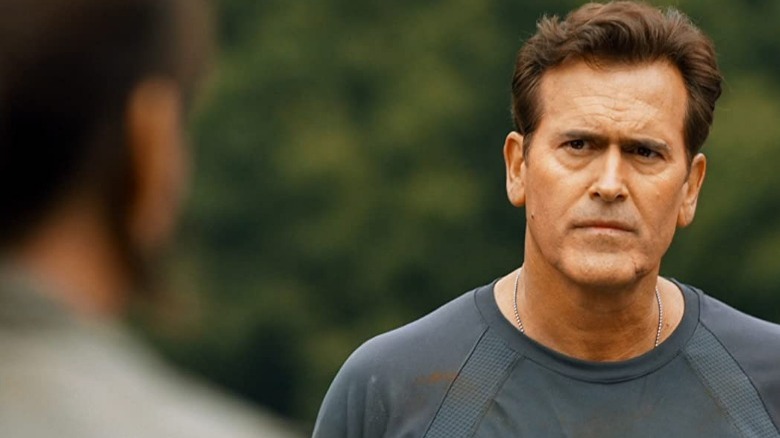 USA Network
Unfortunately, taking a well-known show in a different direction for a TV movie sometimes comes with sacrifices. For example, the series version of Bruce Campbell's "Burn Notice" character, Sam Axe, is everything a CIA operative like Michael Western (Jeffrey Donovan) could want in a best friend. He may seem like an easygoing slacker at times, but he has a wealth of military experience and helps give Western a sense of morality. Although technically a supporting character, Axe frequently steals the show thanks to the comic relief he adds to the series.
The 2011 TV movie "Burn Notice: The Fall Of Sam Axe" puts this charismatic character at the center of the action and gives viewers a refreshing look at one part of his professional past. Campbell's cast mate Jeffrey Donovan directed the film, and the original series showrunner Matt Nix was one of its writers. Sadly, as a review from Uproxx explains, this movie doesn't fully deliver the Sam Axe that viewers know and love. This version of the wayward but talented character is more straight-laced and rigid than his series counterpart, which may leave fans craving Axe's signature sarcasm and snappy jokes.
11. Diagnosis Murder: Without Warning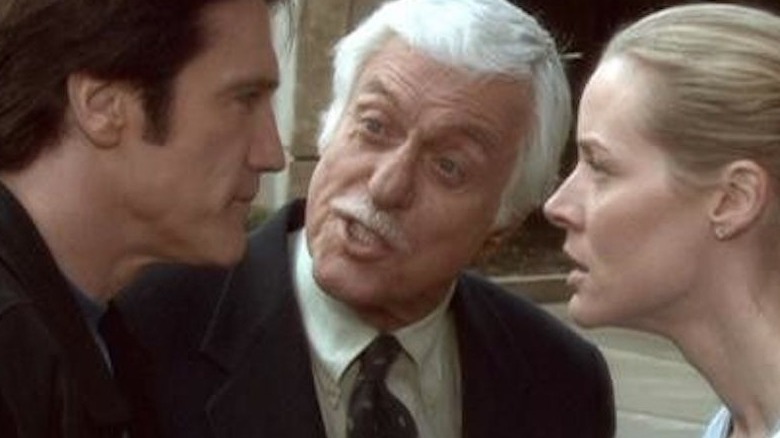 CBS
"Diagnosis Murder" was so wildly popular in the 1990s that it inspired not one, but five TV movies. The show was a family affair, with three generations of Van Dykes appearing together. First, of course, Dick Van Dyke took the helm as Dr. Mark Sloan and his real-life son Barry played his onscreen son, Lieutenant Detective Steve Sloan. Barry's son, Shane, also joined the cast as the recurring character Alex Smith starting in Season 4. All three actors also appeared in the full-length TV movie "Diagnosis Murder: Without Warning."
This 2002 release is the last film in the series and aired a year after the original series finale. It features a harrowing medical mystery in which Dr. Sloan must determine the source of a lethal virus impacting migrant farm workers. The storyline isn't inventive but includes all the elements that "Diagnosis Murder" enthusiasts love about the original series: intrigue, amusing banter, and the heroes saving the day. However, as explained in a RadioTimes review, the one unfortunate aspect of this TV movie is that its central case needs more suspense. Audiences expect a measure of predictability from procedural shows, but the TV movie format could have used a little more mystery.
10. Walker, Texas Ranger: Trial By Fire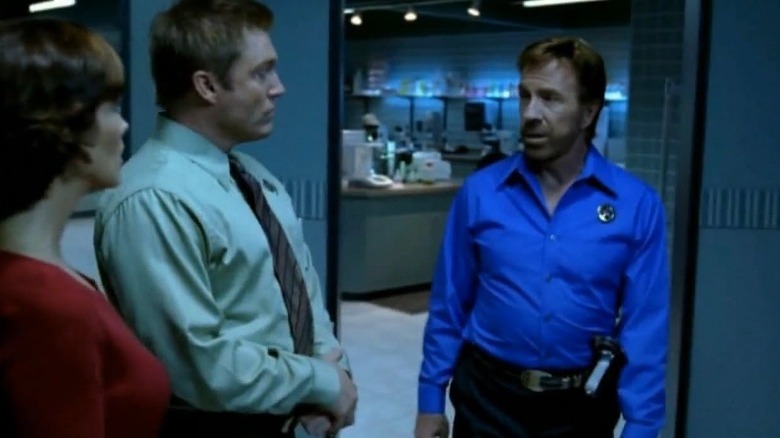 CBS
"Walker, Texas Ranger" enjoyed a nine-season run before its finale in 2001. Four years later, fans saw their favorite ranger back in action again for the TV movie " Walker, Texas Ranger: Trial By Fire." Of course, Chuck Norris returned in his title role, but the project also featured another member of the Norris family: his younger brother, Aaron, who served as director and producer. Considering the younger Norris' history of directing and producing episodes of the hit series, reuniting with his brother for this project made perfect sense. 
In true Texas ranger fashion, Walker relentlessly tracks criminals and saves the day just in time. This film features plenty of intense action scenes for viewers to enjoy but also takes things further. In a promotional interview for CBS (via YouTube), the cast revealed that forensics experts and Korean cultural representatives acted as behind-the-scenes consultants to add authenticity to the movie. "Walker, Texas Ranger: Trial By Fire" is not a film for viewers who enjoy complex plots, but as The Movie Scene notes, it's a great way for true Walker lovers to watch Chuck Norris doing what he does best in this popular television role. 
9. Prison Break: The Final Break
In the spirit of giving fans what they want, "Prison Break: The Final Break" starts with a wedding. Michael Scofield (Wentworth Miller) and Dr. Sarah Tancredi (Sarah Wayne Callies) tie the knot, but happiness is never consistent in this franchise. The film turns the tables after Tancredi's arrest for the murder of Scofield's mother, which she committed during the series finale "Killing Your Number." Instead of trying to break his brother out of prison from the inside, Scofield now finds himself racing to save his new bride.
As described in a 7(M) Pictures review, one of this movie's biggest wins is its return to the style that made the show so compelling in its early seasons. The action scenes are enjoyable, and the stakes are high enough to intrigue viewers. However, "Final Break" isn't an epilogue or even the actual end of the characters' stories. Instead, the film's storyline occurs midway through the events of the series finale, filling in the multi-year time jump that preceded the group's exoneration. Although exploring this period provides more "Prison Break" material for loyal fans, the series finale still felt complete without it. This film may not have been entirely necessary, but it's still fun to watch.
8. Stargate: Continuum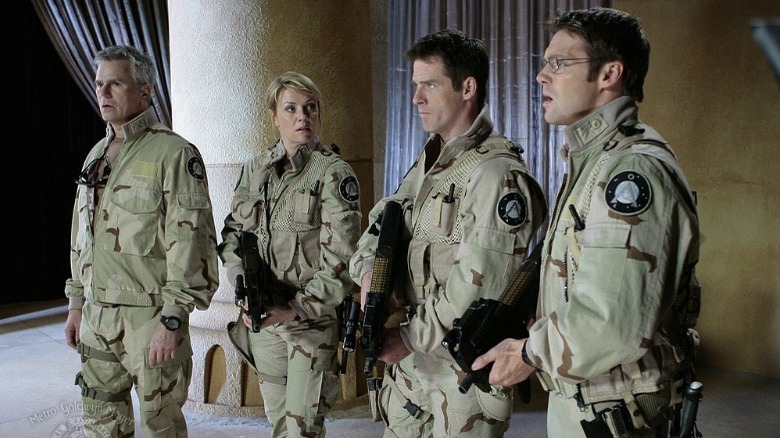 Metro-Goldwyn-Mayer
The "Stargate" universe started as a full-length feature film and later spawned a sprawling franchise complete with television shows, web-based miniseries, and, of course, several TV movies. "Stargate: Continuum" premiered in 2008, a year after the final episode of the flagship TV series "Stargate: SG-1." The film features "MacGyver" alum Richard Dean Anderson reprising his role as Colonel Jack O'Neil, following the team as they try to keep the Stargate's creation from being wiped from history. The team achieves its ultimate goal and keeps the universe safe from another evil plot — precisely what audiences would hope to see. 
A critic for Empire awarded this TV Movie three out of five stars, calling it a somewhat mundane feature that nevertheless brings the original series to a respectable conclusion. The balance of action and exposition is enjoyable enough. Still, the tension level isn't quite as high as it could be for a story focused on preserving the very existence of the stargate and the team itself. It's a worthwhile movie for diehard enthusiasts who want to see one more chapter of the original series story, but it may not be a good choice for "Stargate" novices. 
7. Rescue From Gilligan's Island
In 1978, fans of the unlikely sitcom "Gilligan's Island" finally got what they wished for after waiting 10 long years. Whereas the series finale leaves the castaways stranded on the island, the TV Movie "Rescue From Gilligan's Island" tells the story of their journey back to civilization. The movie's events occur fifteen years after the castaways first washed up on the island's shores. Fittingly, it treats the rescue like a breaking news report and preserves some of the original series's lovable, somewhat cheesy humor.
Although "Rescue From Gilligan's Island" is a comedy, it demonstrates a problematic part of the castaways' new reality: adjusting to onshore life after so many years in isolation. For example, Ginger Grant (Tina Louise) is taken aback by how much the world of Hollywood has changed when she takes on her first post-rescue role. Overall, the story isn't earth-shattering, but it doesn't have to be. Instead, this TV movie is a perfect example of how show creators can use this medium to give audiences the closure they desire after cliffhanger series finales. Even if the castaways don't find a perfectly happy ending, the film is a gratifying epilogue to their stories.
6. MacGyver: Trail To Doomsday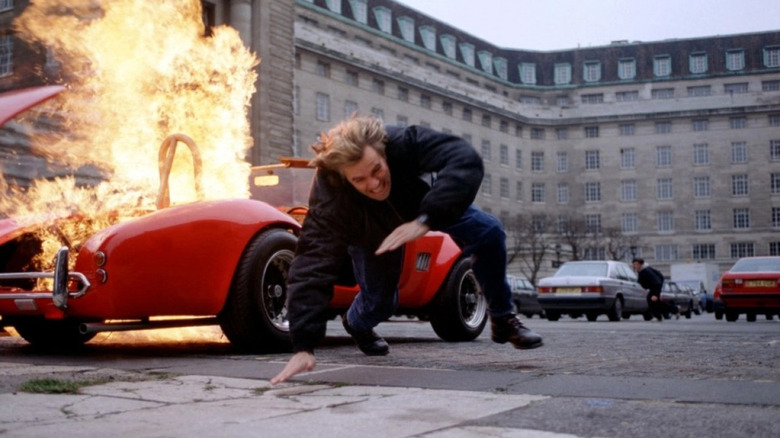 Paramount Television
"MacGyver: Trail To Doomsday" isn't the only movie based on the beloved series, but it's one of the most action-packed. This film was billed as the resourceful secret agent's last adventure and brought MacGyver face to face with the KGB. Unlike his usual turf, the movie opens with MacGyver driving a convertible around London. Of course, the agent looks as composed and in his element as ever initially. Still, this film catapults him into a very high-stakes enterprise involving a nuclear bomb — easily the most significant threat he ever faced.
The MacGyver Project highlights this TV movie's acting and production value as its most outstanding features, primarily because of the new location. However, the tone of "Trial To Doomsday" is decidedly darker than most of the original series, which some fans may not enjoy. This movie is also noteworthy because MacGyver breaks one of his only major rules. Whereas he solely relies on his wits and hand-to-hand combat skills during the show, he resorts to using a gun in part of the film. MacGyver's anti-gun stance made him unique among the action heroes of his day, so some viewers may find this scene disappointing.
5. Murder, She Wrote: South By Southwest
TV movies are often at their best when they focus on paying a special homage to their source material. With a title reminiscent of Alfred Hitchcock's "North By Northwest," viewers can rightfully assume that "Murder, She Wrote: South By Southwest" is going to bring adored mystery writer Jessica Fletcher (Angela Lansbury) an especially thrilling conundrum. It is the first of four TV movies that took inspiration from the popular show and gets the film series off to a solid start. Most notably, the movie offers a tribute to both Fletcher and Alfred Hitchcock, giving mystery lovers a glimpse at how these two worlds could work together. 
The film's story centers around a train journey, (a common symbol in Hitchcock films) balancing many intriguing twists with Fletcher's intelligent, dry humor. The writer-turned-sleuth is her usual charming self, and her ability to build a rapport with everyone she meets again comes in handy as she works through this complex case. The film gives series fans precisely what they love and expect from Fletcher, and the Hitchcock-inspired story elements pair well with the style of "Murder, She Wrote."
4. Babylon 5: The River Of Souls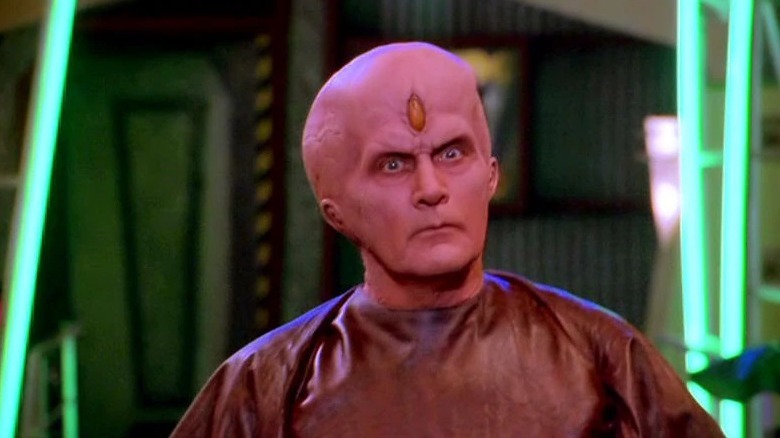 TNT
Whereas most TV movie projects grow out of the popularity of a series, the "Babylon 5" journey began in reverse. The famous science fiction show's pilot was actually a TV movie, which performed well enough with viewers to kick-start the five-season series. The franchise includes six TV movies, with "Babylon 5: The River Of Souls" premiering in 1998. In an interview, producers J. Michael Straczynski and John Copeland (via YouTube) explained that the popularity of the series soul hunter race partially inspired the film's story.
Martin Sheen appears as Soul Hunter, a powerful being that can harvest and preserve souls even against people's will. Sheen's role is one of the film's most compelling elements because his personality is far more nuanced than one might expect from a character in a late-1990s TV movie. However, according to Ain't It Cool News, the film's true power is its thorough exploration of spirituality and a surprising amount of humor. Interestingly, several of the main characters from the television series are absent from "The River Of Souls," including Captain Sheridan (Bruce Boxleitner). Nevertheless, seeing a different side of the franchise's expansive universe makes up for these absences.
3. El Camino: A Breaking Bad Movie
Many viewers likely believed that "Breaking Bad" told every possible facet of the Jesse Pinkman (Aaron Paul) story, but 2019's "El Camino: A Breaking Bad Movie" proves them wrong. Instead of focusing on Walter White (Bryan Cranston), this movie follows Pinkman as he runs from the Brotherhood. As a result, fans of White's right-hand man finally get to see their favorite character take center stage and witness the full toll his years as a meth tycoon have taken on him. The Pinkman of "El Camino" is older and wiser, but he still retains the lovable personality traits that endeared him to viewers in the original show.  
"El Camino: A Breaking Bad Movie" finds its greatest strength in its ability to please series fans and still function as a standalone film. The movie serves as an epilogue and features many elements audiences loved from the original show, such as a memorable cameo from Heisenberg himself. However, its plot is also simple enough for a "Breaking Bad" newcomer to follow. The nuanced relationships between some characters may not be as compelling without the series' backstory, but it's still an entertaining self-contained TV movie. 
2. Exiled: A Law & Order Movie
"Exiled: A Law & Order Movie" premiered in 1998 and marked Detective Mike Logan's (Chris Noth) return to the franchise after being demoted and transferred to Staten Island. As he unravels the murder of a prostitute, Logan journeys back to his home precinct in Manhattan and earns a small measure of redemption. Instead of focusing on his hot temper like in the original series, the film lets Logan behave like a seasoned detective and demonstrate some surprisingly impressive sleuthing skills. 
However, for longtime followers of the franchise, the biggest draw of this film is likely its cast. Fan-favorite detectives Rey Curtis (Benjamin Bratt) and Lenny Briscoe (Jerry Orbach) are in attendance, as well as Sam Waterston's ever-popular character, Jack McCoy. Even "SVU" star Ice-T appears although the shady character he plays is a far cry from upstanding Detective Tutuola. The new characters the film introduces aren't quite as compelling, but most are believable enough to blend with the more well-established characters. 
1. Deadwood: The Movie
Sometimes, a TV movie serves as an even more satisfying conclusion to a show than its series finale. For example, although "Deadwood" went off the air nearly two decades ago, the 2019 TV movie of the same name strikes an enviable balance between reminding fans what was great about the show and providing just enough new material for an enjoyable epilogue. In addition, the film's events take place ten years after the series finale, mimicking the time audiences had to wait for fresh material for this series.
A review from Empire awarded this movie four out of five stars and explains that "Deadwood: The Movie" plays more like a short fourth season than a proper film, but that's precisely what makes it so worthwhile for series devotees. Its simple plot is the ideal platform for a reunion of all the most popular characters, and the movie packs in plenty of thrilling events that bring most of the series' storylines to a more fitting close. But, more importantly, the film accomplishes something rare for TV movies: it inspires loyal viewers to rewatch the series and invites new audiences to dive further into the "Deadwood" universe.