Ghostbusters: Afterlife's McKenna Grace Suffered From A Health Condition On Set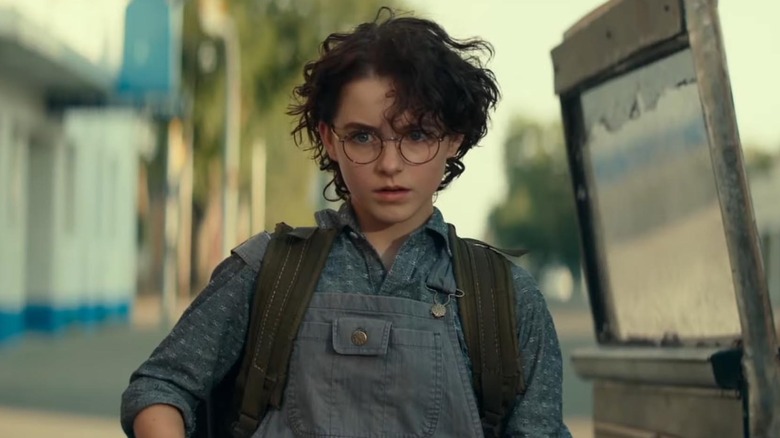 Sony Pictures
The "Ghostbusters" franchise has always appealed to a younger audience, as evidenced in particular by a seven-season animated series, and "Ghostbusters: Afterlife" was another attempt at reclaiming the magic of the original 1984 film and its 1989 sequel. This time the emphasis was on a pre-teen female lead, Phoebe Spengler (Mckenna Grace), and her older teenage brother Trevor (Finn Wolfhard). But Grace herself faced challenges while filming the role — including dealing with a potentially disabling ailment known as scoliosis. 
"Afterlife" follows Egon Spengler's (Harold Ramis) daughter and her kids as they move on after his death; among his grandchildren is Phoebe, the young adventurer who takes over where her grandfather left off. Connecting the original characters who made "Ghostbusters" so memorable to a new generation of paranormal adventurers potentially helped this 2021 follow-up reach a whole new audience for the storied genre of horror comedies. But Grace made a decision to largely avoid wearing a back brace during the shoot, which left the young star undergoing surgery to address a growing spinal curvature.
A decision while filming Ghostbusters: Afterlife led to major consequences for Grace
Grace opened up about the condition — which she admittedly hid while working on other projects — and her positive progress in a late 2022 interview with NME. According to Grace, there was eventually only so much she could do to cover up a spinal curvature. "Cinematographers and DPs [directors of photography] would always be like, 'Mckenna, you need to stand up straight' or 'Mckenna, you're leaning on one foot,'" she explained. 
Working on "Afterlife" proved to be difficult for the actress. She revealed that despite initially donning a back brace during filming to correct the curve as much as possible, the idea of wearing one throughout the production's long days and nights was just too exasperating. Instead, she faced an even more serious decision after the shoot wrapped.
Surgery proved to be the only way to stop a growing curvature that could have endangered her life over time. "I would have been past a 60-degree curve, and then it could have started impacting my lungs and stuff," she said of the long-term diagnosis. The procedure was a success and Grace reports that her curvature is down to six degrees. It's an amazing start to the next chapter in a career that already includes roles in "The Haunting of Hill House,"  "Malignant," and, of course, the sequel to "Afterlife," which began filming in March 2023 under the code name "Firehouse." Grace is set to reprise her role alongside "Afterlife" co-stars Paul Rudd and Ernie Hudson.