Descendants 4 Reunites Brandy And Paolo Montalbán's Cinderella And King Charming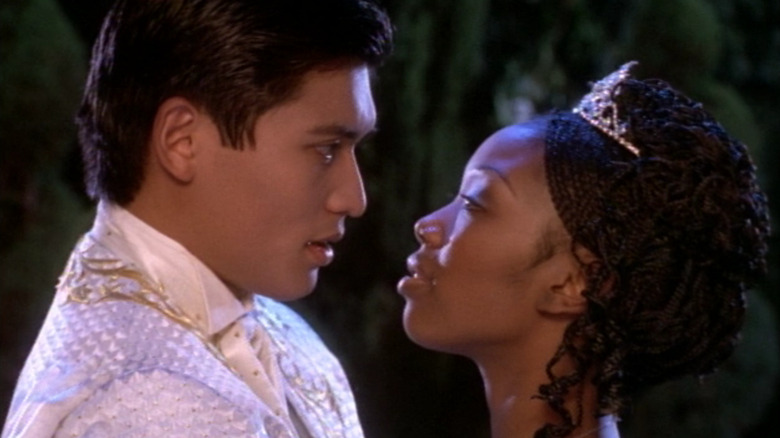 ABC/Disney+
Although plenty of Disney fanatics still claim the original animated "Cinderella" as the definitive adaptation of the beloved fairy tale, for many fans the story was told best in the 1997 television musical "Rodgers and Hammerstein's Cinderella." The star-studded musical features Whitney Houston as the Fairy Godmother, "Seinfeld's" Jason Alexander as Lionel, Whoopi Goldberg as Queen Constantina, Paolo Montalbán as Prince Charming, and acclaimed singer-songwriter Brandy as the titular would-be princess Cinderella.
Now, more than two decades after they starred together in "Cinderella," Paolo Montalbán and Brandy are reuniting for another live-action Disney television film titled "The Descendents: The Rise of Red" — in which they reprise their roles as "King Charming" and Cinderella from the original musical. The "Descendants" movies take place within the world of Disney animated classics like "Beauty and the Beast" and "Cinderella" and follows the children of iconic Disney characters on new adventures throughout this fantastical world.
Indeed, "The Rise of Red" is set to focus on at least one child of Cinderella and King Charming named Chloe (Malia Baker) who is forced to stop a coup within her parents' kingdom — hence the return of Brandy and Montalbán for this brand-new musical.
Both Brandy and Paolo Montalbán were very emotional about this reunion
As excited as fans of the 1997 "Cinderella" might be to see Brandy and Paolo Montalbán reunite after so long (as the same exact characters, no less), it seems like the duo might be even happier to be working together once more.
In a behind-the-scenes clip posted to the @disneydescendants on Instagram, Brandy and Montalbán can be seen hugging and holding their hands over their hearts — looking thoroughly grateful and moved to be together once enough. It's not every day that you get to reprise a character you played more than 20 years ago, and it's clear from this clip that both actors felt very emotional during this long-awaited reunion.
As we grow closer to the release of "The Descendants: The Rise of Red," it will be interesting to see if any more cast members from the original "Cinderella" musical will reprise their roles for this upcoming film. Regardless of any unannounced cameos, there's no question that this magical reunion will provide more than enough nostalgia for many longtime Disney fans.