The Mandalorian: Chapter 20 Gives Ahmed Best The Franchise's Greatest Redemption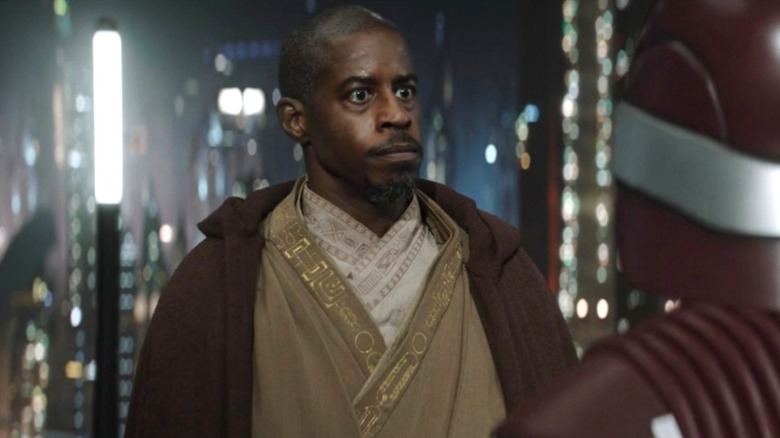 Lucasfilm/Disney+
Contains spoilers for "The Mandalorian" Season 3, Episode 4 — "Chapter 20: The Foundling"
Director Carl Weathers was spinning so many plates in this week's chapter of "The Mandalorian" it's a wonder no one checked his midi-chlorian count given how masterfully he handled it all. As well as a rescue mission and an ongoing insight into where Bo-Katan's (Katee Sackhoff) head was at, we were also given a glimpse of Grogu's past which revealed how he escaped Order 66 and, more importantly, who helped him to do so.
As predicted, the tease in the Season 3 trailer of Jedis under attack in the temple was indeed a flashback from the pea-colored pipsqueak that explained how he managed to get away from the Clone Troopers' command. However, what was a huge surprise for fans is that one Jedi, in particular, was none other than "Star Wars" prequel star Ahmed Best. Initially appearing in "Star Wars: Episode I – The Phantom Menace," Best's slapstick character Jar Jar Binks became a matter of contention within the fandom, being seen by the audience and critics as one of the low points of the first franchise revival who was eventually phased out of the franchise prequel trilogy entirely.
What a treat, then, that Best has returned to the fold as a character that not only already holds a place in the "Star Wars" universe but has now elevated him to ridiculous levels of cool by way of fabulous lightsaber-wielding fashion. His name is Kelleran Beq, and we sense this won't be the last we see of him either.
Welcome back, Kelleran Beq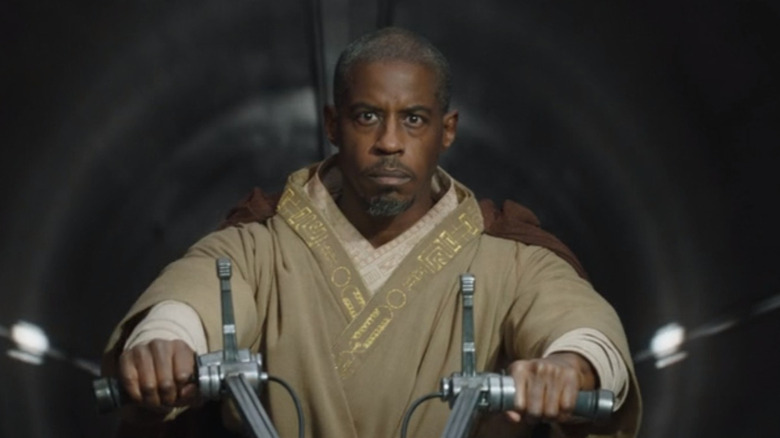 Lucasfilm/Disney+
After escaping by elevator from a squad of Clone Troopers, Grogu is taken under the protection of a dual-lightsaber-wielding Jedi named Kelleran Beq, a master of the force that from a certain point of view has already kinda-sorta appeared in the "Star Wars" universe. In 2020, Lucasfilm made a children's game show called "Star Wars: Jedi Challenge aired on StarWarsKids.com and YouTube. Ahmed Best hosted the show as the character Beq, a helpful Jedi master who guided the kids to become Jedi Knights. The role established a significant turnaround for Best's place in the franchise following his initial entry into "Star Wars," which he admitted had a damaging impact on his life.
It's well documented that Best had a tumultuous relationship with the franchise following his casting as Jar Jar Binks. Often used as a punchline and scapegoat for the lesser loved prequels, Best admitted in 2018 on Twitter (via The Guardian) that the hatred towards the initial character led him to consider ending his life. Since then, fans have backed the star, and his trajectory within the franchise has changed drastically. Given how things were left in this week's episode of "The Mandalorian," it has every chance of taking Best in a direction no one expected.
If you or anyone you know is having suicidal thoughts, please call the National Suicide Prevention Lifeline​ by dialing 988 or by calling 1-800-273-TALK (8255)​.
This is the way Kelleran Beq could turn Best from sidekick to true Star Wars hero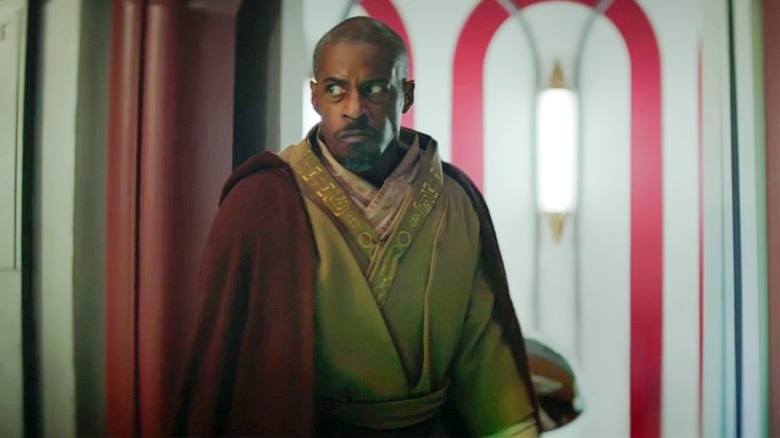 Lucasfilm/Disney+
This week, Grogu's flashback showed the little scamp fleeing Coruscant with Kelleran Beq before quickly cutting back to the present day. With gaps still left to fill, it feels safe to guess that we will get at least one more trip down memory lane with the former Padawan and the Jedi that fought to protect him. Such a vital info dump could take up a short section of a future episode or an entire chapter. Honestly, either is fine as long as it continues to set things right with Ahmed Best and give him a better, more special place in the "Star Wars" universe.
This isn't just fandom box-filling; Beq has become the hero that helped Grogu on his way and led him to Din Djarin (Pedro Pascal). It's a role surpassing Best's previous stint as the goofy Gungan and makes him more integral to this story than Luke Skywalker and Ashoka. Simply put, there'd be no "The Mandalorian" without him, and frankly, that's just the sort of important spot in the galaxy far, far away that he deserves.