The Punisher Is Now The Deadliest Person In The Marvel Universe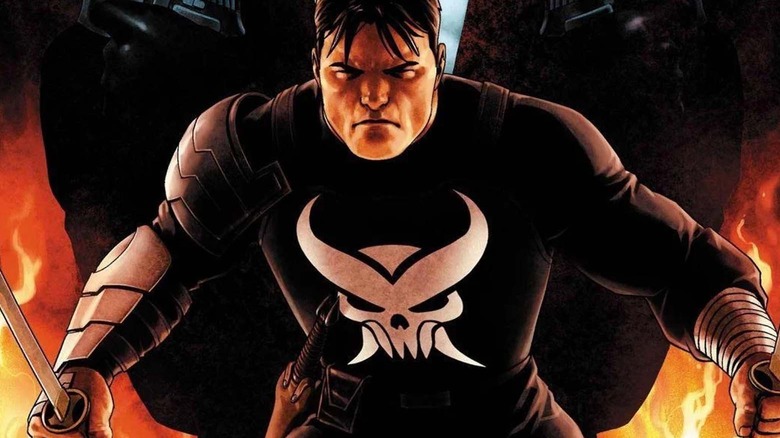 Marvel Comics
The Punisher has long been known for being one of the most violent characters in comics. Following his tragic origin, where he watched his family die, Frank Castle turned to a life of vengeance, brutally killing anyone who stood in his way. His actions have put him at odds with his fellow heroes, but with his incredible new powers and role of Fist of the Beast, Castle is now the current deadliest person in the Marvel Universe — with even the Avengers knowing he needs to be stopped.
In "Punisher" #9 from Marvel Comics, the Punisher's latest murder spree is shown in all of its bloody glory. Targeting some of the worst actors worldwide, Castle is unforgiving in taking out those he doesn't deem worthy of continuing to breathe. Equipped with his sword and his dark powers derived from the ancient history of the Hand, Castle is determined to totally annihilate his enemies.
How did Punisher get his new deadly powers?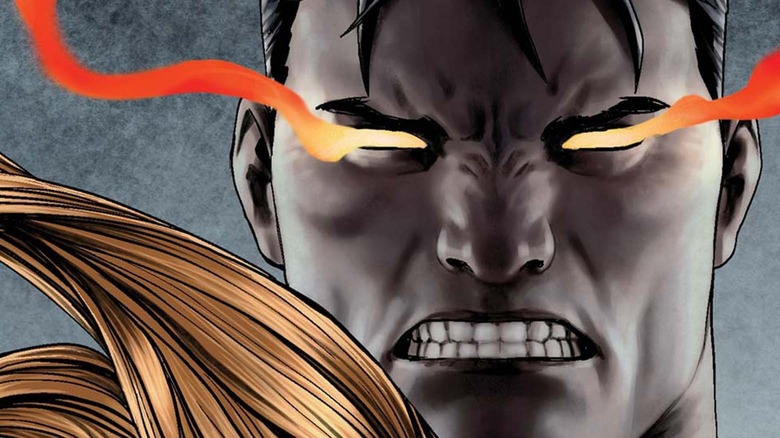 Marvel Comics
The usual antihero has been reinvented in Jason Aaron, Jesus Saiz, Paul Azaceta, Matt Hollingsworth, and VC's Cory Petit's "Punisher" run. With Punisher's iconic skull logo becoming a symbol of hatred in the real world, Marvel Comics opted to transform Frank Castle. The character now sports a new Oni symbol after joined the Hand, and has been put on one of his darkest paths yet.
Castle stepped away from New York City and is currently in Japan, where he's working alongside the Arch priestess of the Hand. He made a deal with the assassin organization, becoming their high slayer (the Fist of the Beast) in exchange for his wife being resurrected. As a result, Punisher gained the dark powers of the Beast in order to see his long-dead partner. His demonic new abilities include flight, supernatural strength, and energy blasts. The Punisher's new powers recently plateaued after defeating Ares, the God of War, who tried to take out Castle and was brutally murdered in retaliation. With Punisher making a literal god look weak, he's the strongest he's ever been.
With his powers now at their most substantial, Punisher is fully embracing his newest role as the high slayer of The Hand and the Fist of the Beast, and he's leaving no stone unturned when it comes to taking out some of the worst humans on the face of the Earth. However, as he becomes more corrupted by his abilities, Castle gets a special visit from the Avengers.
Punisher's latest killing spree goes global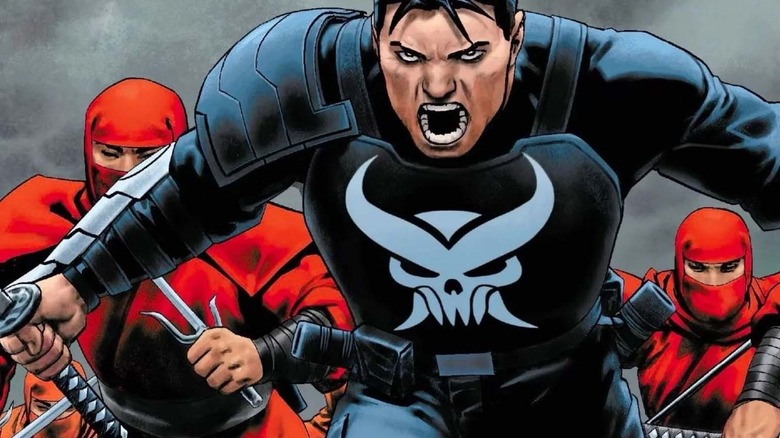 Marvel Comics
"Punisher" #10 from Marvel Comics opens with a series of deadly attacks by the Punisher and The Hand.
News reports reveal body parts are falling from the sky, with accused traffickers evading authorities falling to the wrath of the Fist of the Beast. Meanwhile, in Madripoor, an entire yacht featuring billionaires in the illegal drug trade is destroyed, with no survivors found. Lastly, Punisher attacks a private bunker in Transia, where a war criminal and his entire army are brutally murdered with Punisher's sword, beheading and impaling their forces. All these attacks happen in a single day, with Frank Castle sharing he wants to continue killing bad actors before returning to Japan. The issue's ending features Punisher murdering people for their sins before letting a young soldier go — admitting he's done with his killing as he breaks his sword. Unfortunately, before he can return to his wife, the Avengers visit Castle, telling him they're coming with him.
Punisher violently wiping out the drug cartels, billionaires, and traffickers shows why he's become the deadliest person in the Marvel Universe. His new powers make him a near-unstoppable killing machine. Next, he will battle against the Avengers, whose concern for Castle and his new powers is valid, given they have no idea how powerful he truly is. Will he try to kill Earth's Mightiest Heroes, too? Readers will find out more soon.
"Punisher" #10 by Jason Aaron, Jesus Saiz, Paul Azaceta, Matt Hollingsworth, and VC's Cory Petit from Marvel Comics is in comic book stores now.