LA To Vegas Canceled At Fox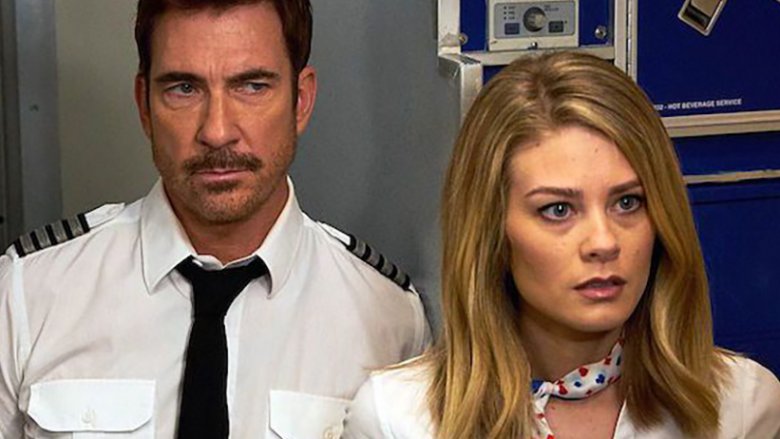 Fox
Fox's LA to Vegas has been grounded. 
Per Deadline, the network has canceled its single-camera airplane comedy series LA to Vegas. The show ran for just one season. 
According to the outlet, Fox had been working out the logistics behind securing the series' executive producer, Will Ferrell, for an appearance on the potential season 2 premiere, as a means to generate hype around the comedy's return to the small screen. Ferrell was reportedly open to guest starring on an episode later on in LA to Vegas season 2, but wouldn't commit to the opening episode. 
Fox chairman Dana Walden noted during the network's upfronts earlier this month that LA to Vegas series creator and executive producer Lon Zimmet and executive producer Steve Levitan were tinkering away at a second season, but mentioned that "if we can't find a way to make noise, we won't do (a second season)."
Ferrell's involvement — or lack thereof — with the premiere episode wasn't a major factor in Fox's decision to pull the plug on LA to Vegas, but what did contribute to the series' ultimate cancelation was the network's limited Thursday evening space thanks to the addition of Thursday Night Football. Additionally, the series' strong opening compared to its subsequent dwindling ratings likely had something to do with the situation as well.
LA to Vegas followed an airline crew and a host of eccentric passengers who embark on a discount flight from Los Angeles to Las Vegas every single weekend, all hoping to touch down in the City of Sin and come back a winner. The series starred Kim Matula as Veronica "Ronnie" Messing, Ed Weeks as Colin McCormack, Nathan Lee Graham as Bernard Jasser, Olivia Macklin as Nichole Hayes, Peter Stormare as Artem, Dylan McDermott as Captain David "Dave" Pratman, Amir Talai as Alan, Zachary Knighton as Bryan, Amy Landecker as Patricia Hayes, Kether Donohue as Meghan, Dermot Mulroney as Captain Steve Jasser, Alison Becker as Caroline, Josh Duhamel as Captain Kyle, and Don Johnson as Jack Silver. 
Now that LA to Vegas is no longer, it means Fox has canceled all of its standing live-action single-camera comedy series, with Ghosted still up in the air.