Who Did Brendan Fraser Voice On King Of The Hill?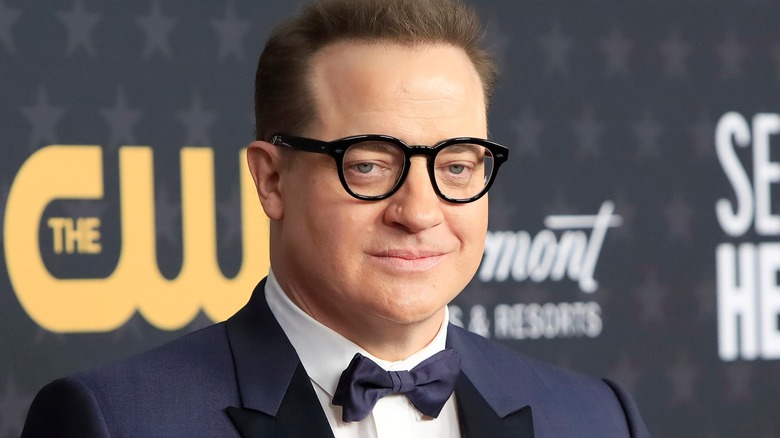 Joe Seer/Shutterstock
To say that Brendan Fraser has been experiencing a successful comeback is a vast understatement. After almost vanishing from Hollywood, Fraser recently capped off a complicated acting journey with an Oscar win for his leading role in "The Whale." It's a deserving accomplishment for an actor whose talents have skillfully stretched throughout an extremely varied net of projects. After all, we're talking about an actor who starred in blockbusters like "The Mummy." Yet he also featured alongside Bugs Bunny in "Looney Tunes: Back In Action." Speaking of the world of cartoons, the actor's famous onscreen adventure with Bugs, Daffy, and the rest of the gang isn't the only time Fraser has worked with animation.
In the '90s, Fraser guest starred in animated shows like "Duckman" and "The Simpsons." But during the 5th season of "King of the Hill," the actor also took a trip to Arlen, Texas, where he played Arlen High School student David "The Flyin' Hawaiian" Kalaiki-Ali'i. Fraser only appeared as David in the episode "Peggy Makes The Big Leagues." His character is essentially celebrated as Arlen's biggest hope on the field, but things become more complicated for him and the Hill family after he becomes a student under Peggy.
Peggy Hill flunks Brendan Fraser's character
In the episode "Peggy Makes The Big Leagues," David "The Flyin' Hawaiian" Kalaiki-Ali'i is Arlen High School's star fullback. He has led his team to a winning season, and because of this, the school chooses to pass him despite his terrible grades. However, that changes after Peggy becomes his substitute teacher and later tries her hand at tutoring him. Unsurprisingly, this doesn't go well, and she flunks him. As a result, Hank, a member of the football boosters, is forced to take on David at Strickland Propane through a unique internship. That only leads to a hilariously disastrous essay from David, capped off with "...I thank God every day that I get home that I didn't get exploded." Hank, filled with regret and shots of Alamo beer, still passes David.
"Peggy Makes It Big" is an episode clearly about moving the goalposts when it comes to personal integrity. The town of Arlen knows David is a poor student but will turn a blind eye as long as he gets to play on the team. Fortunately, by the episode's conclusion, David does show that he wants to learn properly after figuring out he only gets by because the town doesn't care about his grades. In the end, he does actually learn a few things about propane, thanks to Hank and Peggy. David didn't appear again after this episode, but the same can't be said of Fraser.
The actor also played a meteorologist and a prankster in Season 9
Brendan Fraser must have loved his time on "King of the Hill" because the actor decided to show up again and pull double duty for a single episode. In the Season 9 episode, "Gone With The Windstorm," Nancy Gribble has to contend with a new meteorologist at her news station named Irv Bennett. The character is promoted ahead of Nancy after she fails to predict a windstorm that sweeps through the town. Irv is, of course, voiced by Fraser, but that's not the only character in the episode he voices that provides some grief for the main cast of "King of the Hill." 
In the same episode, Bobby Hill deals with Fraser's other character, a student named Jimmy Bearden, who makes a habit of jumping out of areas and scarring Bobby. One of his pranks goes so bad that poor Bobby even wets himself. It's only after some fatherly help from Hank to scare Jimmy back that the prankster finally stops tormenting Bobby. 
Irv and Jimmy are such different characters that it's almost difficult to tell that Fraser voiced them both. Even though he jeopardizes Nancy's job, Irv comes off as a genuinely nice guy. And as for Jimmy, the middle school student usually expresses himself in the episode through barks and yells, so anyone who initially deduced that it was Fraser voicing him must have the ears of a bat. Anyway, with his impressive experience, we wonder if Fraser will return to the series once the "King of the Hill" reboot launches.