Why Clara From The Walking Dead Looks (And Sounds) So Familiar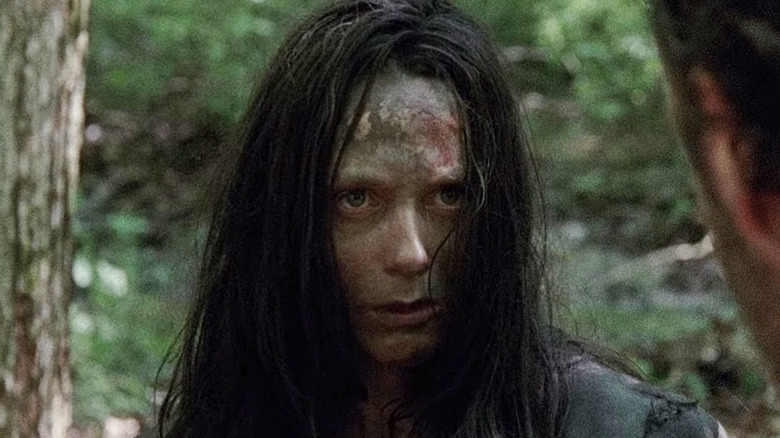 AMC
When you're watching a movie or TV show, nothing's quite so distracting as when you recognize a certain actor or actress but can't quite place where you've seen them before. Worse, a quick IMDb search turns up nothing more than a list of credits without details or context. Looper is here to help.
"The Walking Dead" is full of characters with grim side stories to match anything that goes on with Rick Grimes (Andrew Lincoln) and his group of survivors. One of the grimmest is the story of Clara. Rick meets her in the first episode of Season 4, while the group is living at the West Georgia Correctional Facility. He first stumbles on her while he's checking snares in the woods. At first, he thinks she's a walker, but soon realizes she's uninfected when she speaks to him. Clara convinces a reluctant Rick to accompany her to her shelter, where her starving husband is resting. It turns out that her husband is actually a walker, and that Clara was trying to feed Rick to him. Rick then overpowers her, and she takes her own life. She then shows up a few more times during Season 4, in walker form.
Clara is played by Irish actress Kerry Condon, who's been working steadily since 1999. Here's where you may recognize her from.
Kerry Condon played Octavia of the Julii on Rome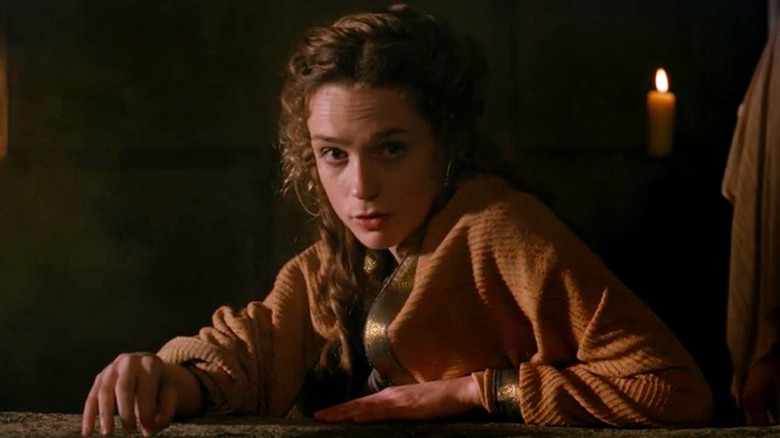 HBO
"Rome" is the HBO miniseries from the early 2000s that tells the story of Rome's tumultuous change from a republic to an empire. Told in an "upstairs/downstairs" style, it follows both the noble Romans shaping world events, like Julius Caesar (Ciarán Hinds), Mark Antony (James Purefoy), and Marcus Junius Brutus (Tobias Menzies), as well as the soldiers whose lives are affected by them.
One of the show's main characters is Octavia of the Julii, who's played by Condon. As the grand-niece of Julius Caesar and the daughter of the influential Atia of the Julii (Polly Walker), she plays an important role in the politics of the day when Caesar marries her off to his political ally Antony in an attempt to cement their alliance–which, if you know your history, doesn't work out too well for all involved. Far from a political ingenue, Octavia winds up being just as savvy as her more famous elders.
Kerry Condon played Pamela in Three Billboards Outside Ebbings, Missouri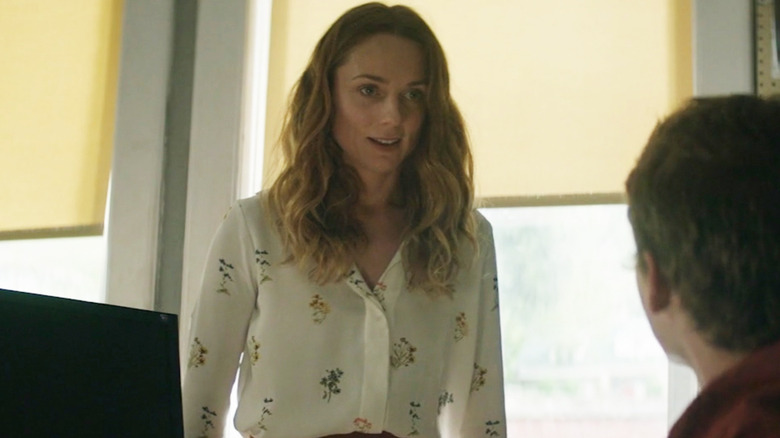 Fox Searchlight Pictures
"Three Billboards Outside Ebbings, Missouri" is a 2017 drama film directed by Martin McDonagh–remember that name–that stars Frances McDormand as Mildred, the mother of a young woman who's raped and murdered. In response to the local police department's failure to identify a suspect, Mildred erects the three titular billboards to pressure them. This turns most of the town against her, as they'd rather sweep the whole thing under the rug.
One of Mildred's most contentious relationships is with Red (Caleb Landry Jones), the manager of the advertising company that sells Mildred the billboard space, and who faces pressure from the town to take down her billboards. At one point, Red tries to weasel out of their agreement by claiming that Mildred's payment was only a deposit. At this point, Red's flustered and somewhat racist office manager Pamela (Kerry Condon) shows up with good news: an unknown benefactor has paid the next month's billboard fee. 
It's a small scene for Condon that lets her trot out a believable Missouri accent, but she'd have a much bigger role in McDonagh's next film–with a major award nomination to boot.
If you or anyone you know has been a victim of sexual assault, help is available. Visit the Rape, Abuse & Incest National Network website or contact RAINN's National Helpline at 1-800-656-HOPE (4673).
Kerry Condon played Molly Sullivan on Ray Donovan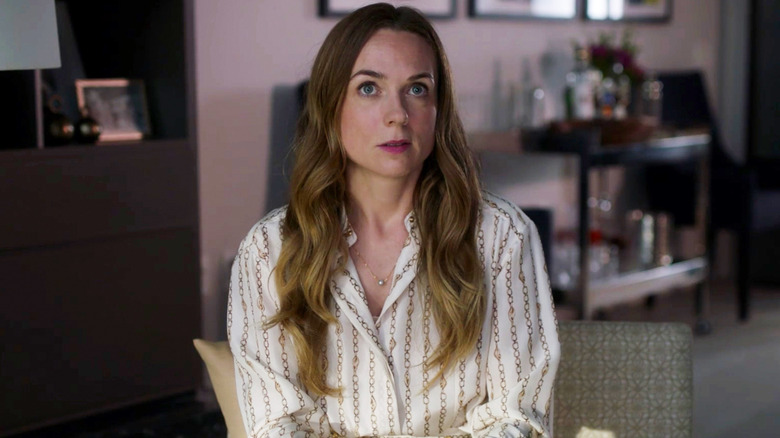 Showtime
"Ray Donovan" is the Showtime series that premiered in 2013 and ran for seven seasons, concluding in 2019. It stars Liev Schreiber as the eponymous Donovan, a Los Angeles-based fixer who handles problems for Hollywood's rich and powerful. Naturally, Donovan's own life is a shambles, as he's got a criminal father Mickey (Jon Voigt) and a failed marriage. During the show's final season, Ray gives love another shot when he gets involved with Molly Sullivan, who's played by Kerry Condon.
Molly also happens to be the daughter of Jim Sullivan. In the 1970's, when Mickey was a bank robber and cocaine trafficker, he ran with Sullivan's crew. Ray also worked for Jim as a teenager, and the two had more of a father-son relationship than Ray and Mickey did. Back then, Jim wanted to keep Molly away from his criminal life. Sure enough, Ray's arrival in her life makes that difficult. 
Kerry Condon played Stacey Ehrmantraut on Better Call Saul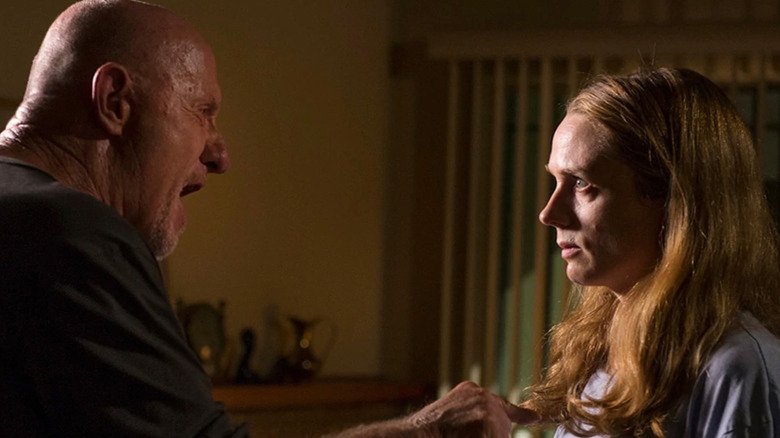 AMC
Here's another character in the "loved one of a criminal" vein. "Better Call Saul" is the prequel series to "Breaking Bad" that stars Bob Odenkirk as Jimmy McGill/Saul Goodman, Albuquerque's least ethical lawyer who would do anything to stay out of the courtroom. Just like on "Breaking Bad," Jimmy's fixer is the no-nonsense Mike Ehrmantraut, who's played by Jonathan Banks. While Mike is a hardened criminal, he still tries to keep that life separate from his family, including his daughter-in-law Stacey (Kerry Condon) and his granddaughter Kaylee. (Stacey did briefly appear on "Breaking Bad," too, but she was played by an extra who didn't have any lines).
Before the events of the series, Stacey was married to Mike's son Matty, a cop who was killed by his fellow officers for initially refusing to take dirty money. Believing Mike responsible, she's initially reluctant to have any kind of relationship with Mike. However, they slowly bond over Kaylee. 
Kerry Condon has voiced Tony Stark's AI F.R.I.D.A.Y. in several Marvel projects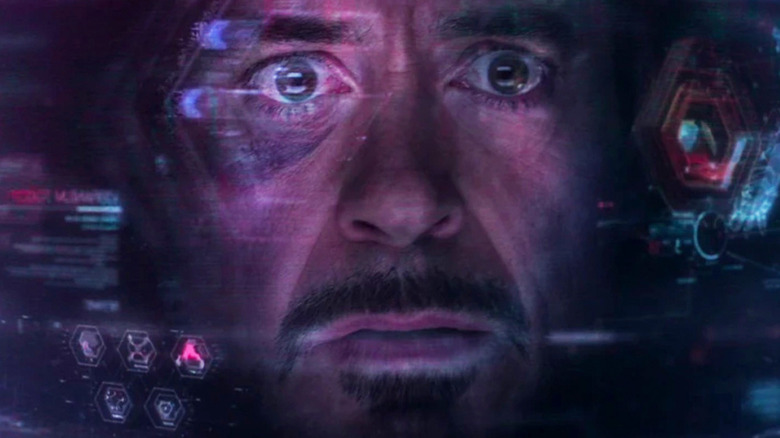 Disney/Marvel Studios
Like the old saying goes, behind every great tech genius is a great artificial intelligence they built themselves, and that handles most of the advanced calculations that are beyond a human brain. In Tony Stark's (Robert Downey Jr.) case, that advanced intelligence is F.R.I.D.A.Y.–whose name is inspired by the expression "His girl Friday."
As Condon explained to Collider, landing the role of F.R.I.D.A.Y. was completely unexpected. "I never would have thought to have done voice [work] at all," she said. "I had never done voice work or anything like that. And I didn't think it would lead to so many movies, either. I thought it was just a one-off job." During the experience, Condon learned how different voice acting is from on-screen acting, as her scenes were often recorded with little context, and she had to perform them in front of a blank screen.
Condon made her first appearance in 2015's "Avengers: Age of Ultron," and she's voiced F.R.I.D.A.Y. in everything up to the 2022 short, "Avengers: Quantum Encounter."
Kerry Condon played Siobhán Súilleabháin in The Banshees of Inisherin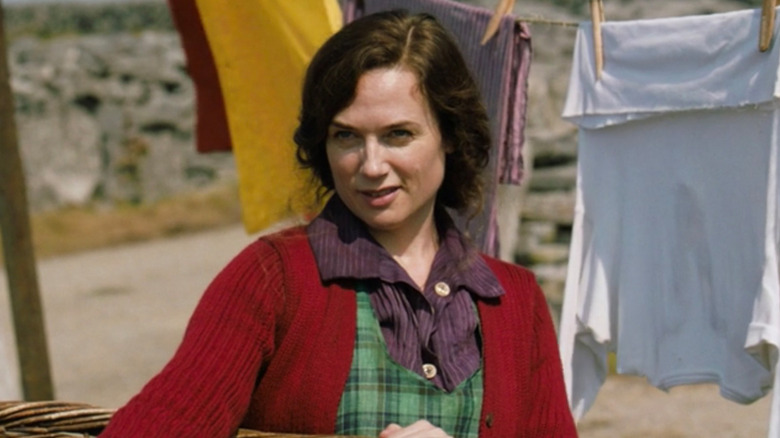 Fox Searchlight Pictures
In 2022, Kerry Condon once again teamed up with Martin McDonagh, who's also from Ireland, to make "The Banshees of Inisherin." The black comedy stars Brendan Gleeson as Colm, a small-town Irishman who one day decides he no longer wants to be friends with his lifelong pal, Pádraic, who's played by Colin Farrell–-so much so that Colm is willing to cut off his fingers to drive the point home.
Condon plays Colm's patient and supportive sister, Siobhán, who's just as puzzled about Colm's decision as Pádraic is. The performance netted her an Academy Award nomination for Best Supporting Actress, which ultimately went to Jamie Lee Curtis for "Everything Everywhere All At Once"–and if you're going to lose an Academy Award to someone, it might as well be Curtis. Condon also received a slew of award nominations and wins for the role at various film festivals around the world.