Best And Worst SNL Sketches Of The Season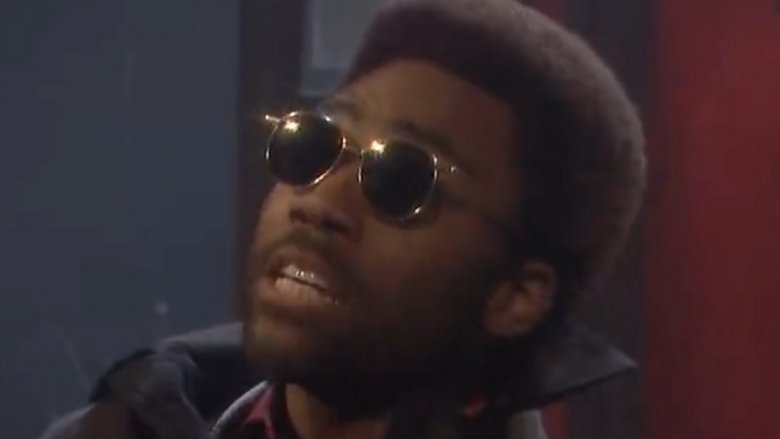 Saturday Night Live's 2017-2018 season was one of the most high-profile in the show's 43-year history. Alec Baldwin returned every few weeks or so to continue his over-the-top portrayal of President Donald Trump, new cast members Heidi Gardner and Chris Redd made a huge impression, and veteran performers like Kenan Thompson and Emmy-winner Kate McKinnon cemented their legacies. 
While former SNL cast members and writers such as Tina Fey, Larry David, and Bill Hader returned to host, so did both established and rising celebrities, including Ryan Gosling, Amy Schumer, Donald Glover, Kumail Nanjiani, Gal Gadot, Sam Rockwell, and Sterling K. Brown. Over more than 20 episodes, the show aired dozens of live sketches and previously taped pieces. As is always the case, some of those segments became instant audience favorites, while others are memorable for being, well, not so well-received or hilarious. Here are our picks for the five best bits of the season and the five not-so-best bits of the seasons.
Best - '80s Music Video
Blatantly inspired by "my lady done me wrong" old-school slow jams like Oran "Juice" Jones' "The Rain," this sketch begins as a music video for a song called "The Night (I Watched You)" by Raz P. Berry (host Donald Glover). He details how he has stalked his lover (Cecily Strong) as she roams around town with another man (Kenan Thompson) alternately "strolling in the night" and "hugging in the night." Then the format changes to a bar scene, wherein Raz P. Berry confronts his lady about her two-timing and how it has broken his heart. Before he lets her explain herself, he details all the increasingly weird and gross ways in which he's already exacted his revenge back at their apartment. However, Raz P. Berry has punished himself way more than he punished his lady friend (and her date, Dr. Reginald Saunders), and also the ridiculous twist reveal makes all of Raz P. Berry's efforts for naught.
Worst - The Baby Step
The conceit here is a rap video called "The Baby Step" by four rappers—Soft Spot (Pete Davidson), Heavy Diaper (Chris Redd), One-Z (Kenan Thompson), and Baby Snatch (musical guest Miley Cyrus). They do a little dance of a couple of tentative footsteps also called "The Baby Step" as they hang out in a giant playground, sit in giant gold strollers, and thrust their diaper-clad bodies into the camera. All the boasting and awkward mixture of toddler tropes and hip-hop cliches come to a stop every now and then to cut to episode host Larry David in his dressing room, adamantly refusing to participate in such a ridiculous and demeaning project. In the end, David shows up on the video set to chastise everyone involved, appalled that Thompson is wearing a diaper, and calling Chris Redd "Carl." Just because a bad sketch is aware that it is a bad sketch doesn't make it any less of a bad sketch. 
Best - Fresh Prince
The '90s sitcom The Fresh Prince of Bel-Air made rapper Will Smith into a star of stage and screen, and it's a cultural touchstone for millennials. Well, really, its theme song is universally known, a rapped story song about how Smith's title character wound up leaving West Philadelphia, where he was born and raised, and ended up in a fancy Los Angeles suburb. In a breakout performance from first-year cast member Chris Redd, this pre-taped piece begins with an extremely accurate, shot-for-shot re-creation of the Fresh Prince opening sequence, down to the missed basketball shot, spinning throne, and graffitied walls. 
Then it imagines what happens after the real theme song ends, and instead of wacky sitcom adventures, the Fresh Prince gets caught up in an underworld crime saga. And things get really dark, really fast. It turns out the playground thugs from West Philadelphia are "a powerful gang running guns and drugs." Those thugs (including Method Man) storm the Bel-Air house, beat up Uncle Phil, and the Fresh Prince must go on the run with the assistance of an FBI agent (host Jessica Chastain) who helps him fake his own death. Few SNL sketches have incorporated '90s pop culture, staged funerals, and the Yakuza so effectively and hilariously.
Worst - Sasquatch
Bigfoots are huge, goofy monsters that probably aren't real, but they can be a really good source of comedy, as Harry and the Hendersons and Tenacious D in the Pick of Destiny have explored. Maybe they're friendly or misunderstood gentle giants. Or, maybe, they're aggressive, macho monsters who live in the woods and want to humiliate and assault humans for no reason. That's the premise of "Sasquatch." A group of young adults are having a marshmallow roast on their campground campfire when they hear a rustling in the woods. Randy (Mikey Day) investigates, and he finds himself face-to-face with a Bigfoot, aka a Sasquatch. His friend Matt (host Sterling K. Brown), a self-styled expert on creatures because he watches "a lot of Monkey Manner on Discovery," councils Randy on how to behave so as to not upset the beast. It all backfires, as the Sasquatch savagely beats up Randy, when he isn't doing things like peeing on Randy's hat and making him wear it. There's no story or much clever humor here, just lots and lots of violence.
Best - Drag Brunch
During his time as a writer on SNL about a decade ago, John Mulaney made his mark co-creating and writing for Bill Hader's classic "Stefon" character, and in the time since he's left the show his career has exploded with some huge stand-up specials and starring on Broadway with collaborator Nick Kroll in Oh, Hello. His hosting turn included some memorable sketches, such as a re-creation of Les Miserables starring lobsters set in a diner, and this other restaurant-based sketch. A foursome of friends eagerly sits down to brunch in a restaurant where the theme is sassy waitresses who lob light insults while serving, and also they're men dressed in elaborate, obvious drag, primarily wigs and old-fashioned waitress uniforms. Mulaney plays Tawny Pockets, a Southern belle who insults one guest's fake Chanel purse, and says another's "smoky eye situation has become a stop-drop-and-roll one." Tawny saves her most cutting, non-superficial, soul-piercing digs for one diner (Alex Moffat), which is all part of an impossibly complicated quest for revenge over a minor slight from long ago.
Worst - Stranger Things 3
With the popularity of Stranger Things only growing after the release of its second season in late 2017, it was inevitable that SNL would take on the Netflix retro-horror phenomenon, and especially when Natalie Portman hosted—the Oscar-winning actress bears an uncanny resemblance to Millie Bobby Brown, the actress who plays the supernaturally gifted "Eleven" on the series. There's a lot to poke fun at in Stranger Things, which makes this "preview of Stranger Things 3" feel like a wasted opportunity. The premise: Eleven meets a bunch of other refugees of experimental laboratories, all who have a power like hers, and a subsequent physical side effect. Eleven is telekinetic and gets a bloody nose after she uses that ability, so this sketch parades out one young mutant after another, each stating their numbers, powers, and the strange things their bodies do to compensate. For example, "14" (Beck Bennett) is pyrokinetic but throws up a little in his mouth, and "9" (Cecily Strong) reads minds but it makes her fart. Except for Leslie Jones interrupting to boast about actually being "50" and having good credit—and lots more farting from "9"—that's about the whole sketch.
Best - Tournament Fighter
This sketch feels like the video game-related cousin to 2016's beloved "David S. Pumpkins" sketch. As Tom Hanks starred as an obscure, inscrutable, and not-very-scary Halloween character, guest host Tiffany Haddish portrays a character in a Street Fighter-esque video game called Death Fight 12 who has absolutely no business being in a video game. 
Alongside the ninjas and hulking humanoid monsters with names like Scorponox, Deathstripe, and Pyro stands Haddish's Boo Boo Jeffries, a regular girl whose signature attack moves are Rihanna- and Beyoncé-inspired dance moves, whose strength is her relationship with her mom ("She's my best friend"), and whose weaknesses are being "weird in groups" and, well, fighting. A tournament player (Kenan Thompson) accidentally opts to fight with Boo Boo Jeffries, and when faced up against Scorponox (Mikey Day), Boo Boo does not appreciate the hostility, so much so that her combo move includes bringing in her sister's husband, Mark, to tell Scorponox to lay off.
Worst - Dive Bar
In the monologue of his season-opening episode of SNL, guest host Ryan Gosling jokingly boasts about how he personally "saved jazz" via his role as a crusading jazz musician in the hit movie La La Land. In a sketch later in the night, Gosling nearly sent jazz right back to the death watch. This scene about a jazz trio playing in front of a tiny TV on a sports bar's wall just before a big game follows the nomadic, experimental rhythms of jazz, but when that sensibility is applied to comedy, it evidently results in a mess instead of something dazzling and innovative. For example, despite bursting into nonsensical, brief jazz numbers, the band leader (Kenan Thompson) keeps referring to Gosling's flautist playing a "rock 'n' roll flute." Then there are some exchanges about both men dealing with some silly relationship drama. Then Gosling's character gets a phone call regarding a burglary in process at the home he shares with his bandmate. It doesn't make much sense, and while few jokes in the piece truly land, Gosling still distractingly laughs almost constantly, whether he's saying his lines, playing his flute, or just standing there.
Best - Za
Talented writers can make comedy out of almost anything, or even almost nothing. Seinfeld was famously "a show about nothing," as it focused on life's tiny details. The spirit of Seinfeld is alive and well in this sketch that calls out a common, silly slang term for pizza for making no sense and violating the rules of English as she is spoke. 
The scene opens in a courtroom, with Pete Davidson playing "Mr. Reynolds," a man on the witness stand being tried for double homicide. After his attorney (Heidi Gardner) points out that his car was never spotted near the scene of the crime, the overly enthusiastic prosecutor (host James Franco) cross-examines Mr. Reynolds, and asks about his whereabouts when the crime took place. He answers that he was at Vinny's Pizzeria having a couple slices of "za." The prosecutor reads Vinny's menu aloud and points out that there is no lasagna on the menu, thus catching Mr. Reynolds in a lie, proving his guilt. Franco's character then explains, quite angrily, that "za" is short for lasagna—or at least it should be—and not pizza, as is commonly the case. Why? Because "za" is how the middle syllable of "lasagna" is pronounced, while the last syllable of pizza is pronounced "suh." "You don't make nicknames based on how things are spelled," he argues, "you make them on how they sound." His entire prosecution seemingly rests on this argument.
Worst - Medical Breakthrough
The lowest form of comedy just might be the "pain to the male genitals" form of comedy. America's Funniest Home Videos has been on the air for almost 30 years, built on a solid foundation of dads getting bonked in the beans with baseballs, which is funny if you find physical pain done unto others funny or if you're a guy and you want to cringe a little. It's simple humor and doesn't say much other than "haha, that guy got hit in the crotch." This SNL sketch is basically that, but put into words and stretched into four and a half minutes. Aidy Bryant and host Chadwick Boseman play researchers for the Fertility Frontiers Project, holding a press conference to introduce Dan Mattson (Mikey Day), the world's first pregnant man. After a tired joke about pregnancy cravings, reporters—and Dan—learn that the scheduled C-section is off the table, and that Dan will have to give birth naturally, through his urethra, i.e., his "pee-hole." The rest of the sketch is just detailing in excruciatingly graphic detail about how Dan has to give birth through his ding-dong, how it's going to hurt, and how he does not like how it's going to hurt. Ouch!