Oprah Left 60 Minutes Because She Was Tired Of Getting Notes On How To Say Her Own Name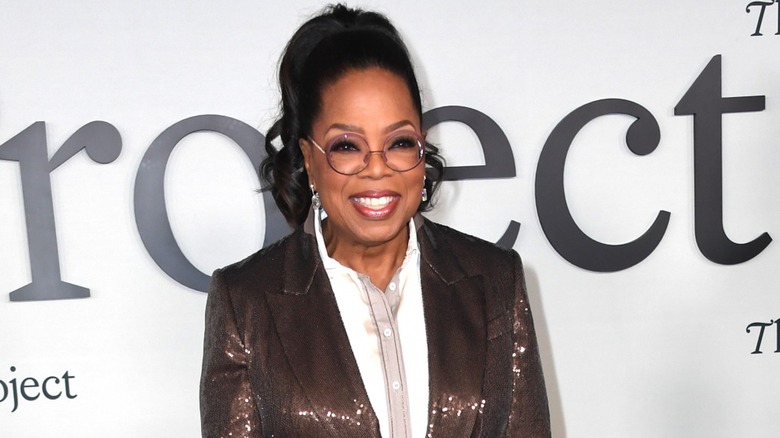 Albert L. Ortega/Getty Images
After Oprah Winfrey retired from her self-titled talk show in 2011, the media mogul embarked on a new chapter in her career that allowed her to explore her many passions. In between running her OWN television network, and occasionally acting in projects like "A Wrinkle in Time," Winfrey also returned to something she hadn't done since her early career — news broadcasting.
In 2017, the philanthropist became a correspondent for "60 Minutes" on CBS and remained in the role for two years. After her abrupt departure from the broadcast, Winfrey revealed that she became disillusioned with the show based on criticism of how she said her name. "I think I did seven takes on just my name because it was 'too emotional,'" she told the Hollywood Reporter. "I go, 'Is the too much emotion in the "Oprah" part or the "Winfrey" part?'"
But the annoyance of not saying her name correctly was not the sole reason, as she went on to speak at length about how the venerable news show wasn't the right fit for her. After all, she did anchor her own program for a quarter of a century, which gives her revelations a lot more credibility. 
Winfrey says she was not allowed to be herself on the news program
Long before she gained international fame for her performance in 1985's "The Color Purple," Oprah Winfrey was a news broadcaster for various regional information programs in Nashville and Baltimore. After gaining prominence on a Chicago morning show, followed by her part as Sophia in the Steven Spielberg-directed drama, she was able to headline her own talk show and the rest is history. 
When deciding not to continue with "60 Minutes," Winfrey told The Hollywood Reporter that she approached an executive producer about quitting. She wished to dedicate her focus to her projects with Apple and scale back her work on the news magazine broadcast. She added, "It was an interesting experience for me. I enjoyed working with the teams, and I'm probably going to work with some of the freelance people on my Apple stuff, but it was not the best format for me."
She concluded by highlighting how she just wasn't allowed to be herself and had to rearrange how she spoke and presented herself and her delivery to match the aesthetic of the long-running program. Winfrey revealed that having to downplay her persona and decades-long public disposition was not a good practice for her, which led to her calling it quits after two years of reporting.