Ed Speleers: Working On Star Trek: Picard Was Like 'Getting Keys To The Castle'
There aren't a lot of franchises that will take care of an actor the way that "Star Trek" can. Play your cards right, stick with it, and you're looking at reliable SAG-AFTRA benefits for the rest of your life, thanks to movies, follow-up television shows, video game voice work, and audience-winking nerd cameos in sci-fi productions. Add to that the small detail that you'll be adding to a mythos with millions of fans and 60 years of history, and you'd have to agree, even with the possibility of having half a pound of latex glued to your face every day, it's a pretty sweet gig.
It's a fact that's not lost on "Star Trek: Picard" actor Ed Speleers, who called his still-fresh adoption into the "Star Trek" family of performers an experience akin to "being given the keys to the castle in a way" during a recent interview with Entertainment Tonight. It makes a certain kind of sense, considering that his new "dad" is being played by a knight.
Star Trek: Picard has been a big, important blast for Ed Speleers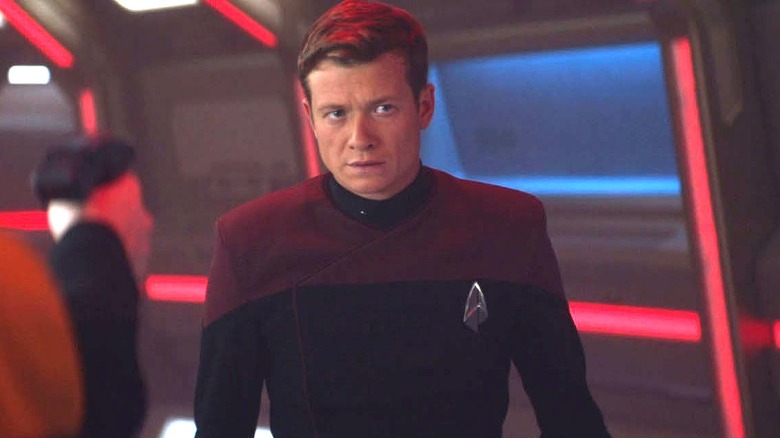 Paramount+
Ed Speleers, who debuted on "Star Trek: Picard" during its third season premiere playing (spoilers) the son of Jean-Luc Picard and Beverly Crusher, had nothing but nice things to say about joining the "Star Trek" crew. He called the opportunity "incredible," described difficulty getting his head around the magnitude of the role that was offered to him, and said of being on set, "I felt like almost every day I was like a kid in the sweet shop."
And as great as it is to hear about a performer sharing the audience's affection for the universe that they're stepping into, Speleers didn't go into the project without reservations. "I don't know if pressure is the right word, but there were expectations that I've put on myself," he said of playing the roguish Jack Crusher. "In order to deliver on the opportunities I've been given and to try and create as well a fleshed-out character as possible." From the sounds of things, the keys to that castle from earlier came with many responsibilities. Heavy is the head that wears the crown.