Don't Miss Your Chance To Win A Set Of Star Trek: Strange New Worlds Season 1 Blu-Rays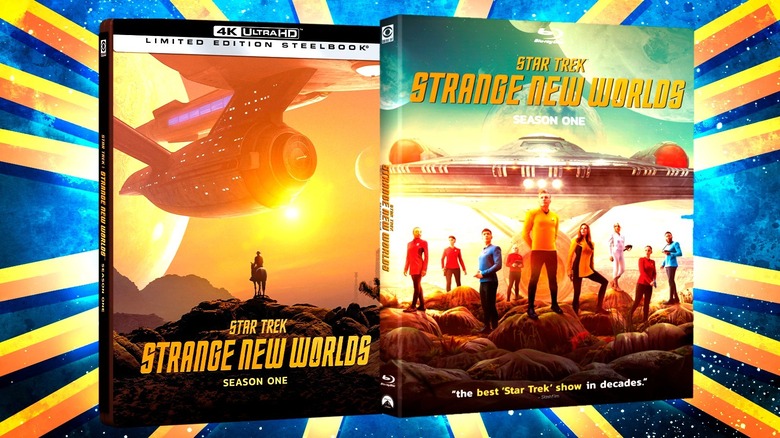 Static Media, Getty Images
If you're a fan of "Star Trek," you won't want to miss the opportunity to win this Blu-ray set of one of its newest and most popular shows.
Upon its debut in 2022, "Star Trek: Strange New Worlds" marked yet another success for this long-running franchise, taking place before the events of "Star Trek: The Original Series." Critics and audiences alike loved this new entry into the extended "Star Trek" universe, and the series is set to return for its sophomore season in 2023 after earning acclaim alongside a Saturn Award and an Emmy nomination.
If you loved "Strange New Worlds," you'll definitely want to enter this amazing giveaway and have the chance to take home a Blu-ray set of Season 1. Here's how you can try and win this incredible prize, and if you're in the Hollywood area, there's another cool opportunity for you to celebrate everything "Star Trek."
Here's how to win
With over 90 minutes of special features in addition to the entire first season, fans of "Strange New Worlds" definitely won't want to miss the chance to take this Blu-ray set home. To enter, follow /Film and Looper on Twitter, and re-tweet the former's post about the giveaway — we've included it below for your convenience. That's it! The giveaway ends on Thursday, March 23 at 11:59 p.m. EST.
🚨GIVEAWAY TIME! We're giving away Star Trek: #StrangeNewWorlds Blu-Rays to 5 lucky winners. All you have to do is follow BOTH @SlashFilm AND @Looper, and RT this tweet for a chance to win (details and rules below). @CBSHE pic.twitter.com/5pb7ykk9jQ

— /Film (@slashfilm) March 20, 2023
Even if you don't win the Blu-ray set, you can check out a special event in Hollywood if you're local and participate in a "Star Trek" trivia night at Scum and Villainy Cantina. Besides special prizes for the winners, the event will feature special-themed food and drinks. Trivia kicks off at 7 P.M. PST on Friday, March 24, with the event beginning at 6:30, and you can follow @CBSHE and @SVCantina on Twitter for more information.