What The Room's Tommy Wiseau Is Up To Today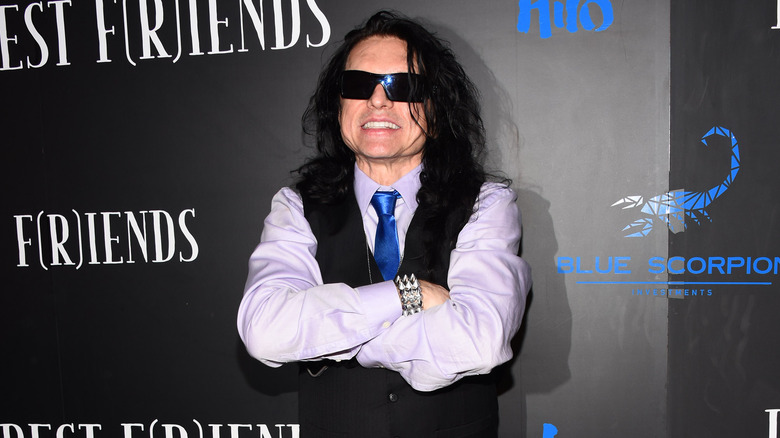 Araya Doheny/Getty Images
Tommy Wiseau is a somewhat mythical figure in Hollywood, and his biggest claim to fame is being the writer, director, and star of the 2003 film "The Room." Known for being one of the most famous cult films in the world, "The Room" screens every month at the Village East Cinema in New York City as well as in other theaters around the globe. George Gross — who organizes the monthly screenings in New York — called the film, "so ego-based and so melodramatic, like the strongest, most vulnerable thing you can imagine" (via Time Magazine). 
The film's tormented production has been thoroughly recounted by many, starting with "The Room" co-star Greg Sestero's 2013 autobiography "The Disaster Artist: My Life Inside The Room, the Greatest Bad Movie Ever Made." There's also the controversial documentary "Room Full of Spoons" by Rick Harper, which not only examines the film's troubled shoot but also Tommy's mysterious background. Most notably, there's the 2017 Oscar-nominated biopic, "The Disaster Artist" — based on Sestero's autobiography — with James Franco directing and starring as Tommy. 
Though much has been made out of "The Room" and the history surrounding it, not many are aware of Tommy's life since the film's release. The director has continued producing and starring in projects and has worked hard to maintain the film's legacy as — according to Sestero — one of the greatest bad movies ever made. This is what the enigmatic Tommy Wiseau has been up to since making "The Room." 
Little is known about Tommy Wiseau's past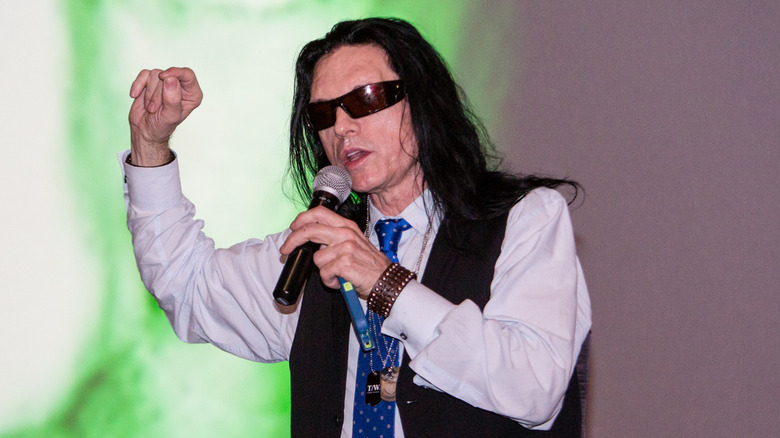 Josh Brasted/Getty Images
Tommy Wiseau has been very tight-lipped about his past prior to making "The Room." Often, his answer as to where he's from is New Orleans, Louisiana, despite his very obvious accent indicating otherwise. It wasn't until 2017 — during the promotion of "The Disaster Artist" — that Tommy finally publicly admitted his non-American origins, telling Jimmy Kimmel, "I'm originally from Europe, but I'm, right now, American like everybody else" (via Entertainment Weekly). 
Even though it took a while for Tommy to open up, a lot of his past life is still mysterious. He has frequently refused to answer questions about his personal life, though that hasn't stopped the public from being curious about it. It was eventually discovered in the documentary "Room Full of Spoons" that Tommy was born in 1955 in Poznań, Poland. Greg Sestero also alleged in his book that Tommy claimed to have worked in Strasbourg, France, before moving to San Francisco, selling real estate, and later becoming hospitalized after a car crash, which made him decide to pursue his dream of acting. 
Particularly, Tommy's mysterious financing of "The Room" has been subject to speculation. The man himself has alleged numerous times he made a fortune through selling leather jackets, though some have speculated he made them through other means. This includes insane theories such as him being D.B. Cooper, a man who hijacked a plane in 1971 and parachuted away with $200,000 never to be found again. 
Tommy meets Greg Sestero in an acting class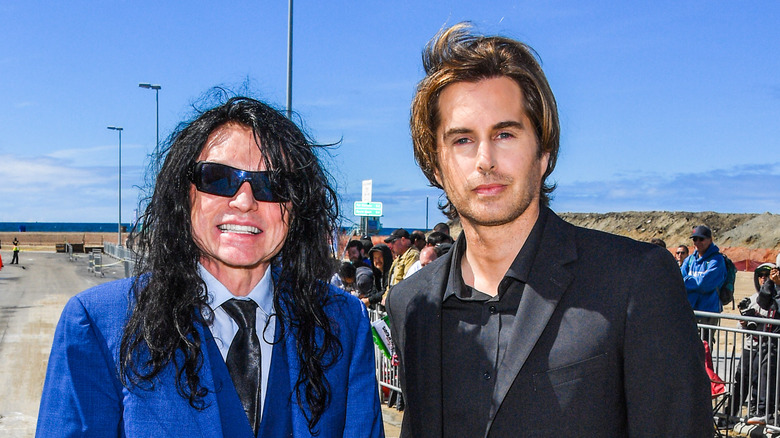 George Pimentel/Getty Images
Greg Sestero's autobiography recounts many early details of his friendship and collaborative relationship with Tommy Wiseau. In 1998, Greg attended an acting class taught by Jean Shelton, where on his first day he met the stranger he would come to know as Tommy Wiseau. Enticed by his confidence in the face of Shelton's frustration, Sestero asked Tommy to be his scene partner, and from that moment, the two were friends, whether Greg liked it or not. 
After several failed successes in Hollywood, Tommy got bored of waiting for the right opportunity and decided to self-fund his own movie, titled "The Room." Sestero agreed to help with casting, though Tommy ended up firing the original actor of Mark, and convinced Greg to play it, which the actor knew was what Tommy wanted in the first place. The production was infamously wrought with on-set delays and conflict, culminating in a football scene shot between Tommy and Greg, where Tommy tackled Greg in frustration — and later kept the shot in the movie.
Greg assumed that "The Room" would never see the light of day until he was invited by Tommy to its premiere in Los Angeles. Over the years, as the film grew more and more successful as a cult classic, Greg and Tommy have remained friends and collaborators, despite all the turmoil they experienced. For Greg, it was worth it just for Tommy to see his dream of being a movie star realized. 
The Room is the product of Tommy's complicated genius.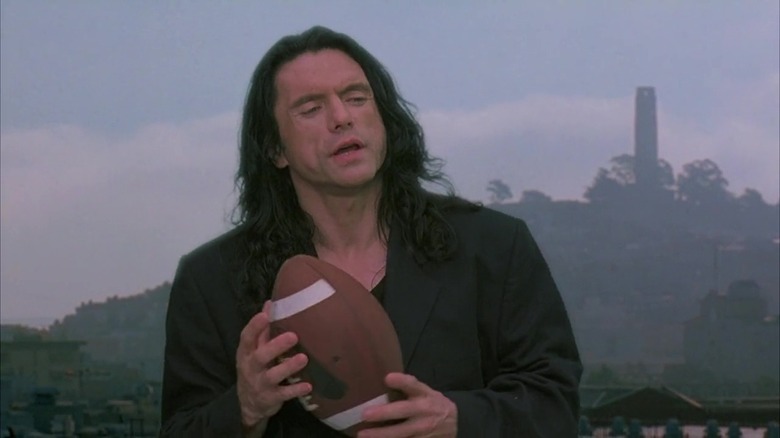 Wiseau-Films
"The Room" centers on Johnny — played by Tommy Wiseau — who works at a bank and is engaged to Lisa (Juliette Danielle). However, Lisa is having an affair with his best friend Mark (Greg Sestero), admitting to her mother that she's tired of her relationship with Johnny. Once Johnny discovers the affair, he secretly records them and confronts Mark at his birthday party, before lashing out at Lisa and eventually killing himself. 
The rest of "The Room" contains several vignettes and irrelevant storylines, such as Johnny's teenage neighbor Denny (Philip Haldiman) having a run-in with a drug dealer named Chris-R (Dan Janjigian), and Lisa's mother (Carolyn Minnott) being diagnosed with breast cancer. According to Greg Sestero's book, most of the film's story was based on "The Talented Mr. Ripley" — a movie Tommy became obsessed with while they were roommates in Los Angeles — with further inspiration coming from James Dean's performance in "Rebel Without a Cause." 
Though many audiences laugh at the ridiculousness of "The Room," a lot of it rings true for Sestero. During an interview with James Franco in 2016, he claimed that "The Room is basically [Tommy's] life mixed with his view of life, of the ideal," drawing a parallel between Johnny's story and Tommy's past (via V Magazine). In other interviews, Greg emphasized that the legacy of "The Room" is much larger than the simple movie he and many crew members toiled over making.
If you or anyone you know is having suicidal thoughts, please call the National Suicide Prevention Lifeline​ by dialing 988 or by calling 1-800-273-TALK (8255)​.
Over time, The Room becomes a legendary cult classic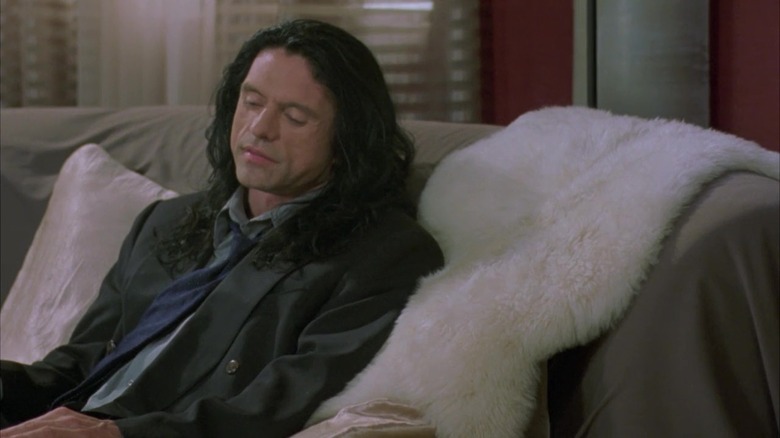 Wiseau-Films
"The Room" first premiered in Los Angeles in 2003 to less than favorable reactions from the audience. While Greg Sestero walked out early, Tommy was stunned and surprised by their negative reaction, albeit some people were humored by its awfulness. It all came down to Michael Rousselet, a young theatre-goer who caught the film in an empty theater and was enchanted, claiming "[he] saw it four times in three days, and on the last day [he] had over 100 people there" (via Entertainment Weekly).
Slowly but surely, "The Room" became a cult midnight movie hit in the vein of "The Rocky Horror Picture Show" or "The Star Wars Holiday Special." For residents of Los Angeles, the movie attracted them in a different way. Prior to the film's premiere and following its release, Tommy paid for a billboard promoting the movie to be kept up for five years. On the billboard were the film's name, a close-up of Tommy's face, and his own personal phone number, which if called he used to redirect callers to screenings of "The Room." 
Soon, that billboard caught the attention of many moviegoers, including "Arrested Development" stars David Cross and Will Arnett, as well as actors like Paul Rudd and Kristen Bell, who all began to spread it amongst their close circle of friends. The film ended up commonly referenced in some of their projects, such as Rudd's film "Role Models," and Bell's television series "Veronica Mars." 
Tommy travels the world screening The Room for packed audiences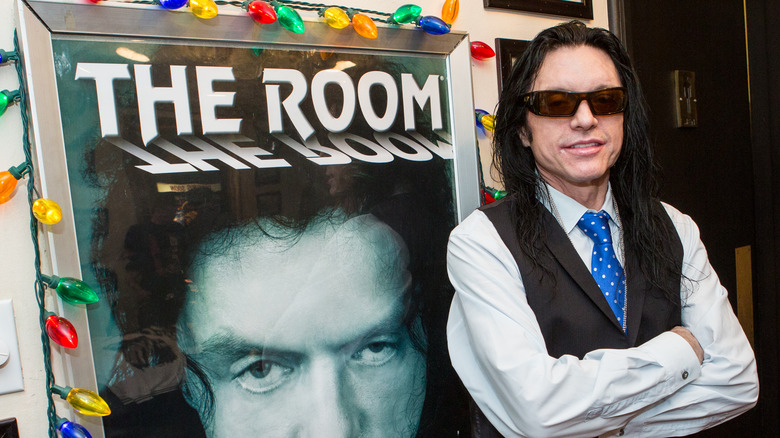 Josh Brasted/Getty Images
Following the film's cult success, Tommy Wiseau officially embraced people's love for the film — whether it was ironic or unironic didn't matter. According to actress Robyn Paris — who plays the role of Michelle in "The Room" — things began to change circa 2008, as a word-of-mouth campaign had begun to spread like wildfire amongst movie fans (via Backstage Magazine). Even she began attending midnight screenings, dressing up in costume, and running into the likes of celebrities like Michael Cera, who also reportedly adored the film. 
The film is now regularly shown in screenings all across the country, where Tommy frequents to sign memorabilia, toss footballs with fans, as well as sell his clothing line of underwear, socks, and other merchandise. These midnight circuit screenings also come with their own set of rituals and traditions, including throwing plastic spoons whenever spoons inexplicably appear on the screen or loudly screaming and responding to the movie's dialogue like it's a rock concert. 
Nevertheless, it's impressive that Tommy is so accepting of the unintentional success of "The Room," given that many so-called artists would scoff at their movie being received like this. Tommy, he's just happy that his dream of being a movie star has come to life in whichever way possible. As he told James Franco in their V Magazine interview, when it comes to people laughing at his character's unfortunate fate, Tommy's motto is "the more they laugh, the better."
The Neighbors takes Tommy's talents to TV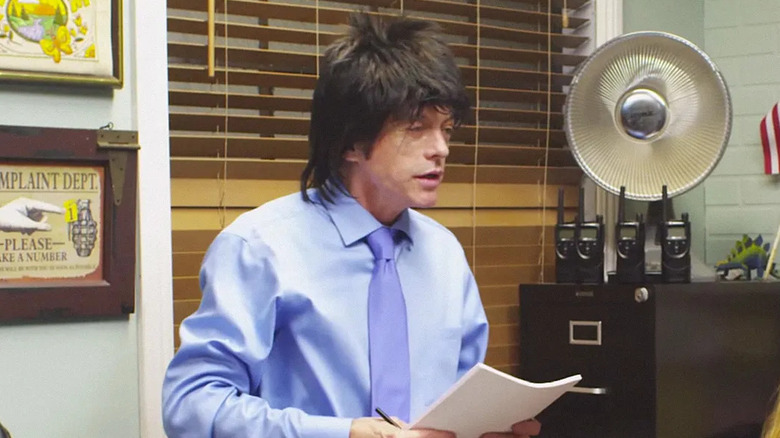 Hulu
Following "The Room," Tommy didn't let his accidental success deter him from working on new projects. The first of those came shortly after the release of "The Room" in 2003, producing the documentary "Homeless in America," which won an award for Best Social Documentary at the New York International Independent Film & Video Festival in 2004. In 2008, Tommy's next big project would take his filmmaking ambitions to the small screen.
"The Neighbors" was a pilot Tommy produced and starred in, centered on an ensemble of apartment building residents, including Tommy playing Charlie the manager and the antagonistic tenant Ricky Rick. As Tommy alleged in an interview with Decider, his decision to play dual roles was that he "[wants] to show people that I have range." He ended up reproducing the pilot in 2014, prior to being picked up by Hulu for a six-episode season — despite Tommy's claim that he had written 10 episodes — which aired in 2015. The show's end credits also allege that it's based on a novel written by Tommy Wiseau, which does not exist.
Although Tommy promised fans a second season for "The Neighbors" as early as 2016, this hasn't come to pass yet. Nevertheless, "The Neighbors" has been enjoyed by many fans of "The Room," though critics were as unkind to it as they were to Tommy's directorial debut, with The A.V. Club panning it for its lack of production value and overall nonsensical structure.
Tim and Eric have a short-lived collaboration with Tommy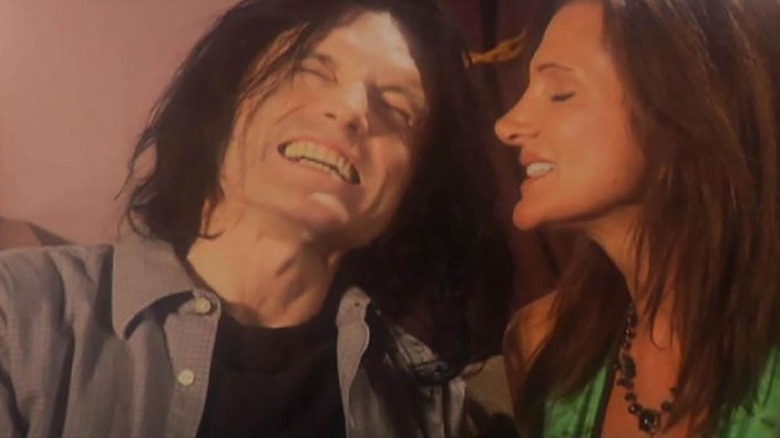 Adult Swim
Two early adopters of Tommy Wiseau's work were Tim Heidecker and Eric Wareheim, known for their Adult Swim sketch comedy series "Tim & Eric Awesome Show, Great Job!" The show was notable for its absurdist, cringe humor, as well as for recruiting celebrity guest stars like John C. Reilly and "Weird Al" Yankovic. In the case of Tommy Wiseau, he was recruited by the comedy duo to appear in a 2009 episode of their series — titled "Tommy" — which heavily featured Tommy as an actor in a sketch titled "Pigman."
Following the episode, Tommy had positive things to say about working with Tim and Eric, telling interviewers that he'd be open to working with the duo again if the opportunity arose. One of the projects the trio had in the works was trying to get Wiseau's show "The Neighbors" — then just a pilot — on Adult Swim. Sadly, the project never came to fruition due to creative differences. Though to no one's surprise, Tim and Eric's version of events varies heavily from Tommy Wiseau's.
During a podcast interview, Tim Heidecker claimed Tommy quit working on "The Neighbors" with them because they wanted him to have complete creative control as he had on "The Room" (via YouTube). However, in an interview Tommy did with Gawker, he claimed that Tim and Eric were jealous of him for drawing bigger crowds than they did. Unfortunately, the creative collaboration didn't last very long.
Tommy Explains It All showcases Tommy's opinions on various topics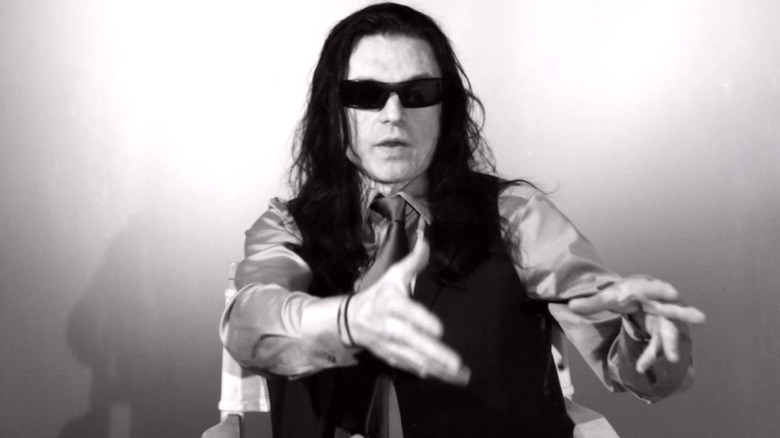 YouTube
Although Tommy Wiseau is still extremely private about his background and personal life, he never shies away from the opportunity to put his personality and character forward for an audience. These are often the draws of Tommy's nonsensical Q&A sessions prior to "The Room" screenings, as well as any other public appearance he does where interviewers attempt to decipher who the man behind the dark sunglasses really is. 
Getting to the heart of Tommy was also the basis for his short-lived YouTube series, "Tommy Explains It All." Throughout 2011, Tommy posted nine episodes of the web series, with each episode running for approximately three to four minutes. In the show's very first episode, Tommy discusses the film "Citizen Kane," talking about his own personal connection to Orson Welles' film and how he relates its divisiveness to "The Room." Other topics given the Tommy treatment in the show's other eight episodes include love, comedy, and America. 
"Tommy Explains It All" wouldn't be the end, nor the beginning, of Tommy's internet presence. He also partnered with Machinima to make the appropriately named "The Tommy Wi-Show," which ran for 10 episodes and featured Tommy playing and commentating on popular video games such as "Mortal Kombat" and "Dark Souls." In 2015, Tommy starred in "Samurai Cop 2: Deadly Vengeance," a crowd-funded action movie written and directed by Gregory Hatanaka, where he plays the film's main antagonist, the leader of the Shinjuku criminal organization.
Tommy becomes interested in a 2015 critical flop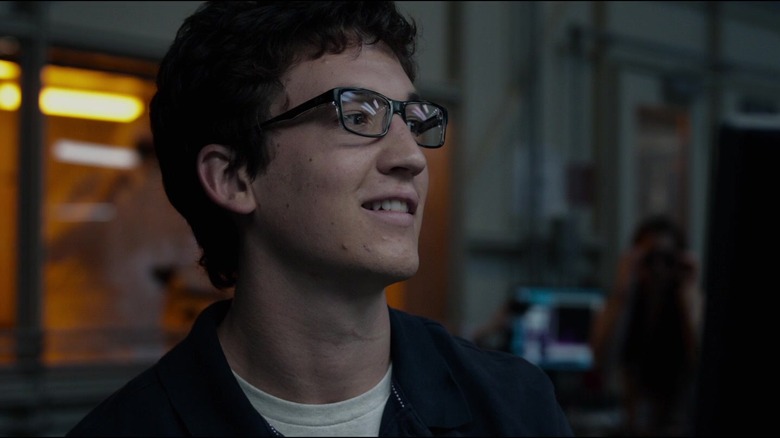 20th Century Fox
Tommy's interest in directing other projects never waned in the years following "The Room," despite his being able to cash in on the success of the film through midnight circuit screenings and merchandising. However, one project Tommy was interested in directing never ended up happening. In a 2015 interview with Milwaukee Magazine, Tommy talked about his future projects, and mentioned that he had recently seen the 2015 remake of "Fantastic Four," directed by Josh Trank and starring Miles Teller, Kate Mara, and Michael B. Jordan. 
Although he enjoyed the movie, Tommy cryptically told the magazine that "it's too bad they didn't call me, that's all I want to say and I rest my case." When the interviewer noted that 20th Century Fox was planning a sequel — despite underperformance at the box office and negative reviews, Tommy expressed interest in directing the superhero flick. Years later, he reiterated to ComicBook.com that he thought he would've done a better job at directing the film than Josh Trank.
Sadly, the "Fantastic Four" sequel never happened, and 20th Century Fox was later bought by Disney. Currently, Matt Shakman is attached to direct a new "Fantastic Four" movie for the Marvel Cinematic Universe, meaning that Tommy was once again passed over for directing. However, there's still a chance for Shakman to include Tommy or "The Room" in the comic book adaptation, similar to how Jon Watts cast fan-favorite Donald Glover in a small role in "Spider-Man: Homecoming."
Room Full of Spoons documents the making of The Room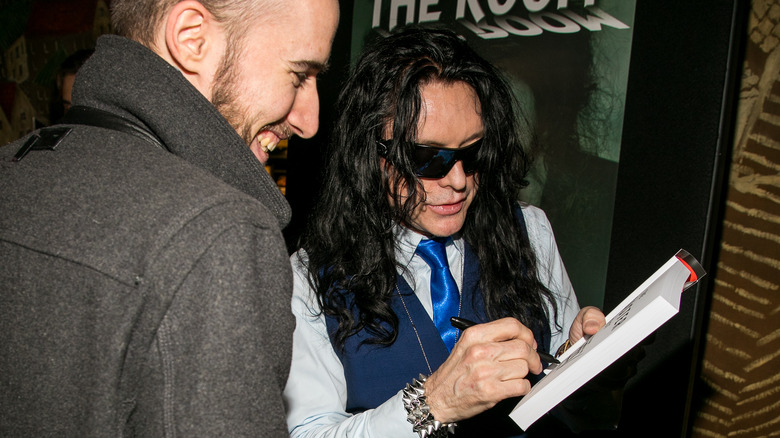 Marc Piasecki/Getty Images
As "The Room" gained public notoriety and cult appreciation in the years following its release, it has also drawn interest in how the movie came to be in the first place. While Greg Sestero's 2013 autobiography was quite the revealing text for fans of the film, others were more interested in learning even more about the man, the myth, the legend: Tommy Wiseau. One of those people was Rick Harper, a massive fan of "The Room," who acquired Tommy's consent to direct a documentary about the film's inception.
That documentary, released in 2016, was titled "Room Full of Spoons." By the time it released, however, Harper had lost Wiseau's support, telling The Hollywood Reporter that Tommy "basically wanted me to make a two-hour promotional video for The Room," which forced the two to part ways creatively. In the film, Harper digs into Tommy's background, discovering that he originally hailed from Poland and was born in 1955. When trailers were initially released, Tommy protested it on social media and told the producers he wanted it to be "60 percent more positive."
Eventually, Tommy's problems with "Room Full of Spoons" became a legal matter. As the filmmakers of "Room Full of Spoons" planned to release the film alongside "The Disaster Artist" in 2017, Tommy filed a copyright claim with participating theaters in Toronto. Ultimately, Tommy was forced to pay around $700,000 to the filmmakers in lost revenue and punitive damages in 2020.
The Disaster Artist dramatized Tommy's rise to fame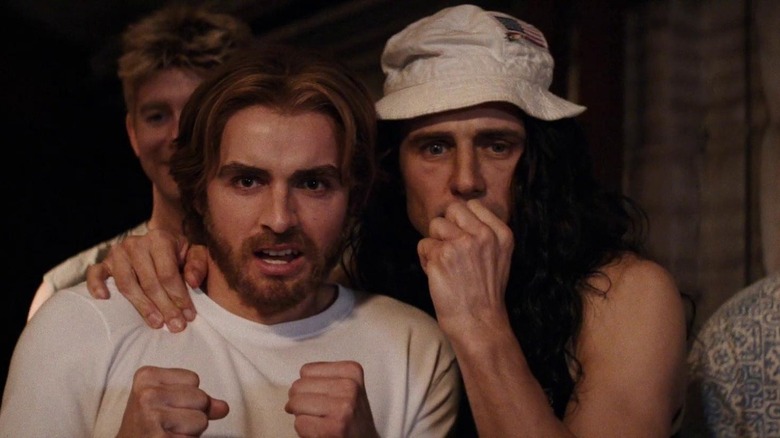 A24
Although Tommy took issue with the unflattering depiction of him in "Room Full of Spoons," he was entirely supportive of a biopic dramatizing the film's creation. "The Disaster Artist" — based on Greg Sestero's autobiography — was directed by James Franco, who also stars as Tommy alongside his brother Dave Franco as Greg. The cast also includes other well-known faces in the world of comedy, including Seth Rogen, Alison Brie, Nathan Fielder, and Paul Scheer. 
"The Disaster Artist" primarily follows Tommy and Greg's meeting and subsequent falling-out during the production of "The Room," ending with a premiere that is received with laughter. A heartbroken Tommy is encouraged by Greg to embrace his newfound status, leading to an optimistic ending of the two friends receiving a standing ovation from the crowd. 
Despite Tommy's desire for privacy, "The Disaster Artist" won him over. James Franco told Deadline that Tommy was fine with the casting choices since he is a huge fan of James Dean — who Franco also played in a biopic earlier in his career. Tommy also appears in the film during a post-credits scene as Henry, a stranger who Tommy meets at a party. "The Disaster Artist" is likely responsible for giving "The Room" more mainstream popularity, with Tommy himself claiming that "The Room" screenings have become more popular since. "The Disaster Artist" earned an Oscar nomination for Best Adapted Screenplay and a Golden Globes win for Franco's portrayal of Tommy. 
Best F(r)iends reunites Tommy Wiseau and Greg Sestero on-screen
The year after the release of "The Disaster Artist," Tommy Wiseau and Greg Sestero did the unthinkable and reunited on-screen for the comedic thriller "Best F(r)iends." Unlike "The Room," "Best F(r)iends" was directed by Justin MacGregor and written by Sestero — who wrote the film's script based on a surreal road trip he took with Tommy in 2003. As Greg Sestero told Vanity Fair in an interview about the film, "Making ["Best F(r)iends"] was a lot more fun than The Room," citing the time he spent with Tommy rehearsing their scenes while driving to set every day.
"Best F(r)iends" — in quite a parallel to Tommy and Greg's real-life friendship — centers on a drifter (Sestero), who is hired to work by a mysterious mortician (Wiseau). After the two characters start a business stealing and selling the gold teeth of corpses, Sestero's character begins to suspect an incoming betrayal from Tommy, leading to an adventure with many twists and turns. The film was entirely shot in 2016, though during the edit the decision was made to split it into two separate volumes, according to co-star Paul Scheer. 
Reviews for "Best F(r)iends" were mixed, with some praising it as a good watch for fans of "The Room," while other reviewers — including Film Threat – called it "tone deaf at almost every turn," citing a scene where Tommy's character makes a racist remark towards an Asian body in the morgue.
Tommy's next film finds him facing an aquatic threat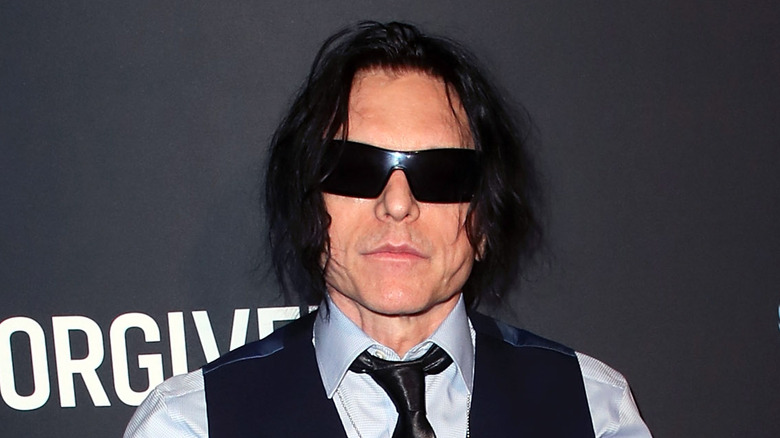 David Livingston/Getty Images
These days, Tommy Wiseau can be found attending "The Room" screenings across the country, often frequenting cities like New York City, San Francisco, and Los Angeles. Following "Best F(r)iends," Tommy and Greg's creative partnership is far from over, with the two of them having several projects lined up that will give them the opportunity to share the screen together. One of those projects has been in the works for many years now, and has been highly anticipated by fans of "The Room."
That film is the aptly-titled "Big Shark," which is set to be Wiseau's second directorial feature, taking inspiration from films like "Jaws." Tommy stars alongside Greg Sestero and Isaiah LaBorde as firefighters who step up to save the city of New Orleans (remember, Tommy's hometown) from a gigantic shark attack. "Big Shark" began shooting in 2019, with production on and off over the next few years as a result of the COVID-19 pandemic. Though the film was initially slated for release in 2019, several delays have pushed it, with Tommy recently claiming it would premiere in August 2023 in New York City. 
Greg Sestero has also taken inspiration from Tommy, making his directorial debut in 2022 with "Miracle Valley," which he also stars in. Sestero has also alleged to be writing a UFO film — which he plans to star in alongside Tommy (per Dread Central). Suffice it to say, Tommy Wiseau's screen ambitions are far from over.