Retired NFL Wide Receiver Hines Ward Once Cameoed On The Walking Dead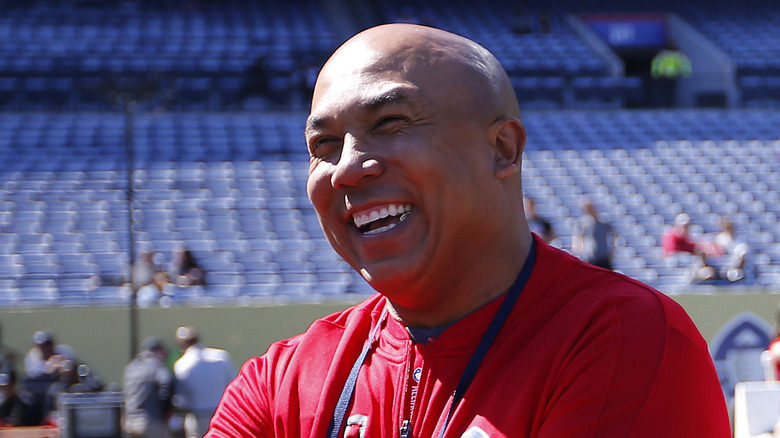 Todd Kirkland/aaf/Getty Images
Hines Ward made his name on the football field as a University of Georgia Bulldog and a Pittsburgh Steeler, winning two Super Bowl rings and a Super Bowl MVP award during his 14 seasons in Pittsburgh, before working his way up the coaching ladder to become head coach of the XFL's San Antonio Brahmas. 
Since he hung up his cleats in 2012 and began his coaching career, Ward has also found time to make some interesting television and film appearances, including a winning stint in Season 12 of "Dancing With The Stars" with Kym Johnson, an appearance as himself in an episode of the "Dynasty" reboot in 2017, and an uncredited guest appearance as a walker in a Season 3 episode of "The Walking Dead." 
Ward's Georgia teammate Irone Singleton started building his own impressive filmography in 2009 with appearances on "One Tree Hill" and in 2009's Best Picture-nominated film "The Blind Side" before landing the part of Theodore "T-Dog" Douglas on "The Walking Dead" the following year. It was Ward's college football connection with Singleton that landed him his guest spot on "The Walking Dead," for which Ward had to sit in makeup for two hours.
Ward's physical attributes made him an intimidating walker
Hines Ward appeared in "The Walking Dead" Season 3, Episode 9, "The Suicide King." Two of the show's regulars noted that Ward's NFL-caliber size and speed would make him a formidable opponent as a walker. Steven Yeun, who played Glenn, told Today, "[He] would be a horrible zombie for us to deal with ... His head's like that much taller than ours, you'd have to aim up." 
Irone Singleton cited a different attribute for why Ward would be a tough zombie to kill, saying of his former teammate, "I think he'll probably be the fastest zombie ever." Ward's appearance on "The Walking Dead" was limited to one scene, but he would go on to replace Lance Armstrong in the Ironman Triathlon later that year. 
In the speech he gave upon retiring from the NFL (via The Augusta Chronicle), Ward said, "I can say I'm a Steeler for life and that's the bottom line, that's all I've really ever wanted." His commitment to being a Steeler for life even extended into his time in the realm of the undead, as the makeup crew painted his Steelers jersey number, 86, on the back of his head (even though it could not be seen on camera).