Shazam 2 Wants You To Buy Skittles (In Case You Didn't Get The Hint)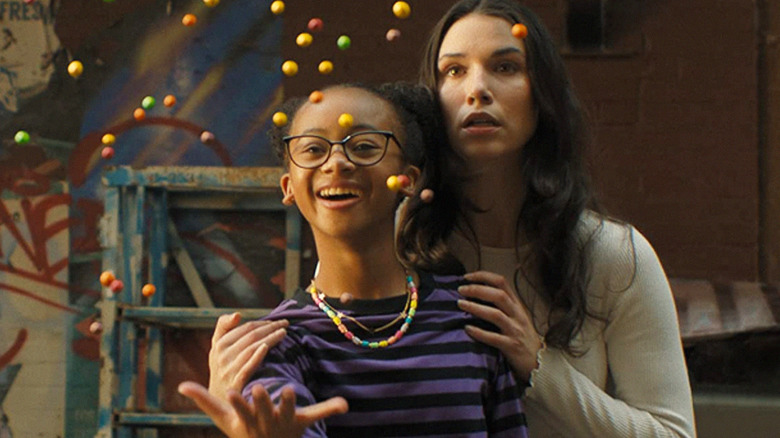 Warner Bros. Pictures
Contains spoilers for "Shazam! Fury of the Gods"
On the whole, audiences seem to be unhappy with "Shazam! Fury of the Gods," a direct sequel to the mainline DCEU film "Shazam!" that premiered in 2019. While much of what fans are critiquing involves its story and characters, one particular moment near the ending of "Shazam 2" has viewers talking due to the brazen incorporation of an ad for Skittles candy.
The Skittles ad in question manifests when protagonist Billy Batson (Asher Angel/Zachary Levi)'s siblings decide that they need the power of a unicorn to help Billy in his climactic battle against Kalypso (Lucy Liu). Soon, they do indeed run into a unicorn, but the creature turns out to be hostile. To get on its good side, Darla (Faithe Herman/Meagan Good) feeds the rampaging unicorn a bag's worth of Skittles, and even whispers its tagline, "taste the rainbow." Of course, during this scene, the camera highlights a Skittles bag, maximizing brand awareness.
So overt is this in-film advertisement that Skittles posted a clip of the moment to its Twitter account, complete with some additional ad copy. That said, in a We Live Entertainment interview, director David F. Sandberg claimed that this scene was already in the "Shazam 2" script before anyone from the film ever approached the Skittles company. Even if its incorporation may have come about as naturally as Sandberg claims, however, fans and reviewers alike are mocking just how shamelessly the latest DCEU tentpole release plugs the Skittles brand.
The Shazam 2 Skittles ad was widely panned
In a Reddit discussion thread for "Shazam! Fury of the Gods" on the general movies subreddit, user stealthamo commented, "I'm honestly trying to remember the last time I saw a Hollywood blockbuster with product placement as blatant as this movie using Skittles." This sentiment received more than 380 upvotes and sparked a discussion of other films with obvious product placement.
User Bunyip_Jack then cited scenes from "Transformers 4" and the 2017 "Power Rangers" movie as notable examples, but argued that the way Skittles is used in "Shazam 2" is even more egregious in comparison. On Twitter too, film writer Zoë Rose Bryant wrote, "Why was there a scene in SHAZAM 2 where the whole movie stopped so that it could become a Skittles commercial," and received more than 250 likes.
Meanwhile, British GQ writer Jack King dedicated an entitle article to criticism of the Skittles ad. Similarly, in a "Shazam 2" review for the Los Angeles Times, author Katie Walsh describes the film as, "a shoddily made Skittles ad masquerading as a superhero riff."
While negative opinions of "Shazam! Fury of the Gods" cite plenty more than just its incorporation of the Skittles brand, general audiences and professional reviewers both seem to be characterizing the Skittles scene as a particularly low point for an already flawed film.