House Of The Dragon's Milly Alcock Had Never Seen Game Of Thrones Before Her Role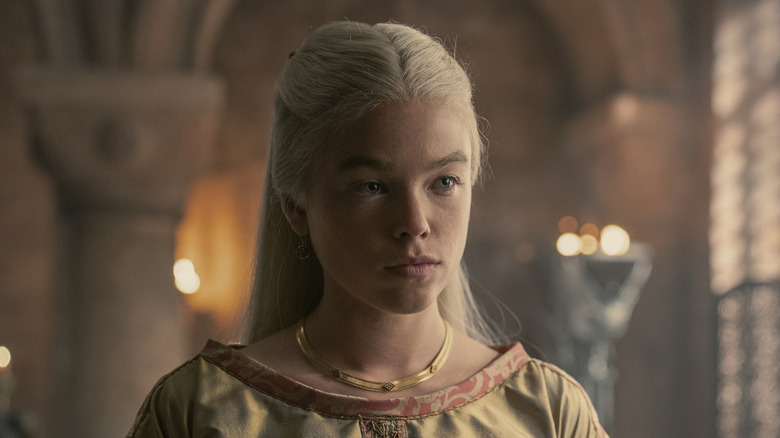 Ollie Upton / HBO
For the eight years it ran on HBO, "Game of Thrones" was hard to avoid — unless you were rising Hollywood star Milly Alcock, apparently. With numerous Emmy wins, through-the-roof ratings, and a big-budget flair that changed the face of television forever, the fantasy series was undeniably the biggest show of the 2010s. Even if you didn't watch it, you probably saw clips, or Halloween costumes, or heard people talking about the Red Wedding.
Thankfully for Alcock, who plays the young Princess Rhaenyra Targaryen in the prequel series "House of the Dragon," none of that experience was necessary to be cast. In an interview with The Evening Standard, the Australian actor revealed that she hadn't seen a single episode of "Game of Thrones" prior to her audition. To be fair, Alcock was only 11 when the show premiered on HBO and 19 when it ended. The excessive gore and nudity wasn't really intended for the tween demographic.
Even without much knowledge of the franchise, Alcock landed the part of Rhaenyra and earned widespread praise for her performance in Season 1. It's no easy feat playing precursor to the immensely talented Emma D'Arcy, but the younger actor pulled the part off with flying colors. Of course, her lack of familiarity with "Game of Thrones" did make her "House of the Dragon" audition a bit more interesting.
Alcock auditioned for House of the Dragon with an Arya Stark scene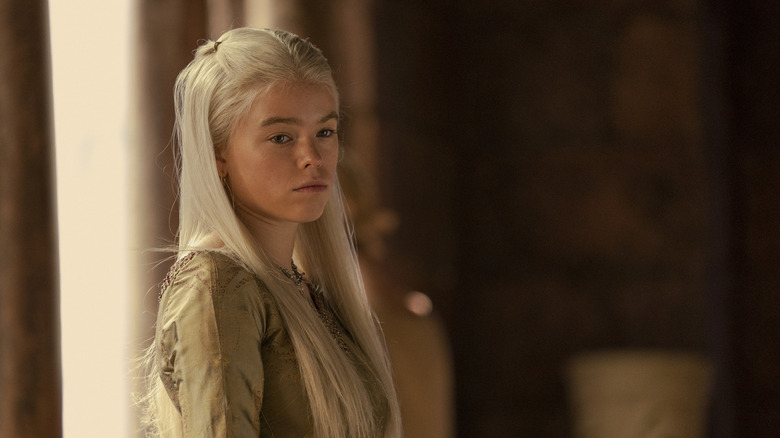 Ollie Upton / HBO
Speaking with The Evening Standard, Alcock described how amazed she was by the "House of the Dragon" production, having had no experience with its predecessor. "I did not know that you could make television like this," she said. Part of the surprise likely came from her audition process, which kept the nature of the project under wraps. If it weren't for a friend, Alcock might not have had any idea what sort of show she was trying out for.
"I got a self-tape for an unknown HBO project," the actor told The Evening Standard, "and I went to shoot it with a friend of mine." Apparently, the names had been removed from the script she was sent, and it wasn't until her friend got a look that they realized what it was from. "He said, 'This is a Game of Thrones scene. This is the scene with Arya Stark.'"
It makes sense that HBO would want to audition prospective stars with Westeros-appropriate material. Of course, if she'd filmed the self-tape herself, Alcock might not have had any idea where the scene came from. In the end, things worked out for everyone involved. Alcock got a starring role in one of the biggest shows of 2022, and everyone who watched got the chance to see her shine as Rhaenyra Targaryen.