Who Plays Eva In Amazon Prime's Swarm?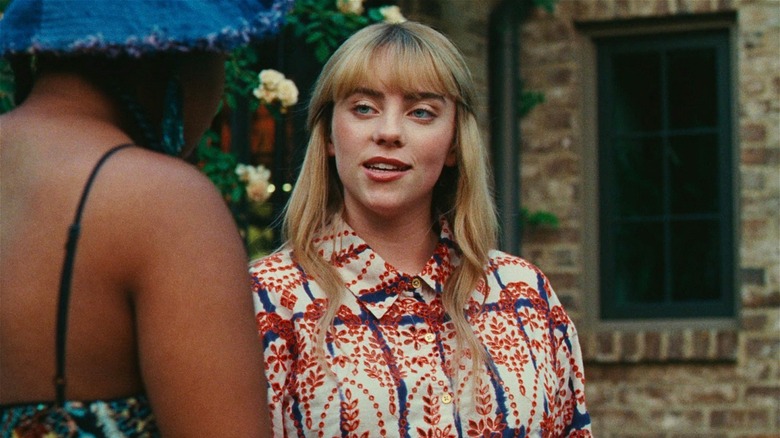 Prime Video
Contains spoilers for "Swarm" Season 1, Episode 4 — "Running Scared"
Fans brave enough to watch Donald Glover's new horrifying series "Swarm" will have a surprise guest star to look forward to. In Episode 4, "Running Scared," Dre (Dominique Fishback) finds herself face-to-face with a talented hypnotherapist and her blissful band of followers. However, due to her menacing nature and captivating acting abilities, it may take a second to recognize the renowned pop star.
"Swarm" features an abundance of notable cast members including Damson Idris (Khalid), Paris Jackson (Hailey), and "Scream 4's" Rory Culkin, who here is returning to the bloody genre. The series even welcomes Malia Obama to its talented team of writers, who all highlight a plethora of relevant issues and pop-culture references to create a series that feels very current and genuine. 
This also marks the exciting on-screen acting debut of Billie Eilish as the unnerving cult leader Eva. Unsurprisingly, Eilish's role is a scene-stealing standout that's cut short by our formidable anti-hero, Dre. 
Billie Eilish plays the bad guy in Episode 4
On her exciting trip to the Bonnaroo music festival, Dre crosses paths with an odd group of devoted women. They're led by Eva, played by popular singer Billie Eilish who is here flexing her dramatic acting talents. Eilish has starred in her own music videos, and even voiced herself on "The Simpsons," but "Swarm" marks her acting debut. 
Eva ultimately tries to prevent Dre from seeing her beloved Ni'Jah (Nirine S. Brown) live on stage and faces the dark consequences we see teased in "Swarm's" first unnerving trailer. 
Eva's manipulative methods will be familiar to fans of "Get Out," as she weaponizes her white privilege and hypnotic abilities to unveil Dre's past trauma. Luckily, Dre comes to her senses when she realizes something's not quite right within the flowery group. As evident by her creepy branding and unattainable commitment to "wellness," Eva's group resorts to single-minded tactics to exert control, which we see mirrored in Dre's sinister fandom. This adds another layer of social commentary made even better with Billie Eilish's riveting performance.
Though Eva meets a grisly and untimely end, we hope this marks a thrilling start to Eilish's blossoming acting career.