Breaking Bad's Betsy Brandt Had No Hesitations About Revisiting Marie For Better Call Saul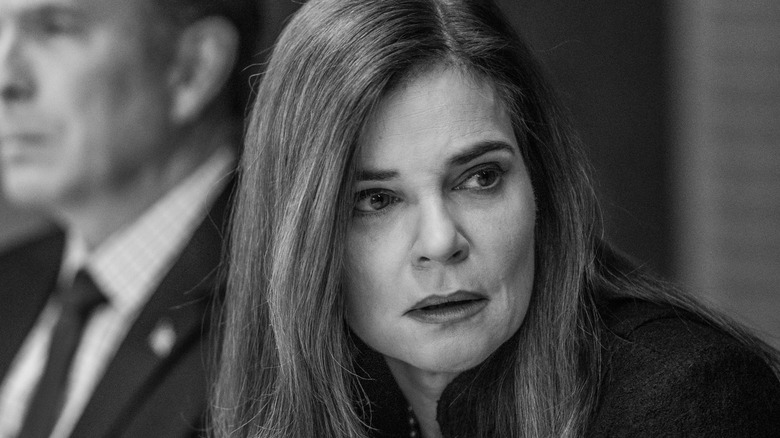 Greg Lewis/AMC/Sony Pictures Television
Of all the things that "Breaking Bad" is remembered for, its stunning character arcs are arguably one of the most notable elements. However, at the end of the series, Marie Schrader's (Betsy Brandt) future is left uncertain, especially after the tragic death of her husband, Hank Schrader (Dean Norris). But her character made a surprising return in the "Better Call Saul" finale, titled "Saul Gone," where she testified at Saul's (Bob Odenkirk) trial. It was certainly a shocking cameo, but it wasn't one that Brandt even considered hesitating doing.
"Oh, no, no, no, no," Brandt said to GQ when asked if she had doubts over returning to the role of Marie. "Oh my God. Listen, I was Marie. I will always love Marie. Would I want a vacation with Marie? Probably not. I loved playing her.. I loved playing her. I mean, I said to Vince Gilligan and Peter Gould, 'You guys could not have done any better by me or my character.' To give her that dignity that she found at the end of this... To play that, it was just such a gift to an actor and to me as a person, because to get to work with all my friends again was incredibly wonderful."
Considering the context of the finale and Saul's role in Walt's rise to power and, effectively, Hank's death, Brandt's logic here makes a lot of sense. Still, beyond her lack of hesitation in returning to the role, Brandt also believes that Marie is a different person in general from the Marie fans saw throughout "Breaking Bad."
Brandt is proud of how far Marie has come as a character
During the aforementioned interview, Betsy Brandt showcased precisely why she understands the character of Marie so well and how she believes that she's changed as a character since her early days in "Breaking Bad" for the better. In fact, the actor admits that she's incredibly proud of just how far Marie has come.
"I'm so proud of her," Brandt said. "I feel like we saw a hint of this at the end of 'Breaking Bad' when the last time we see her, she's wearing no purple. And I know [the finale is] in black-and-white, but she's not wearing purple in the finale of 'Better Call Saul' either. I think once she lost Hank I think she just had to grow up and put things in perspective."
This is definitely an interesting take by Brandt, especially over the color scheme that Marie chooses to wear after the death of Hank. It's even one that perhaps many fans might not have picked up on. Still, it makes a lot of sense, and a shift in Marie's character can even be seen before Hank discovers the truth about Walt's secret life as a drug kingpin. It's just another example of how much craft and care went into constructing the various characters on both "Breaking Bad" and "Better Call Saul" and their arcs.