BlacKkKlansman Poster Hides Out In Plain Sight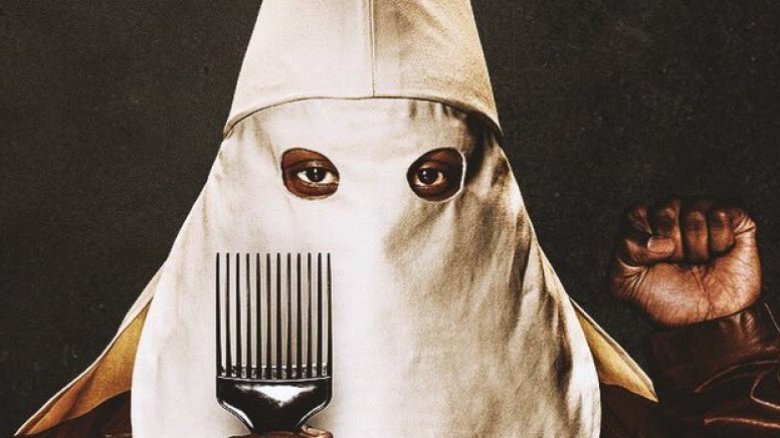 Focus Features
The first poster for Spike Lee's BlacKkKlansman is a vision of black power in white sheets, and it's as eye-catching and uncomfortable as it sounds like it would be.
The one-sheet for the upcoming movie, stylized to resemble a vintage 1970s poster, goes full Clayton Bigsby with its concept, putting star John David Washington in the white hood of a Klansman while he grips an afro pick and holds a fist aloft. 
Produced by Get Out's Jordan Peele and written and directed by Spike Lee, BlacKkKlansman tells the insane true story of Colorado Springs detective Ron Stallworth, who infiltrated a local chapter of the KKK during his time as a law enforcement officer. 
Using a white police officer as his in-person stand-in, Stallworth talked his way to the very top of the organization, eventually becoming an influential leader in the local group. You can check out the trailer for the feature now.
While the movie still has some months to go before a wide release, a debut screening at the Cannes Film Festival inspired a standing ovation, garnering high critical marks for being funny, incendiary, and for drawing a straight line between the hate crimes of the past and the simmering racial divisions of today.
In addition to Washington in the lead role, the movie also stars Adam Driver as Stallworth's Jewish partner, Topher Grace as KKK Grand Wizard David Duke, Laura Harrier, and Harry Belafonte.
BlacKkKlansman will be out in theaters on August 10 — in the meantime, the sad remaining white Klansmen are cordially invited to catch these hands. 
Check out the BlacKkKlansman poster for yourself down below.