Kit Harington Claims HOTD Is A Pain For Him To Watch (Even Though He Loves It)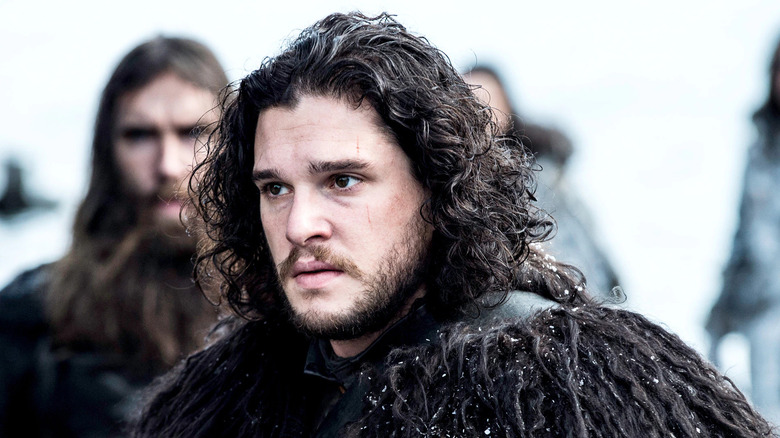 HBO
It's understandable that, for "Game of Thrones" veterans who spent a full decade on the landmark HBO series, it might be tough to watch "House of the Dragon." Maybe it makes them miss filming, or remember grueling days nearly getting crushed by horses in Northern Ireland, or makes them feel a little bit like they're hanging out in the high school parking lot a year after they graduated. In any case, Kit Harington loves "House of the Dragon," but it's difficult for him to watch it.
Speaking to Extra at the premiere of his new series "Extrapolations," Harington, when asked if he watches the prequel and spin-off, responded, "I've seen the first few episodes. ... I loved it, I think they've done a fantastic job with it. A really great job, and I think all the acting in it is superb. It's hard for me to watch because I lived in it for so long that it's kind of like there's a pain there. So I'm working my way through it slowly."
Harington went on to say that seeing other people in Westerosi costumes just feels too strange and that the nostalgia involved makes the entire endeavor a bit too much. It's no secret that Harington struggled with leaving the Seven Kingdoms, and he actually might be returning sooner rather than later — which could possibly make "House of the Dragon" easier to watch for the actor.
Kit Harington had a rough time leaving Game of Thrones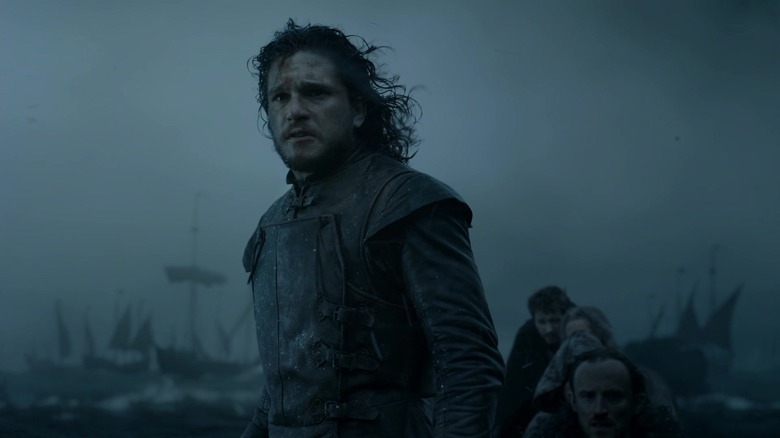 HBO
Considering how young he was when he started working on the HBO series as alleged bastard Jon Snow, it's entirely unsurprising that leaving "Game of Thrones" was incredibly difficult. Harington has been pretty open about the mental health struggles that he encountered during the show itself, revealing that keeping the secret that Jon Snow didn't really die at the end of Season 5 was so stressful he started therapy. He also endured harrowing experiences during sequences like the epic Battle of the Bastards, where he was almost crushed by a swarm of people during a stunt where a similar fate nearly befalls Jon. The final season was its own challenge, between a 55-day night shoot in the dead of winter for the Battle of Winterfell and the brand-new task of "riding" a dragon.
The documentary that aired after the series finale, "The Last Watch," depicted Harington's struggle with the show coming to a close. Visibly tearful during table reads, the scene where he kills his aunt and lover Daenerys (Emilia Clarke), and the moment he wraps on Jon Snow, it's painfully obvious that Harington leaving "Game of Thrones" behind was, well, incredibly painful.
A Jon Snow spin-off series might let Kit Harington return to the Game of Thrones universe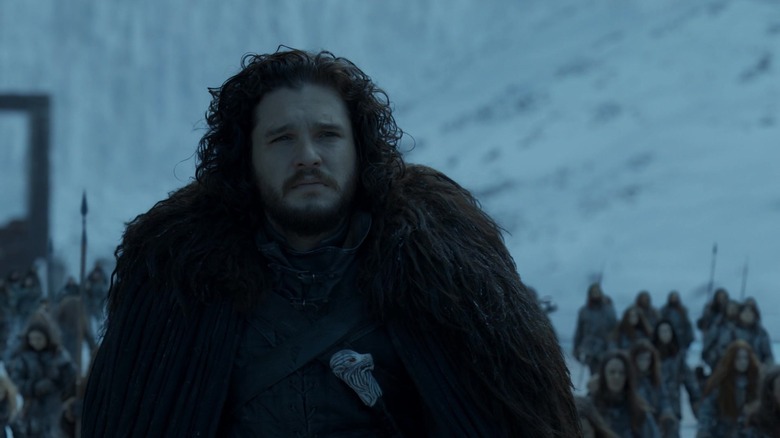 HBO
In June 2022, it was announced that Harington is attached to a pitch for a Jon Snow spin-off that is, as of this writing, still in development and could actually proceed. (It's important to remember that several "Game of Thrones" spin-offs have been announced and then canceled at this point.)
What a Jon Snow spin-off could even be about remains to be seen, considering that, at the end of "Game of Thrones," he rides off into the icy North with former wildlings and men of the Night's Watch, banished to the now-obsolete northern border guard after killing Daenerys. Presumably, whichever "GoT" showrunner is chosen to lead this fledgling series will figure that part out, but it's still a little difficult to imagine.
The other issue is that, with everything he went through on "Thrones," it seems like it might not be entirely wise to put Harington back into Jon Snow's furs, but there's still a long way to go before this series comes to fruition. Until then, you can rewatch Harington's original tenure as Jon Snow on "Game of Thrones," all of which is available to stream on HBO Max now.