Longmire Crew Death Triggered New Safety Measures On Set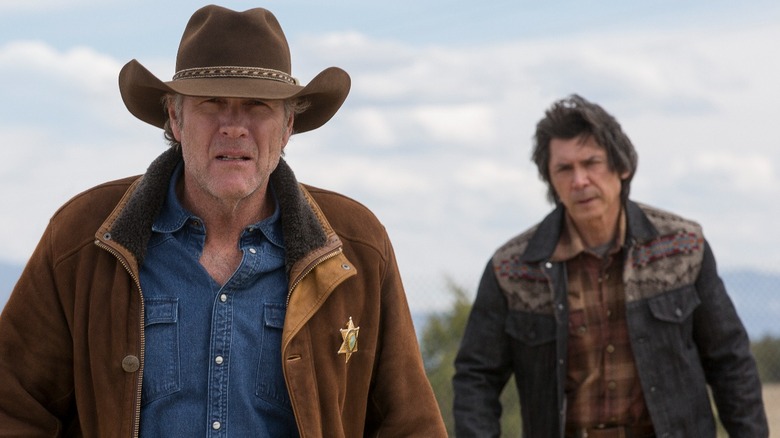 John Golden Britt/Netflix
The A&E network and later Netflix took a gamble during the 2010s that paid off with the off-kilter police procedural "Longmire." Set in a desolate New Mexico town where views of the wide open spaces of the Southwest were the site of many odd and memorable crimes, the series was a testament to the novels of Craig Johnson on which it was based.
Both the cast, led by Robert Taylor as Walt Longmire, and the behind-the-scenes team, led by developers John Coveny and Hunt Baldwin, gave the series its compellingly addictive edge. But the real-life, accidental death of a crew member in 2014 shook up this working dynamic. The exact details surrounding teamster driver Gary Joe Tuck's passing were becoming at the time a common, fatal problem in the film and television industry.
Thankfully, this led to new safety measures to assist tired crew members and keep them from driving while exhausted. Here are the steps the executives behind "Longmire" took to ensure worker safety.
A chartered bus started taking the crew to and from set
John Golden Britt/Netflix
In the pre-dawn hours of June 28, 2014, Gary Joe Tuck was driving home after working a grueling 18-hour shift on location. Falling asleep behind the wheel, Tuck rolled his vehicle on a highway and ended up the victim of a fatal car wreck. Studio executives were quick to implement some changes in the wake of Tuck's demise and also that of Sarah Jones, a driver for the movie "Midnight Rider," who died in a similar circumstance in early 2014. 
In early 2015, both Warner Horizon Television and Netflix began the process of providing chartered buses to take workers to and from the set at the beginning and upon completion of their shifts. The studios still allowed self-driving for those who wished to keep their own method of transport. Those who wanted to take the bus would need to be on the bus 90 minutes before the start of their shifts in order to be transported.
At least one "Longmire" crew member praised the drama's producers for stepping up to the plate and implementing an immediate fix. He also shared that no matter how much those who work behind-the-scenes loved their jobs, the hours and scale of the work easily took a toll on their overall health — necessitating the start of long-needed precautions.