The Office Cast Couldn't Stop Looking Into Cameras Even After The Show Ended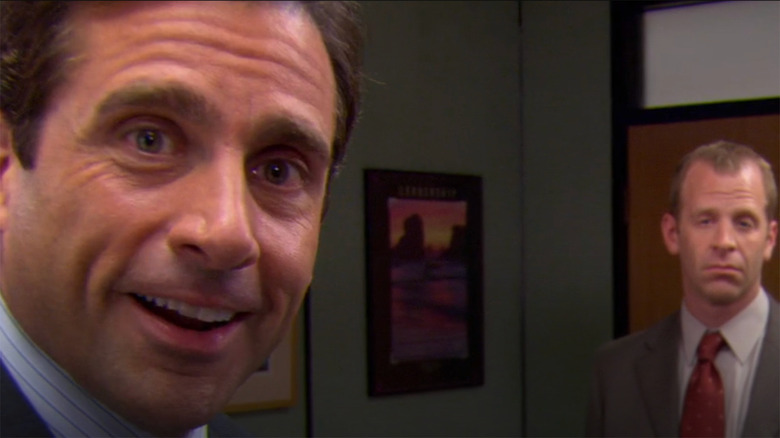 NBC
The mockumentary format of "The Office" is a large part of the hit NBC show's charm and required adjustments from the cast, production crew, and writing staff. After all, in order to maintain the fictional integrity of the story they're telling, screen actors usually have to make a point to not look at the camera. Meanwhile, since characters on "The Office" are fully aware they're being filmed, little glances and nods to the camera frequently serve as gags in and of themselves. While the finale aired nearly a decade ago, some cast members still haven't broken the habit of looking down the lens of the camera while delivering a line. 
In a recent episode of the "Office Ladies" podcast, co-hosts Angela Kinsey, who played accountant Angela Martin, and Jenna Fischer, who played receptionist-turned office coordinator Pam Halpert (née Beesly) interviewed Steve Carell, who played office manager Michael Scott. All three confessed that they still find themselves playing to the camera, sometimes to the chagrin of the directors of their current projects.
"I have never had a job where I didn't look into the camera at some point," Carell said. "I'm sure on Foxcatcher I like looked into the camera and [then told myself], 'Nope. You cannot comment on what you just did.'"
Kinsey and Fischer admitted to making the same mistake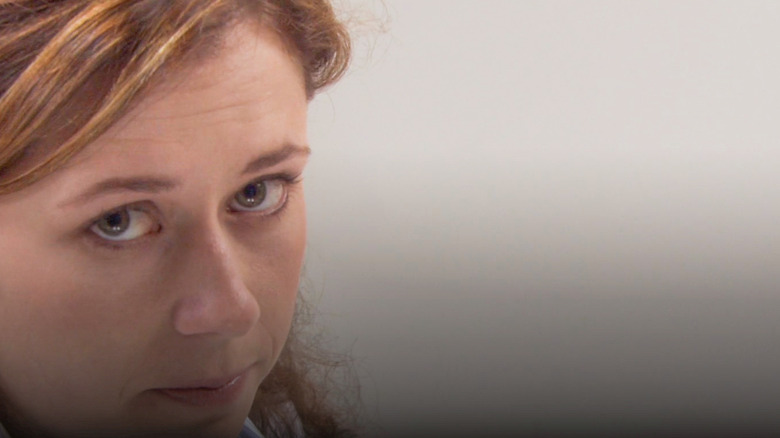 NBC
Jenna Fischer and Angela Kinsey both also confessed to finding themselves staring directly at the camera while shooting other projects long after "The Office" had wrapped. "I can't not make the camera a character now," Fischer said. "It's such a habit." 
Kinsey also admitted that she got herself in a tiny bit of hot water on one occasion, confessing that she "actually had a director say 'Uh, Angela, you just looked right down the barrel.'" The three friends and former co-workers went on to share stories about shooting the show and the audition process. 
Carell pointed out to Fischer that when they auditioned together, he noticed "how grounded you were in your character, instantly." The episode of "The Office" at the focus of this podcast episode was the Season 7 finale, "Goodbye Michael," Carell's last appearance on the show until his surprise return for the series finale two years later. 
Carell named "Goodbye Michael" as one of his favorite all-time episodes of "The Office" along with "Dinner Party" and "Scott's Tots." He specifically cited the cringeworthy nature of "Dinner Party" and "Scott's Tots" as part of why he loved them so much, calling the latter "so horrible," then pointing out that it showed how big a heart his character had.