Stranger Things' Duffer Bros. Assigned This Stephen King Classic As Homework
DFree/Shutterstock
"Stranger Things" is a love letter to the 1980s, and creators Matt and Ross Duffer are making sure that their young stars are all caught up on the pop culture of the decade by assigning some rad homework.
In the early days of the popular Netflix show, the Duffer brothers told The New York Times that their watchlist for the cast included a 1986 film based on a popular Stephen King novel. "We had them all watch 'Stand by Me,' and we told them what movies to watch," said Ross. Just like "Stranger Things," "Stand by Me" is a coming-of-age adventure that follows four friends who are working to solve a mystery. While the themes are similar, the Duffer brothers told The Hollywood Reporter that "It" was their huge inspiration for the series.
However, they used another King novel in their look book for the show. "We literally took the 'Firestarter' paperback and pasted a picture of a bike on top of it and changed the font to our font," said Matt, adding that they were drawing on their memories of reading these books when they were kids.
While the brothers share an appreciation for Stephen King's work, the author himself has shared his appreciation for "Stranger Things."
How Stephen King felt about Stranger Things Season 4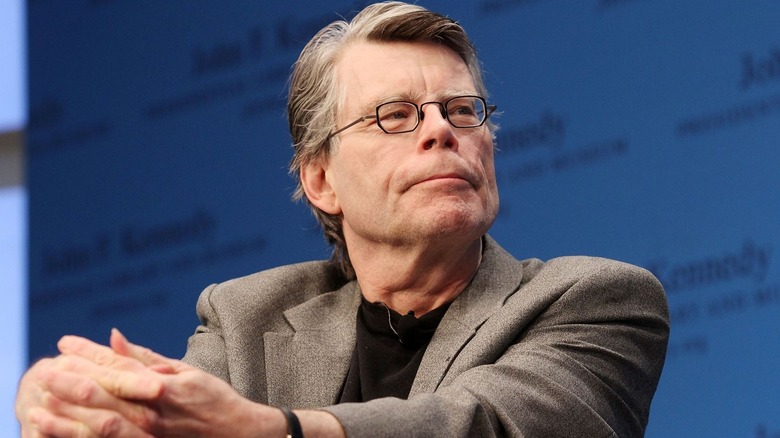 Marc Andrew Deley/Getty Images
Season 4 of "Stranger Things" was action-packed and intrigued many fans, including legendary horror novelist Stephen King. In June 2022, @StephenKing said he really enjoyed the first part of Season 4 and caught the reference to "Carrie," which shows bullies dumping a milkshake on Eleven (Millie Bobby Brown), mirroring the pig's blood scene in King's novel. But he wasn't thrilled about the season being split into two parts. The "Stranger Things" writers' account @strangerwriters replied that they were still working on the season's final episodes but were glad he enjoyed their nod to "Carrie."
Despite his disagreement with the season's layout, he found the highly anticipated second installment of Season 4 to be a nail-biter. King tweeted, "The penultimate episode of 'Stranger Things' is so good, and yet so full of dread, that I'm almost afraid to watch the last one." Season 4, Episode 8, "Chapter Eight: Papa," shows Eleven escaping the lab and the grasp of Dr. Martin Brenner (Matthew Modine) as the team in Hawkins, Indiana makes plans to take down Vecna (Jamie Campbell Bower) once and for all.
The Stephen King book that is getting the Duffer Brothers treatment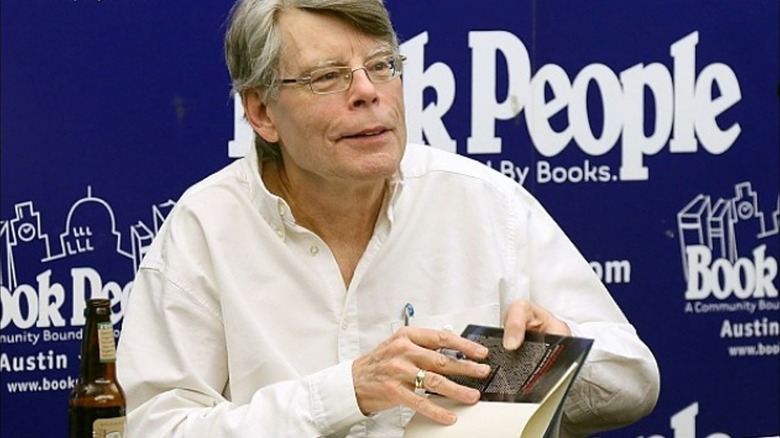 Gary Miller/Getty Images
As the Duffer Brothers continue to plant Stephen King Easter eggs in "Stranger Things," they are also bringing one of King's novels to the small screen. According to Deadline, the duo is working on a series adaptation of "The Talisman." The novel written by King and Peter Straub follows a young man as he moves between two different worlds in search of an object that could save his mother's life.
It's a story that the Duffer brothers should have no trouble adapting, especially since the storyline is similar to that of "Stranger Things" Season 4, with the heroes moving between worlds in order to save Max (Sadie Sink) from Vecna. It's also the book that Lucas Sinclair (Caleb McLaughlin) reads to Max while she's in a coma in Season 4, Episode 9, "Chapter Nine: The Piggyback." Matt Duffer told Deadline, "It may be the last great '80s Stephen King book that has not been adapted, and that's only because Amblin and [Steven] Spielberg have held onto it for as long as they have. ... It involves a lot of things that are very similar to 'Stranger Things.' ... I mean, it's much more fantasy. It has sci-fi. It has horror elements. It has a lot of heart. It has everything that we love."