The Mandalorian Season 3 Finally Brings One Of Coruscant's Coolest Features To Live-Action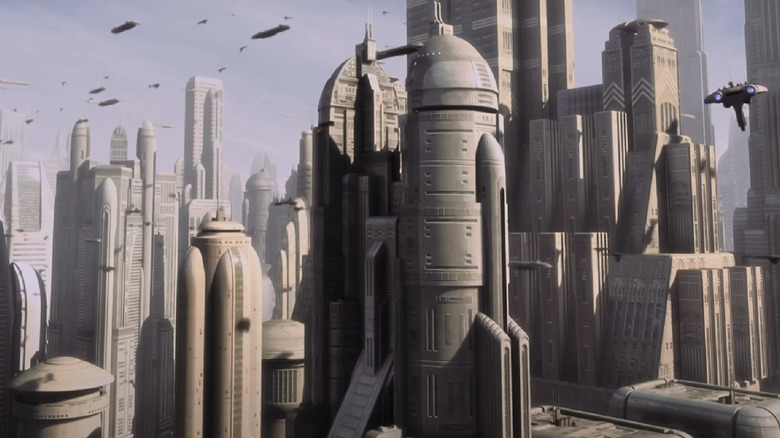 20th Century Fox
"The Mandalorian" Season 3 is packed with deep cuts and easter eggs that veteran "Star Wars" fans are sure to get a kick out of, but one of the most exciting elements of this chapter of the series is its inclusion of all sorts of iconic locales from throughout the franchise. The first episode of the season brings viewers back to the city of Nevarro, while the second centers the action on Mandalore, and the third makes a surprise visit to the mega-city of Coruscant, first popularized in the "Star Wars" prequel trilogy.
It's cool enough seeing Coruscant make an appearance again in general, especially at this chronological point in the broader "Star Wars" story. However, this trip to the iconic locale also marks the first proper live-action appearance of a major planetary landmark that had previously only shown up in secondary media. If only for a brief sequence, fans got a glimpse of Umate, the highest natural mountain peak on all of Coruscant.
Umate is a fun callback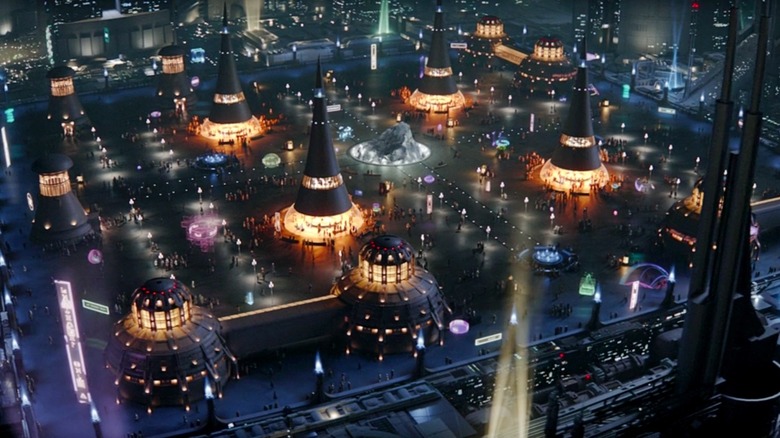 Lucasfilm/Disney+
Partway through "The Mandalorian" Season 3, Episode 3, Dr. Pershing (Omid Abtahi) and Officer Kane (Katy O'Brian) take a leisurely stroll through Coruscant's Monument Plaza before encountering the peak of Umate in its center. It's a unique sight, being the only visible part of Coruscant's natural planetary surface, and Pershing is understandably intrigued by the landmark.
While seeing the peak of Umate is fun in itself, it's also an entertaining callback to several other pieces of "Star Wars" media that previously featured the landmark. Several episodes of the animated series "Star Wars: The Clone Wars" feature the peak, though it's not called by its proper name in those installments. It was also glimpsed in George Lucas' digitally re-edited special edition version of "Star Wars: Episode 6 — Return of the Jedi." Most surprisingly, the name of Umate itself was drawn from the 2021 novel "The High Republic: Light of the Jedi," once again reinforcing just how intricate and interconnected this massive franchise truly is.
It doesn't seem like Umate is going to be integral to the plot of "The Mandalorian," but it's a fun reference for die-hard fans to catch nonetheless. Only time will tell what other relatively obscure fixtures from the "Star Wars" canon end up making an appearance in the series.