The Complete History Of The Shrek Franchise Explained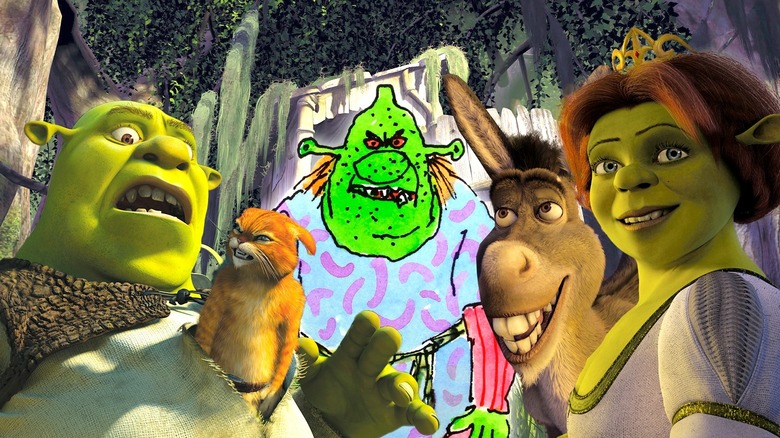 Static Media
The "Shrek" franchise began over 30 years ago, extending its reach across movies, television, books, video games, and amusement park rides. The character was heralded to the screen by DreamWorks Animation, which was founded in 1994 by Steven Spielberg, Jeffrey Katzenberg, and David Geffen. The company has been responsible for many other iconic animation brands, including the "Madagascar" films, "How To Train Your Dragon," and "Kung Fu Panda." However, "Shrek" was — and remains — one of their first and biggest successes.
By the time the first "Shrek" movie was released in 2001, DreamWorks had spent most of the 1990s experimenting and innovating with CGI animation. The art style was popularized by Pixar's "Toy Story," the first fully-3D animated feature film. Prior to "Shrek" becoming a worldwide phenomenon, DreamWorks had found little success with 2D animation like "The Prince of Egypt" and "Sinbad: Legend of the Seven Seas." However, the franchise was a game-changer for the studio, turning it into an animation superpower.
Though the film franchise remained dormant for more than a decade, the dawn of a new "Shrek" era may be upon the world. "Puss in Boots: The Last Wish" was released theatrically in 2022, featuring Antonio Banderas reprising his fan-favorite character. The film marked tremendous change for DreamWorks as a company, experimenting with animation styles that were introduced to the public only very recently. The world of animation has a bright future ahead, especially for fans of the solitary green ogre. 
Shrek begins as a children's book from the '90s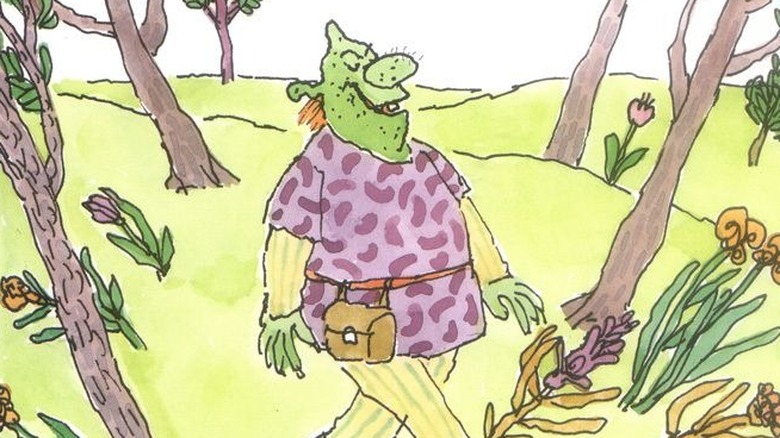 Farrar, Straus, and Giroux
The character of "Shrek" originated an entire decade before the release of the first movie. In 1990, children's book author and illustrator William Steig published "Shrek!" Steig had spent his life drawing cartoons for The New Yorker, before pivoting to children's literature at the age of 61, not publishing "Shrek!" until he was 83 years old. 
The book contains many differences from the eventual movie that was released in 2001, though many core elements remain. In the book, Shrek is a green ogre who is told by a witch that he will marry a princess who is uglier than him. Excited, Shrek is led by a donkey to the castle, where he defeats a knight and wins over the ugly princess, whom he lives "horribly ever after" with. Though "Shrek!" has the simplicity of any children's book, literary scholars spent years debating its themes, with Purdue University professor Lewis Roberts writing that the original book showcases an interpretation of Shrek as a proud outcast, accepting of his flaws despite society's treatment of him.
Nevertheless, the book caught on with families and was adored by the children of DreamWorks producer John H. Williams, who brought it to Jeffrey Katzenberg in the belief that the character would make a great centerpiece for an animated movie. It felt like a promising opportunity for the DreamWorks team to re-interpret well-known fairy tales for a modern audience. 
Steven Spielberg's planned adaptation is bought by DreamWorks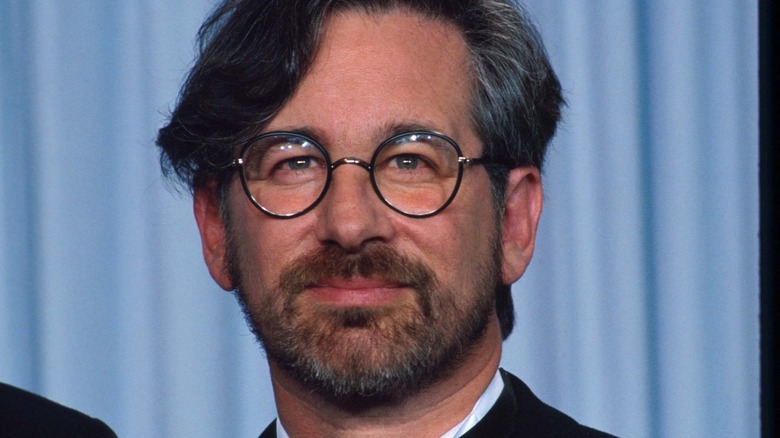 John T. Barr/Getty Images
Surprisingly, Williams and Katzenberg weren't the first filmmakers to consider adapting "Shrek!" as a feature film. By the time they got to it, the rights to the book had already been bought in 1991, a year after its release, by none other than Steven Spielberg. Spielberg's initial plan was to adapt "Shrek!" into a more traditionally animated 2D film, though he had similar ideas to DreamWorks about who to cast in the film's principal voice roles.
Spielberg's initial casting choice for Shrek was none other than Bill Murray, who by the '90s had transitioned from "Saturday Night Live" to a successful career as movie star and Ghostbuster. For the role of Donkey, Spielberg considered another "Saturday Night Live" alumni: Steve Martin. Although Spielberg's vision for the film didn't end up happening, he was happy to pass the rights along to his new partner Katzenberg and the DreamWorks team, who quickly began developing the project.
Soon after the rights were acquired, Katzenberg hired Andrew Adamson and Kelly Asbury to direct the film. After Asbury left to work on DreamWorks' 2D-animated film "Spirit: Stallion of the Cimarron," Vicky Jenson was brought on to co-direct alongside Adamson. Though the film's development was officially underway at DreamWorks, the early stages of production would take up the better part of the 1990s. 
Development on Shrek takes up most of a decade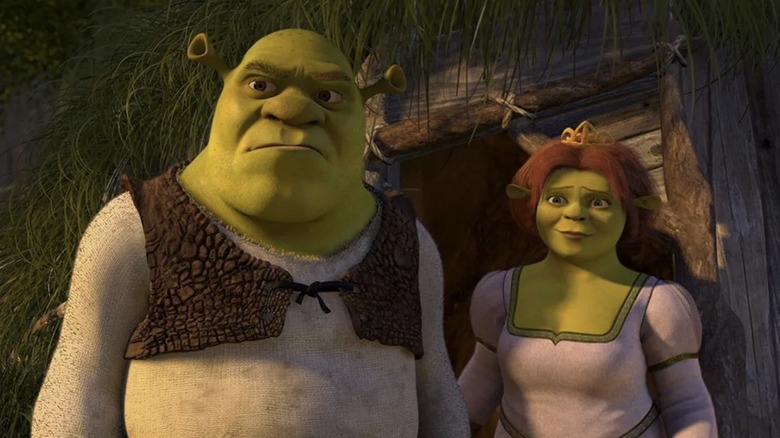 DreamWorks
The turbulent production of "Shrek" is somewhat infamous in the world of animated movies. The character design and artwork was a multi-year process, with characters like Princess Fiona taking over 100 designs before they finalized her appearance in the first film. Shrek on the other hand went through 50 designs before he was approved. For the film's medieval and fairy tale-inspired locales, art designers drew inspiration from traditional European locations like Stratford-upon-Avon or California's Hearst Castle. 
The first "Shrek" film also forced DreamWorks to experiment with never-before-used CGI technology. The film required much more computing power just to render every shot, a process which could take hundreds and hundreds of hours considering the film consisted of over 1,000 shots . Eventually, Jeffrey Katzenberg coined the term "Shrek's law" to refer to how the computer performance needed for rendering would double with every new "Shrek" film.
While the film was ambitious in its scope and technical requirements, being assigned to work on it was deemed as a punishment by many DreamWorks animators. Some animators alleged in the book "The Men Who Would be King: An Almost Epic Tale of Moguls, Movies and a Company Called DreamWorks" that being removed from a film like "The Prince of Egypt" and sent to work on "Shrek" was similar to a prison sentence.
Chris Farley is cast as Shrek just before he passes away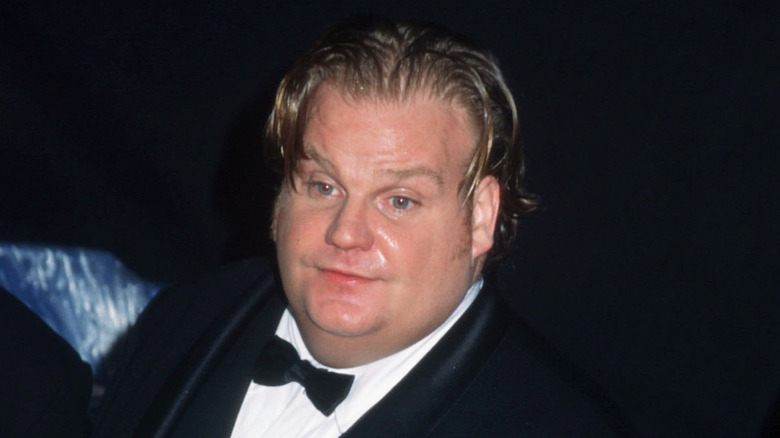 Barry King/Getty Images
While the film's animation process took many years to finalize, the writing and casting went through many changes. The screenplay was a collaboration between Ted Elliott, Terry Rossio, Joe Stillman, and Roger S. H. Schulman. Rossio and Elliott were animation veterans, having also penned the scripts for Disney projects like "Aladdin," while Stillman and Schulman's writing credits included children's television. According to Rossio, he and Elliott were enticed by the idea of writing a comic fantasy, as it had been largely untapped by kids' films. 
As for casting, Janeane Garofalo was initially attached to play Princess Fiona, but was replaced by Cameron Diaz for unknown reasons. More importantly, the titular role was originally offered to Nicolas Cage, who turned it down. The role eventually went to Chris Farley, who had recently been fired from "Saturday Night Live," although a promising movie career was in sight for the actor after starring in "Tommy Boy" and "Beverly Hills Ninja." 
Sadly, Farley passed away before he was able to complete voicing the character, though a demo reel that surfaced in 2015 provides a glimpse at his interpretation of the character. Farley's brother Kevin described this version as similar in personality to Farley himself, forcing DreamWorks to rethink the characterization of Shrek. However, DreamWorks didn't have to look too far, far away from Farley's close circle to find their replacement. 
Mike Myers takes over with his own interpretation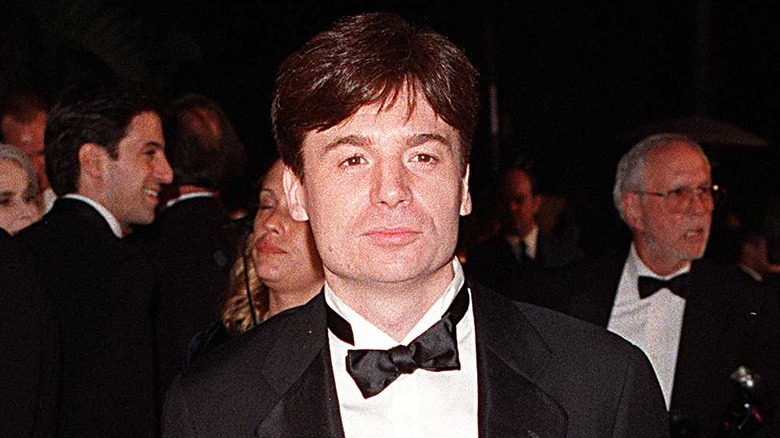 John Chapple/Getty Images
Mike Myers and Chris Farley were castmates on "Saturday Night Live" during the 1990s, although Myers left the show during a mass exodus in 1995. By the time Myers was recast as the voice of Shrek, his career outside of "Saturday Night Live" was prosperous; he starred in the commercially successful comedy "Wayne's World," as well as the rom-com "So I Married An Axe Murderer." However, given his closeness to Farley, Myers wasn't interested in fully replacing his friend, and insisted on a full rewrite of the script to incorporate his own vision for the character. 
Myers completed his voicework in 1999, in the middle of the film's production. But when he was shown a rough cut of the film in 2000, he was having second thoughts about his portrayal of Shrek and requested an opportunity to re-record all of his dialogue. Though Katzenberg claimed this was a costly decision, he allowed it when Myers stated he wanted to play the character with a Scottish accent similar to his character Fat Bastard from "Austin Powers: The Spy Who Shagged Me."
The decision from Myers, per an interview with Vanity Fair in 2022, was to emphasize the idea that the film was about classism in fairy tales, wanting to represent Shrek with a more European, "lower-class" accent. It seemed to pay off, as Spielberg wrote a letter to Myers after the movie released commending the choice.
Shrek was a critical and commercial success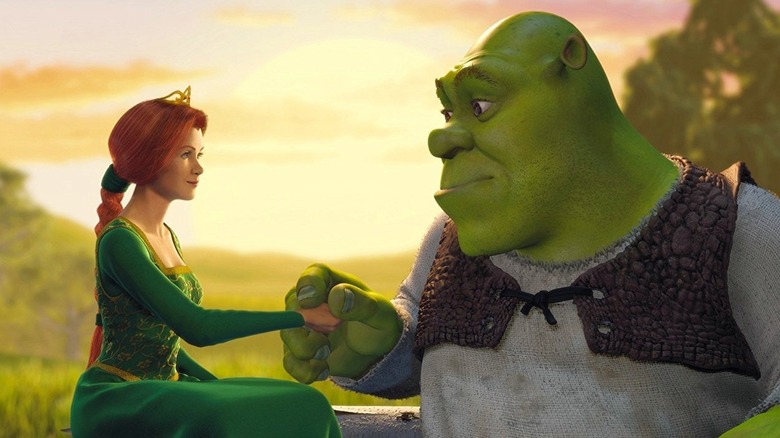 DreamWorks Pictures
After its tumultuous production, "Shrek" was finally released in 2001 and quickly became a box office smash, earning over $42 million in its opening weekend. It later became the fourth highest-grossing film of 2001, below "Monsters, Inc.," "The Lord of the Rings: The Fellowship of the Ring," and the first "Harry Potter" movie. The film also garnered heaps of critical praise, with critics appreciating its appeal to both children and adults. "Shrek" has since become iconic for including several adult jokes and innuendos in its film, particularly in reference to the Disney company.
Notable film critic Roger Ebert was one of the film's biggest fans, giving it four stars and praising the movie's lovable characters and emotional story. Other critics praised the voice performances, especially Eddie Murphy's now-iconic role as Donkey, Shrek's chatty, waffle-loving sidekick. Even William Steig, the book's author, was proud of the finished product despite his fears that the film would be ruined by the Hollywood machine. 
"Shrek" was also screened at the 2001 Cannes Film Festival, where it became the first animated film since Disney's "Peter Pan" to compete for the Palme d'Or. It also became the very first recipient of the Academy Award for Best Animated Feature in 2002, and in the same year became the first animated film to be nominated for Best Adapted Screenplay, which it lost to "A Beautiful Mind." 
Shrek 2 leads to higher expectations from all involved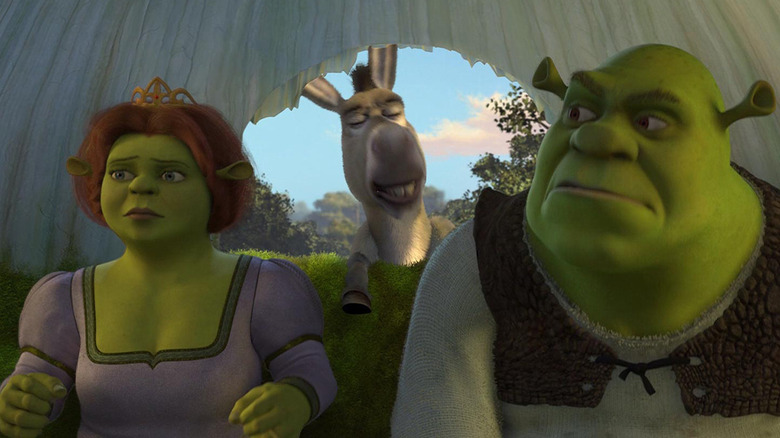 DreamWorks Pictures
Shortly after the successful release of "Shrek," a sequel was greenlit by DreamWorks, to be helmed by the first film's original directing team of Andrew Adamson and Kelly Asbury along with Conrad Vernon. The film's main trio of Myers, Murphy, and Diaz reportedly demanded to be paid $5 million each to lend their voices for a sequel. The project saw further shakeups when screenwriters Elliott and Rossio left after creative differences over its direction.
Released in 2004, "Shrek 2" focused on a newlywed Fiona and Shrek traveling to meet her parents in the kingdom of Far, Far Away, though Shrek finds himself disliked by his in-laws, voiced by Julie Andrews and John Cleese. The film also introduces the character of Puss in Boots, voiced by Antonio Banderas. He's hired by Fiona's father, King Harold, to kill Shrek in order to preserve Fiona's arranged marriage with Prince Charming, though the cute killer later becomes Shrek and Donkey's friend.
The film's production saw new innovations to DreamWorks' animation pipeline, which was complicated by the inclusion of characters like Puss in Boots and the stylish Prince Charming. DreamWorks had to animate the most minute details of the characters, including the shading on Puss in Boots' cap or the fluid movements of a glass of milk, which took more time but made the film much more visually stunning. 
Shrek the Third garners criticism compared to its predecessors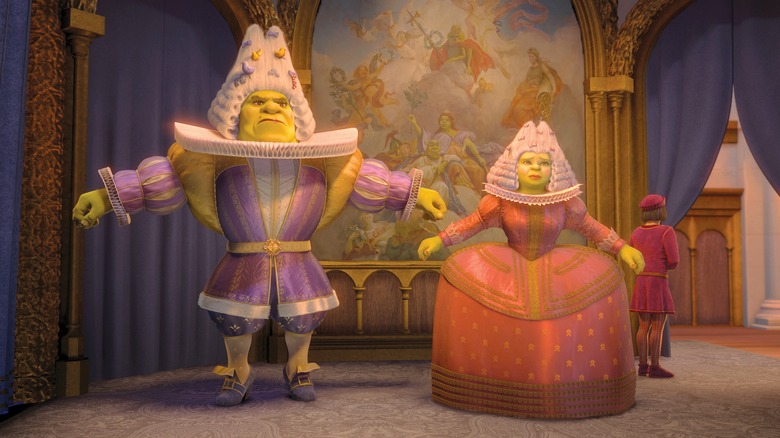 DreamWorks Pictures
"Shrek the Third" represented a shake-up from the previous two "Shrek" films, as it featured a new team of writers and directors. Chris Miller, a frequent DreamWorks collaborator, directed, while the screenplay was written by animation veterans Jeffrey Price and Peter S. Seaman, with additional writing by Miller and Aron Warner. Unfortunately, these changes were felt by the audience, while reviews criticized its lack of balance in tone between the adult humor and children's movie charm that the previous films had. 
The film centers on Shrek and Fiona being summoned to Far, Far Away as Fiona's father Harold is dying. Determined to avoid inheriting the throne, Shrek takes Donkey and Puss in Boots on a road trip to find the other contender for the throne, Arthur, voiced by Justin Timberlake. Along the way, Prince Charming returns from "Shrek 2" dead-set on stealing the throne for himself, recruiting a cavalcade of fairy tale villains as his army. 
Despite poor reviews, "Shrek the Third" was another box office success for the franchise, raking in over $800 million on a $160 million budget. While it was not showered in Oscar nominations like the previous two films, it did gain attention in animated film categories at the BAFTA Awards and People's Choice Awards. However, it was clear that audiences were growing tired of the "Shrek" routine by this point in the franchise.
A comedy legend is offended by Shrek the Third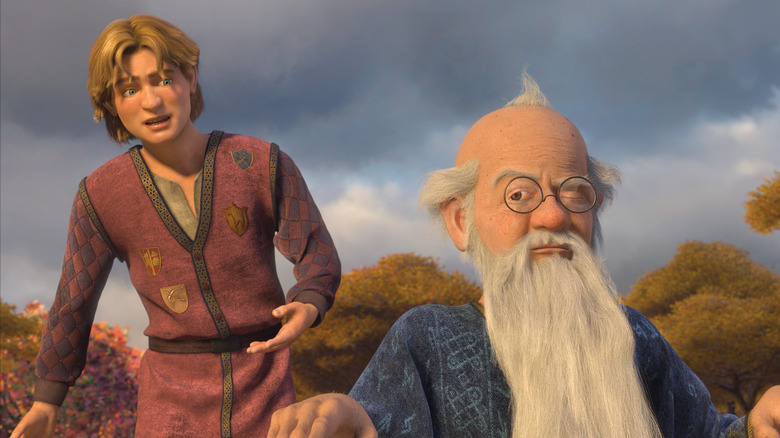 DreamWorks Pictures
"Shrek 2" introduced "Monty Python" legend John Cleese as King Harold, whose death at the beginning of "Shrek the Third" sets in motion Shrek's quest to find Arthur and bring him back to Far, Far Away. The story also allowed for DreamWorks to bring in a former comedy partner of Cleese's, Eric Idle, who appears in the film as Arthur's retired mentor Merlin. The character was harshly judged by some critics, who suggested that some of the film's content, including Merlin, essentially copied ideas from the "Harry Potter" franchise. 
As it happens, Eric Idle himself had his own separate problems with "Shrek the Third." During the premiere, Idle infamously walked out during the film's first scene, which depicts Prince Charming putting on a theater show depicting the events of the previous movie. In what was supposed to be a nod to "Monty Python and the Holy Grail," an offstage performer uses coconuts to replicate the sound of a horse's hooves. 
Idle later revealed that he considered suing DreamWorks for ripping off one of his bits. He later re-entered the theater after calming down, but maintained that he did not appreciate the homage to "Monty Python" and considered it joke theft, although the comedian never ended up taking legal action. 
Shrek Forever After becomes the unofficial final Shrek film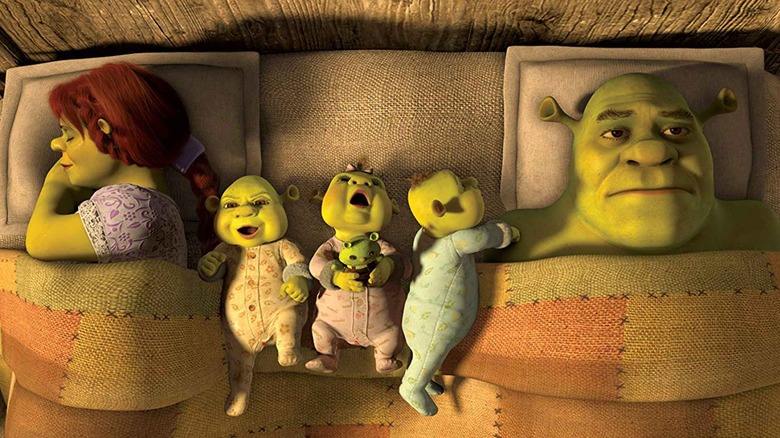 DreamWorks Pictures
Before production even started on "Shrek the Third," DreamWorks had been planning to finish off the franchise with five films. By the time the fourth film finally came around, however, 2010's "Shrek Forever After" unexpectedly became the final "Shrek" movie. According to screenwriters Darren Lemke and Josh Klausner, DreamWorks CEO Jeffrey Katzenberg decided that the story for "Shrek Forever After" was the one with which to end the green giant's saga.
The film centers again on Shrek, who has grown tired of domestic life and parenting and cuts a deal with Rumpelstiltskin to live a day as a real ogre again, although the latter's trick is that he places Shrek in a timeline where he was never born. As a result, Shrek joins a renegade Fiona who fights against Rumpelstiltskin, who has become the new king of Far, Far Away, while Shrek realizes that if he doesn't get a true love's kiss by sunrise, he'll cease to exist. 
"Shrek Forever After" was yet another box office success for the franchise, and accrued more favorable reviews than "Shrek the Third," while still averaging below the reception for the first two films. 
Antonio Banderas reprises Puss in Boots for a 2011 solo film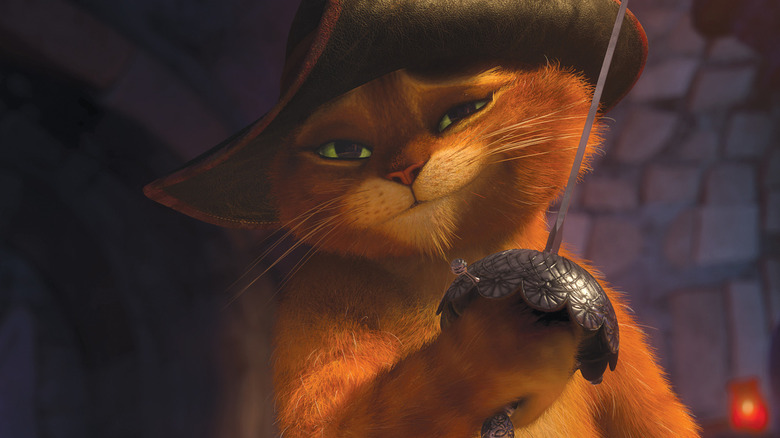 DreamWorks Pictures
Only a year after the "Shrek" franchise officially ended with "Shrek Forever After," DreamWorks kept it alive with "Puss in Boots," a prequel film starring Antonio Banderas' titular feline swashbuckler. The film, which began development following the character's introduction in "Shrek 2," was initially intended to be a direct-to-video release in 2008, though it ended up becoming a bigger production and had a theatrical run that grossed $555 million at the box office. 
The film featured the involvement of filmmaker Guillermo del Toro, who signed on as an executive producer and gave the creators extensive notes, particularly on the character of Humpty Dumpty, the film's villain voiced by Zach Galifianakis. Del Toro also has a cameo in the film as Commandante, a Spanish military general who hunts Puss in Boots. The film also introduced audiences to Kitty Softpaws, Puss in Boots' rival and love interest, voiced by Salma Hayek.
"Puss in Boots," surprisingly, garnered positive attention from critics that hadn't been seen since "Shrek 2," with The Hollywood Reporter in particular praising it for its quick pace and calling it "action-packed without being ridiculous about it and even well choreographed." As DreamWorks would come to discover, the character of Puss in Boots was slowly on his way to becoming the new face of the film franchise. 
Shrek 5 enters a decade of development hell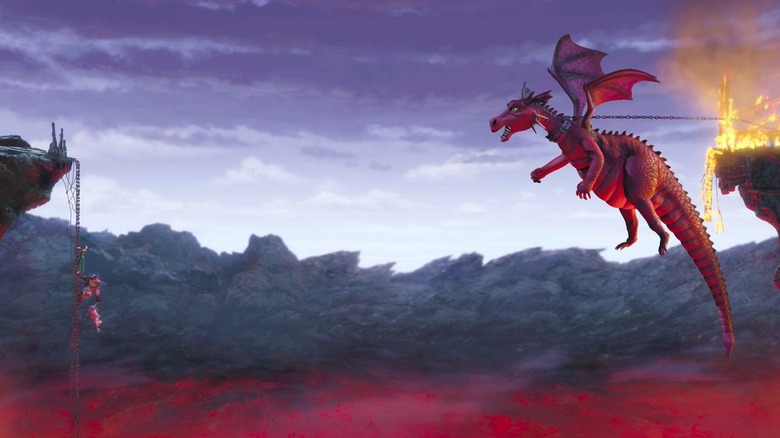 DreamWorks Pictures
The "Shrek" franchise was extended beyond the film series, including a 4-D ride at Universal Studios theme parks in Los Angeles, Orlando, Singapore, and Japan that featured the voices of the entire original cast. "Shrek the Musical" also debuted on Broadway in 2008, starring musical theater veteran Brian d'Arcy James as the titular character and garnering several Tony nominations. 
Despite all this success and attention outside of movie theaters, the future of "Shrek" as a film series was still undetermined. Jeffrey Katzenberg hinted in 2014 at the possibility of a fifth "Shrek" film, with official plans to continue the franchise after NBC Universal bought DreamWorks Animation. Eddie Murphy claimed around that time that a script existed for "Shrek 5," though the film continued to remain in development hell for the rest of the 2010s. 
Around the mid-2010s, a different kind of attention to the franchise sprouted up on the Internet, particularly around communities on the website 4chan. After a meme story titled "Shrek is love, Shrek is life" went viral, an all-new and rather disturbing fascination with the character surfaced. In an article for The Daily Dot, online researcher Amanda Brennan attributed the meme's popularity to an ironic appreciation for the franchise, as opposed to more serious fans of series like "My Little Pony." 
Netflix launches a Puss in Boots series without Antonio Banderas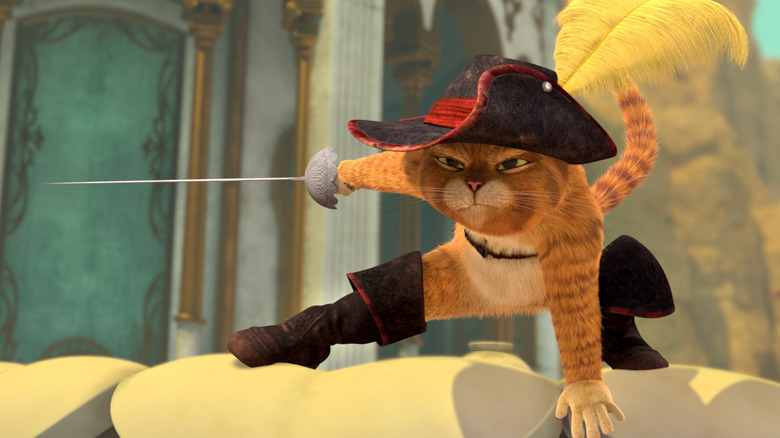 Netflix
In 2014, Netflix was still a fledgling streaming service just beginning to air original content, such as live-action Marvel shows like "Daredevil" and "Jessica Jones," or era-defining TV like "Orange is the New Black" or "House of Cards." DreamWorks Animation got in on the ground floor of animated TV streaming, which included series based on the "Madagascar" films, as well as a brand-new Puss in Boots show, "The Adventures of Puss in Boots," which premiered in 2015. 
Antonio Banderas was not involved in the Netflix series, with the role instead being played by voice actor Eric Bauza, who is mostly known as the current voice behind iconic cartoon characters like Bugs Bunny, Woody Woodpecker, and Porky Pig. In fact, the show didn't feature any returning actors from the "Shrek" films, with other unique characters including the Laraine Newman-voiced Pajuna, a catina-owning cow, and John Leguizamo as Puss' childhood friend Jack Sprat. 
The series, which takes place prior to the events of the 2011 film, aired for six seasons between 2015 and 2018, with an additional interactive special released in 2017, titled "Puss in Book: Trapped in an Epic Tale." The show received positive reviews throughout its run, with The New York Times praising its art style and easy appeal to children, calling it a perfect fit for the character compared to the film.
Puss in Boots: The Last Wish takes the Spider-Verse approach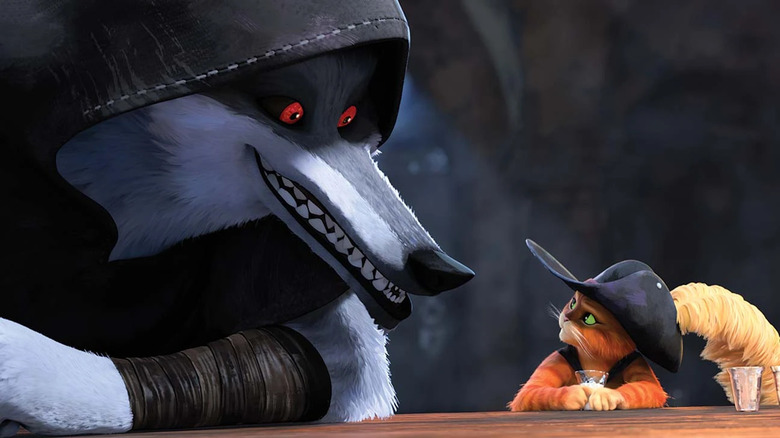 DreamWorks Pictures
Although "Shrek" fans were entertained by 78 episodes of "The Adventures of Puss in Boots" for most of the 2010s, plans for a sequel to the 2011 "Puss in Boots" film began shortly after its release. Guillermo del Toro was involved in the early development as an executive producer, according to an interview the director did with Collider. Production particularly ramped up in 2018, when Illumination CEO Chris Meledandri joined DreamWorks to executive produce "Shrek 5" and a "Puss in Boots" sequel.
In 2022, "Puss in Boots: The Last Wish" was released theatrically, becoming the first film entry in the "Shrek" franchise since 2011. Set after the events of "Shrek Forever After," the film follows Puss in Boots (once again voiced by Antonio Banderas), having spent all nine of his lives, as he races various fairy tale characters to obtain the Wishing Star and replenish them, accompanied again by Salma Hayek's Kitty Softpaws and Harvey Guillén's friendly dog Perrito. 
Upon release, critics and audiences alike relished the film, which featured animation techniques popularized by 2018's "Spider-Man: Into the Spider-Verse," giving the character's movements and textures a more storybook quality. Reviews also praised the film's new characters, including Perrito, Goldilocks (voiced by Florence Pugh) and "Big" Jack Horner (voiced by John Mulaney). 
The success of Puss in Boots promises a bright future for Shrek fans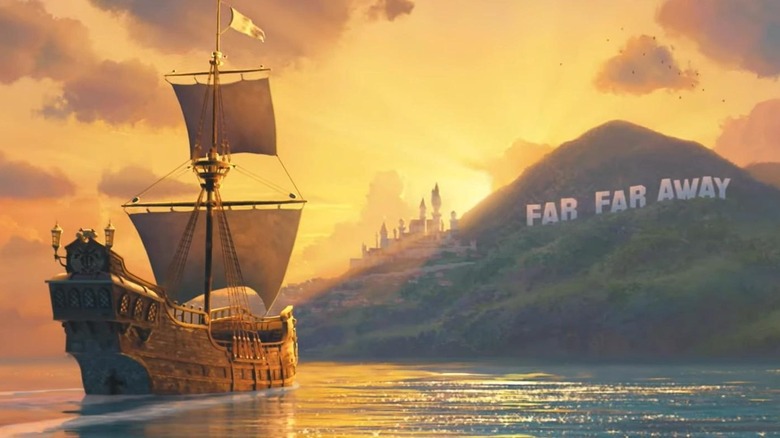 DreamWorks Pictures
"Puss in Boots: The Last Wish" experienced the typical box office success of the "Shrek" franchise, even following the decline in theater attendance due to the COVID-19 pandemic. In addition to glowing reviews and positive online praise, "Puss in Boots: The Last Wish" was also nominated for Best Animated Feature Film at the 2023 Academy Awards, which it lost to "Guillermo del Toro's Pinocchio." 
Given the success of "Puss in Boots: The Last Wish," a future for the "Shrek" franchise may be part of an animation renaissance that del Toro alluded to in his Oscar speech. Films like "Spider-Man: Into the Spider-Verse" have reignited audiences' passion for animated movies, which certainly had its impact on "Puss in Boots." The film itself provides hope for "Shrek" fans, ending (spoiler alert!) with Puss, Kitty, and Perrito sailing on a ship to the kingdom of Far, Far Away to see some old friends. 
The cast of "Shrek" is just as enthusiastic about the future of the franchise, with Eddie Murphy recently telling ETalk that he wants a Donkey solo film if Puss in Boots gets to have one. Mike Myers also featured a costumed Shrek, who he voiced, in his 2022 Netflix series "The Pentaverate." All that's left is for DreamWorks to finally make it happen.