Where To Watch Cocaine Bear At Home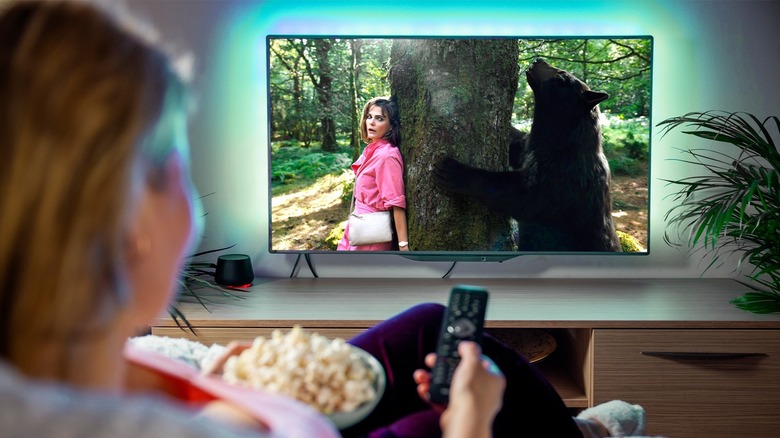 Static Media, Getty
Inspired by the true story of an American black bear that overdosed on cocaine in 1985 (having discovered and subsequently ingested a sizeable amount of cocaine that had fallen from a smuggler's airplane) "Cocaine Bear" is an utterly bizarre horror comedy film that has taken the internet by storm with its chaotic premise. Despite being based on a true story, the film is just as absurd and hilarious as its title suggests, as the CGI bear rampages through the countryside attacking anything or anyone who stands in its way — much to the delight of the audience. "'Cocaine Bear' does pretty much exactly what it sets out to do," reads the Audience Consensus on Rotten Tomatoes. "If you're in the mood for some silly horror-comedy, that'll be more than enough to satisfy."
Despite somewhat making a meme of itself with its ridiculous tone, the film has performed remarkably well at the box office — thus far achieving a worldwide gross of around $65 million on a budget of just $35 million. As such, it might surprise some fans of the so-called "Pablo Escobear" to learn that the film has already made its way onto several digital platforms in spite of this immense success, including Amazon Prime Video, Apple TV, and Microsoft. Here's everywhere you can enjoy the outrageous and meme-worthy story of "Cocaine Bear" from the comfort of your own home.
Cocaine Bear is available on nearly all video on-demand platforms
Following the impressive success of "Cocaine Bear" at the box office, the film is now available to rent or purchase on many digital on-demand outlets, including Amazon Prime Video, Apple TV, Microsoft, Vudu, Xfinity, DirectTV, Spectrum, YouTube, Verizon, Redbox, ROW8, and AMC Theatres On Demand – with pricing across all sites currently set at $19.99 to rent and $24.99 to purchase the film.
The film's arrival on digital doesn't actually mean it's out of the theaters just yet, and instead seems to simply follow the new trend of films arriving early for on-demand and streaming services. Gone are the days when an early home video release meant your film was a complete bomb. In fact, because the film has amassed such an immense online following (trending across social media as users discuss its ludicrous premise and over-the-top violence), perhaps this transition to digital media will actually lead to even greater success.
In any case, it's now easier than ever to check out the utter insanity that is "Cocaine Bear," and any fans who haven't caught the film in theaters (or would like to purchase the film for their own collection) ought to check out the numerous on-demand options now available.