An Impractical Jokers' Challenge Turned Into The Best Night Of Murr's Life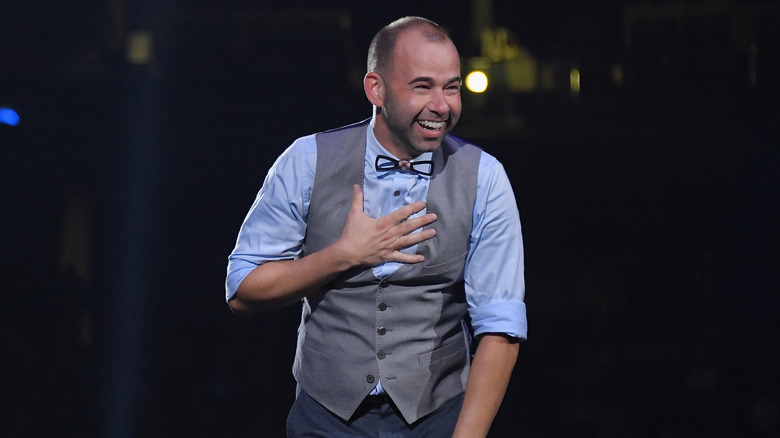 Mike Coppola/Getty Images
Most challenges on "Impractical Jokers" are doable, if not advisable. At its core, the long-running TruTV series is predicated on the jokers' ability to embarrass one another, and boy do they succeed. Even the comparatively shameless Joe Gatto wasn't able to complete all of the challenges before he departed the series in 2022. 
Punishments, on the other hand, are an entirely different matter and have historically involved tarantulas and skydiving. The 100th episode of "Impractical Jokers," titled "Live Punishment Special," ends with the guys walking a tightrope five stories in the air, and this was particularly scary for James "Murry" Murray.
"When I was going up the crane to the tightrope 60 feet up, I was terrified," Murray said in an After Party Web Chat. "Then I got to the top, and I climbed onto the pedestal, and they locked me in." 
While it was a terrifying experience, it also marked one of the best nights of Murray's life thanks to the support of fans.
Murr was moved by the number of fans who showed up to watch the tightrope walk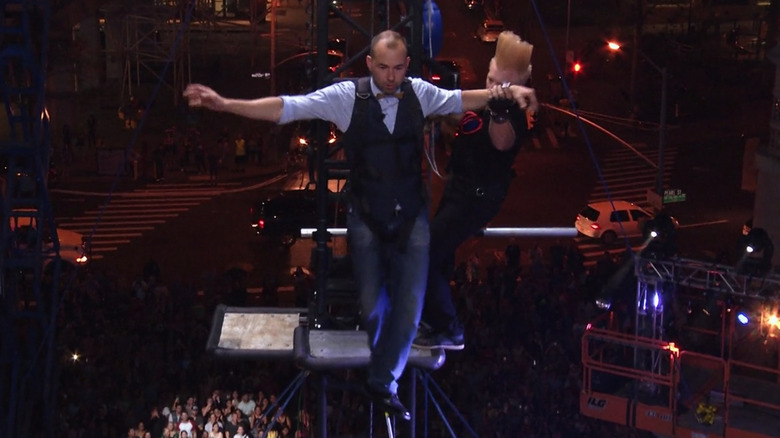 TruTV
James "Murry" Murray's fear of heights is no secret on "Impractical Jokers." It's why his sadistic friends made him jump out of a plane. As Murray mentally prepared to walk the tightrope, the supportive crowd was a surprising source of comfort. 
"I looked out, and there were 5,000 fans [who] showed up to support us, and they were screaming and chanting my name," Murray said. "In that moment, I realized that it was literally the best night of my life. Better than when the series premiered."
For Murray, the night they filmed "Live Punishment Special" vindicated all the hard work they poured into "Impractical Jokers." 
"To sell a TV pilot is very hard. To get a show picked up to series [there are] astronomical odds against you. To get a show renewed for a second season is exponentially harder," Murray said. "So to hit a hundred episodes and see the impact it had on so many fans, it was mind-blowing and humbling. It was the greatest moment of my life." 
All the fans in the world, however, can't eradicate one's fear of heights, even when the punishment extravaganza raised money for charity. As Murray revealed, walking that tightrope was still scary but worth it. If it makes Murray feel any better, "Impractical Jokers" is now 274 episodes strong.