TWD's Danai Gurira Is Not A Fan Of Horror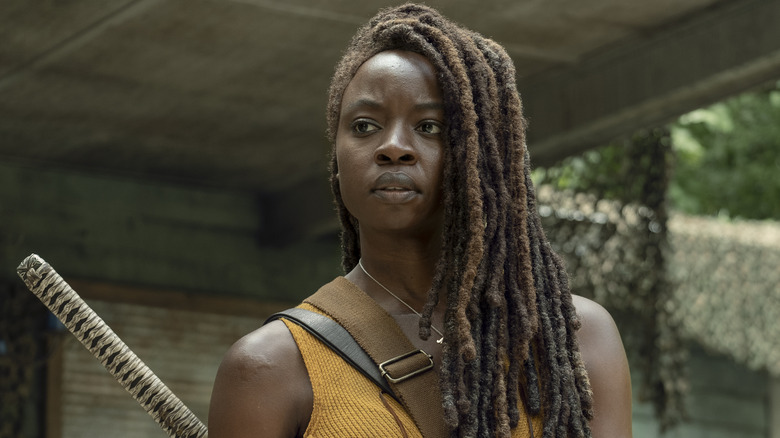 Eliza Morse/AMC
Horror has always been a pop culture generator, with a seemingly unending supply of genre titles generating buzz and box office results. While many of the genre's biggest titles have come on the big screen, the genre has also produced some big hits on the small screen. "The Walking Dead" happened to be one of those titles that became buzzworthy on the TV front. Appreciated by critics and fans, the series kept viewers engaged for over a decade.
A crucial aspect of its success was the characters who propelled each storyline. Their bouts with zombie hordes were nothing compared to the emotional and often difficult encounters with survivors. Somewhere among the chaos, there was love, birth, and even hope among the ruins of a shattered world. No one on the series optimized that more than Michonne (Danai Gurira); the fan-favorite heroine has been front and center in the struggle for survival — even finding romance with Rick Grimes (Andrew Lincoln). 
While many recognize Gurira for her role in the hit series, the accomplished actress has a surprising opinion about the genre.
Gurira is an admitted 'scaredy-cat' when it comes to horror
Danai Gurira's career features numerous film and TV appearances, yet her role as Michonne in "The Walking Dead" has been one of her most notable. While her career has covered several genres and mediums — including her work as an award-winning playwright — there's no denying that horror has become a major milestone for her career. However, despite Gurira's success with the genre, she found working on "The Walking Dead" to be very different than watching it — or anything of the horror genre, for that matter.
In 2014, Gurira spoke to Den of Geek and laughed at her reluctance about watching genre fare. "[T]he idea of getting into the psychology of what she's going through is a lot different from sitting and watching 'The Exorcist,' which I will avoid with my life," she told the outlet. The actress admitted to being a "scaredy-cat" when it comes to the horror genre.
Unfortunately for Gurira, she's going to have plenty of time to embrace those fears as the first season of her "The Walking Dead" spin-off arrives in 2024. Details are still under wraps, but what has been revealed suggests Michonne and Rick are set to face more deadly (and very gory) walkers as they forge a life together.