Star Trek Fans Are Obsessing Over Picard Season 3's Soundtrack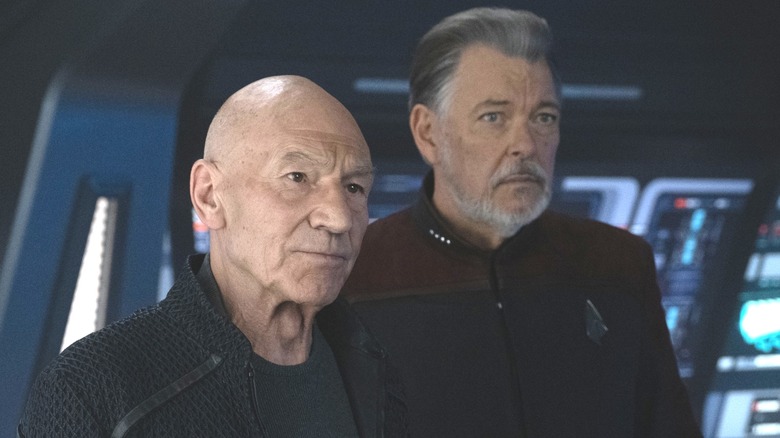 Trae Patton/ Paramount+
The third season of "Star Trek: Picard" gives fans yet another opportunity for further adventures with Patrick Stuart's titular "Next Generation" captain, and it seems this installment of the series is delving deeper into franchise nostalgia than ever before. The third set of episodes is packed to the brim with major cameos from familiar USS Enterprise faces, thrilling space-bound set pieces, and entertaining easter eggs for "Star Trek" die-hards. However, for all the things that "Star Trek: Picard" Season 3 is offering to fans, some are laser-focused on the show's impressive soundtrack.
Certain viewers have taken to social media to effuse praise onto the show's Season 3 soundtrack, as well as its composers Stephen Barton and Frederik Wiedmann. "Honestly, the whole soundtrack this season is amazing," u/Rupe_Dogg wrote. "Stephen Barton has done tracks that emulate Jerry Goldsmith (First Contact) and James Horner (Wrath of Khan/Search For Spock), as well as plenty of new sounds." Particular praise has been leveled at the use of "First Contact" as the end credits theme, with u/dub4er_tx commenting: "My heart melts when the ending score starts." The positivity doesn't end there, either.
Everyone is jazzed about the soundtrack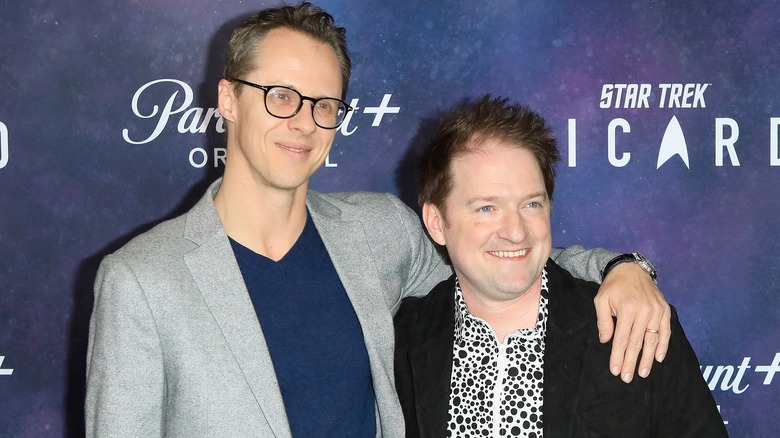 Joe Seer/Shutterstock
Even before "Star Trek: Picard" Season 3 finished releasing new episodes, some fans were already hounding for a way to obtain the full soundtrack for themselves. "Please tell us the #StarTrekPicard music will be released as a CD!" @SteveBrant tweeted. Other fans, like @HLKBSTR, voiced similar words of excitement for a full release of Season 3's OST.
Fans aren't the only ones who have been getting a lot out of the "Star Trek" Season 3 soundtrack either. Even individuals involved with the show have been vocal in their enjoyment of the score. Alana actress Mica Burton tagged Stephen Barton on Twitter, writing: "You have a chokehold on my emotions with this score." Meanwhile, series showrunner Terry Matalas shared a video of Barton composing the theme for the USS Titan. "It's been stuck in my head for over a year," he wrote.
It's a good thing that the score has been so well-received, as the composer team seems to have put a gargantuan amount of effort into its development. In an interview with Broadcast Music, Barton revealed that they went through nearly every "Star Trek" TV series and movie, picking out relevant motifs to reference. "We had free rein to use the tunes, but we wanted to use them as precious gems and not just 'Star Trek' wallpaper," he explained. "There are times where I'm staying very close to the Goldsmith orchestrations, or Horner's, in particular, but also times where I've re-imagined it."