Cobra Kai Outperforming Netflix And Hulu Shows As YouTube Red's First Hit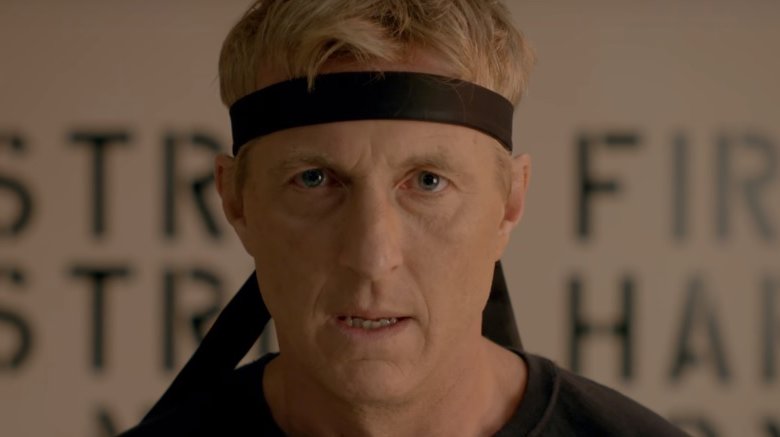 YouTube/Sony
Strike fast, strike hard — that's the Cobra Kai way.
Cobra Kai, the ten-episode sequel series to The Karate Kid films, sounded like a joke when it was first announced for YouTube Red — but who's laughing now? 
According to data from Parrot Analytics provided to Variety, Cobra Kai is proving itself to be an unexpected hit for the streaming service, garnering more attention online than competing shows on Netflix and Hulu.
The data Parrot provided tracked the week of May 6 through 12, and saw Cobra Kai coming out on top against the likes of 13 Reasons Why, Arrested Development, The Handmaid's Tale, and Lost in Space. It's apparently the first time a YouTube Red show has ever come out on top of the weekly charts, by Parrot's metric.
Parrot Analytics determines the popularity of shows by measuring what it calls peoples' "demand expressions". Those expressions include actually streaming episodes of a given series, but the calculations also take into account peer-to-peer and social media popularity, making Parrot's data — theoretically — an even-handed portrait of the pop cultural zeitgeist.
Other series rounding out the top ten for the same week include Dear White People, La Casa De Papel (aka Money Heist), Stranger Things, Orange is the New Black, and Sense8, all on Netflix.
While viewership data for later episodes of Cobra Kai hasn't been made public by YouTube, the first episode of Cobra Kai has scored over 27 million views at the time of this writing, less than two weeks after the series initially premiered. (The first two episodes are available for streaming without a YouTube Red subscription.)
Up until now, YouTube Red has been a sort of wait-and-see service for a lot of people. Part of that certainly has to do with the streamer's programming, or seeming lack thereof; You can count the original series in the service's library that most people know about on one hand. 
Now, it looks like Cobra Kai is the gigantic middle finger on that hand, proving to all once-confident haters that the Karate Kid sequel series is actually a great idea. Cobra Kai never dies.
Cobra Kai has been renewed for a second season. All ten episodes of its first season are available for streaming now.