Hugh Rowland Agreed To Ice Road Truckers Under One Condition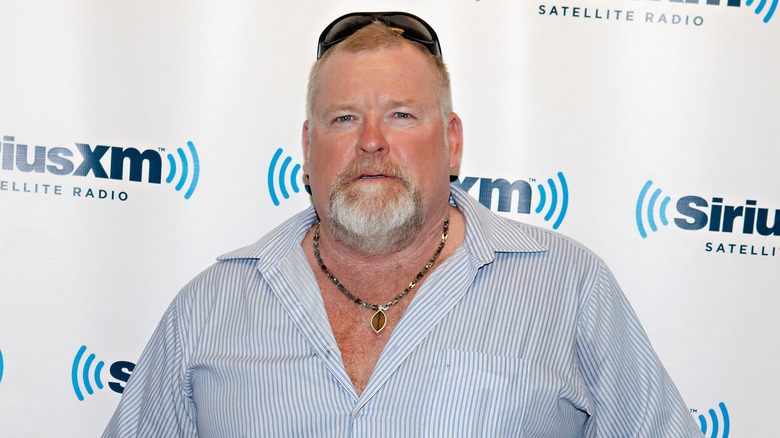 Cindy Ord/Getty Images
Agreeing to do a reality show can definitely be hard on a person's nervous system. The constant stress of being under surveillance can be a tough thing. Suppose you have to do a complex and dexterity-requiring job, like fishing for Alaskan crabs or trying to keep your eighteen-wheeler from careening off an ice-encrusted embankment. In that case, that makes everything twice as stressful.
Hugh Rowland made a name for himself crossing America's icy highways and byways on History's "Ice Road Truckers" as a fella nicknamed 'Polar Bear' by his compatriots. During a 2016 interview, Rowland admitted that the show business aspect of the show wasn't all that vital to him. "I just carry on hauling my loads and making my money," he said.
He also added that he had certain conditions for appearing in the series. He told a producer verbatim, "[M]y exact words were 'yeah, you can put cameras in my trucks, but just stay out of my way, don't cost me any money. Nobody's going to watch us go up and down the ice anyway." He laughed, admitting he was completely wrong about his assumption. It turns out that "Ice Road Truckers" has changed his life for the better — and the worse — since it went off the air.
Rowland finds the trappings of minor fame to be strange
While Hugh Rowland had certain rules for History's participation in his hauling business, he admits that some of the side benefits of allowing them into his working world were mixed blessings. In the same 2016 interview, he said he didn't mind being recognized in public by admirers of "Ice Road Truckers," even if he would rather pass through life unnoticed like your average citizen.
"I like my privacy, and it's all right." He admitted that he didn't mind taking pictures with or signing autographs for fans, even though he's been a reality show celeb for some time now. "I still find it strange, people coming up and wanting my autograph and s*** like that. I don't even know what to put down on the paper."
Since Rowland left the show in 2014, he has been busy with matters unrelated to his trucking business. He has, however, faced some strife related to his time on "Ice Road Truckers." That includes a bitter lawsuit he has filed against series producer Will Morrison, who has been accused of reckless driving during a 2014 truck crash that Rowland claims caused him to suffer injuries to his lower extremities, impacting his personal and professional life. The suit remains unsettled as of press time.