Joel's Big Fireflies Move In TLOU Finale Is Something We (And The Showrunners) Struggle With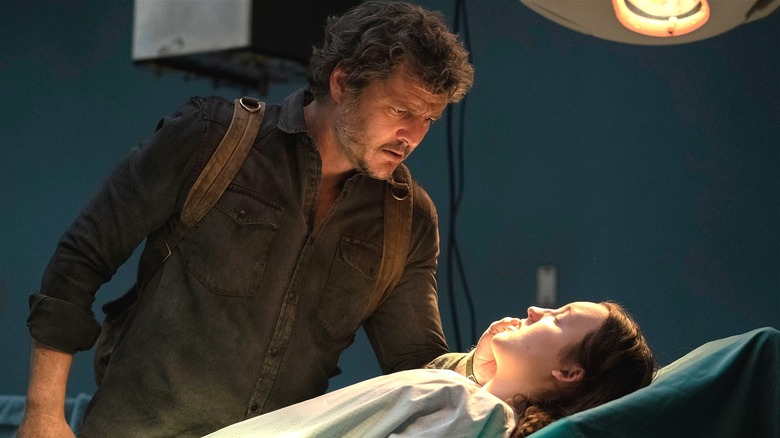 Liane Hentscher/HBO
Contains spoilers for "The Last of Us" Season 1, Episode 9 — "Look for The Light"
In the season finale of HBO's faithful adaptation of "The Last of Us," Joel (Pedro Pascal) made the dark decision to massacre a troop of Fireflies to save Ellie's (Bella Ramsey) life. To right a traumatizing wrong from his past, he risked everything to save her, leaving some to wonder if he made the right choice. In an interview with The Hollywood Reporter, the showrunners behind "The Last of Us" shared their thoughts.
Morality in "The Last of Us" is a constantly shifting grey area, with fearful enemies both human and not lurking around every corner. In the dangerous, apocalyptic world, protecting your loved ones often comes with a cost, as co-creator Craig Mazin said: "When you love something unconditionally, logic goes out the window and you will do really horrible things to protect the ones you love." 
Joel kills everyone who stands in his way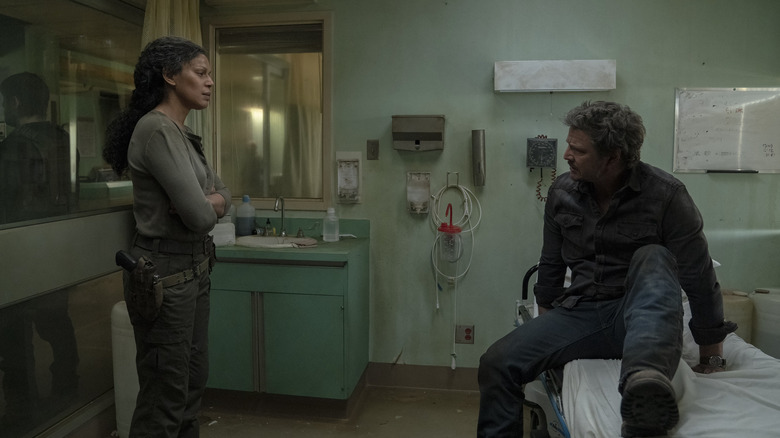 Liane Hentscher/HBO
The unflinching shoot-out showcases the brutality of "The Last of Us" while highlighting Joel's deep love for Ellie. This is exceedingly evident in Joel's great efforts to protect her; once he found out Ellie's life was in danger, a switch flipped, and he went on a violent rampage.
Throughout Season 1, we've seen desperate measures taken to combat the devastating effects of the cordyceps infection. These almost always involve protecting or sparing a loved one — like Tess' (Anna Torv) noble sacrifice and Ellie's mercy killing of her infected friend Riley (Storm Reid). Craig Mazin talked about the intention behind these intense moments with The Hollywood Reporter, saying, "And there's a lot of examples worldwide of this happening all the time. So for us it was just like, 'Here are all the different pieces that we have, the tools we have within this story. How can we, with each episode, thematically, touch on that in some way?' Both the beautiful joy that can come out of like a story like Bill and Frank, and a fate worse than death when a man has to kill his own brother because he's turned." 
This sentiment highlights Joel's actions in the hospital where he resorted to extreme measures out of love for Ellie. He only killed those who were armed and spared those who didn't pose as great a threat, distinguishing himself from other bloodthirsty foes we've met throughout the season.
Joel's decisions distance him from Ellie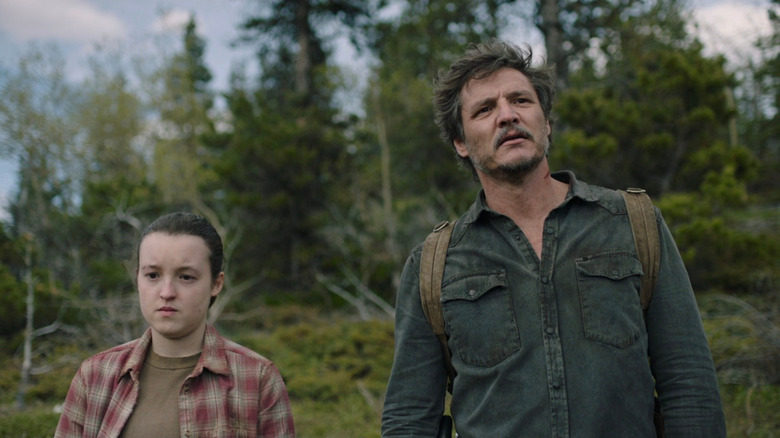 HBO
Regardless of Joel's intent, his irreversible decision naturally created some distance between him and Ellie, especially when he lied about what happened. However, given the alternative, one can't be too angry at Joel for long over his harsh reaction. Craig Mazin commented on this moral complexity with THR: "[There's] greater and greater sacrifices Joel has to make for Ellie, and likewise what she's going through to protect him. I'm confused about it morally. I think it's a difficult choice. I go back and forth. I think a lot of people will go back and forth on it." As seen in Ellie's complicated, final expression of the season, she's clearly doing the same while assessing Joel's actions.
Following the explosive finale, she and Joel will seek refuge in a familiar territory for some much-needed solitude. However, the consequences of his actions aren't far behind, as Joel unknowingly created his most formidable adversary yet with a single bullet. This sets up the bloody revenge tale in Season 2 where even more difficult choices lie ahead.