The Last Of Us Creators Have A Perfect Response To Critics Of Episode 3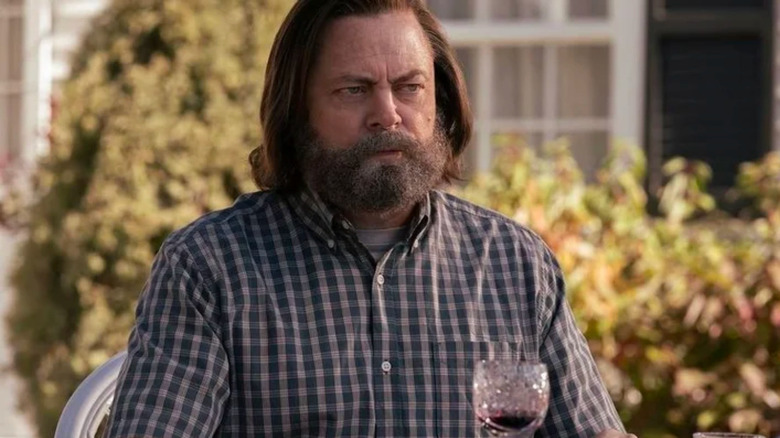 HBO
Contains spoilers for "The Last of Us" Season 1
And with a simple "okay," that's the end of "The Last of Us" Season 1. With Joel's (Pedro Pascal) rescue mission having an impressive body count (the surgeon is a bit much, though, right?) and his keeping the truth from Ellie (Bella Ramsey), the ending of HBO's hit show follows Naughty Dog's award-winning title pretty closely. The live-action take on the postapocalyptic road trip keeps its heartbreak in sync with that of its source material, only veering off course on a few occasions, including a deep dive into Ellie's origins and an exploration of Bill's (Nick Offerman) backstory.
Episode 3, "Long, Long Time," expands on the love story between Bill and Frank (Murray Bartlett), which is notably absent from the game. It is a move that paid off massively, with immense praise being thrown the way of the happy on-screen couple and the impressive performances from both actors. Not everyone sees it that way, though, with those disappointed in Episode 3 considering it a slog of a watch that slows things down for Joel and Ellie's story. Now, however, with everything coming to a close (for the time being), the show's creators, Neil Druckmann and Craig Mazin, have explained that the thought-to-be filler of an episode is actually integral in putting Joel on the path he dares to tread by protecting Ellie.
Show creators explain Episode 3 is more important than we think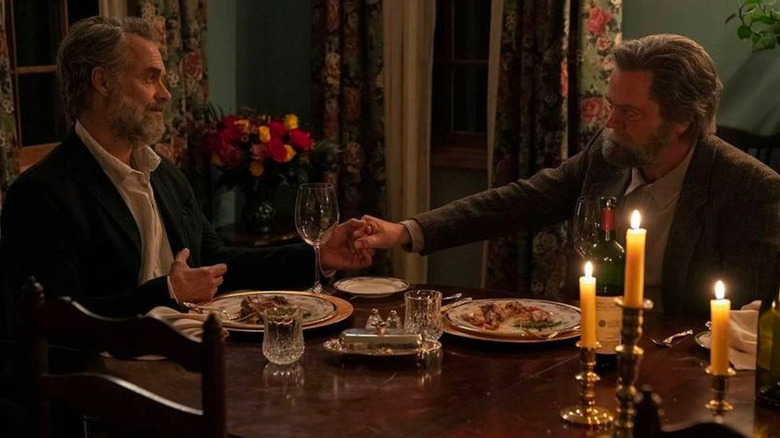 HBO
During Episode 9 of "The Last of Us Podcast," Neil Druckmann admitted, "I've seen some people say 'filler' or 'What does this say to the larger story?'" He then answered by explaining that Bill and Frank's story is crucial to Joel finding his new purpose in life, saying, "Look at what Bill says to Frank. Right? Which is like, 'You are my purpose.' And this is even a further expression of that thought. Again, when it's your child, that is your purpose. That becomes your entire life."
Craig Mazin backed up Druckmann's argument by pointing out that both characters go through an experience of not understanding life without those most important to them. For Joel, it is Sarah (Nico Parker), whose death leads to Joel's attempted suicide. For Bill, it is Frank, whom he is happy to end his life alongside.
If you or anyone you know is having suicidal thoughts, please call the National Suicide Prevention Lifeline​ by dialing 988 or by calling 1-800-273-TALK (8255)​.
Mazin called Long, Long Time the skeleton key of The Last of Us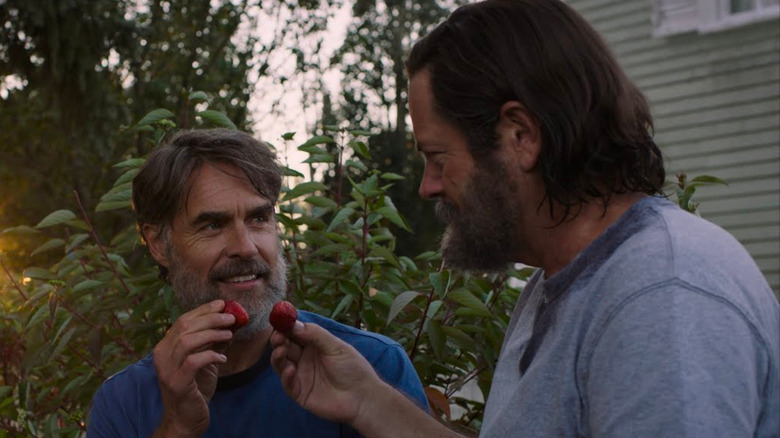 HBO
Craig Mazin explained the impact the letter that Bill writes has on Joel, summing it up as "Let me define you for who you are, and let me point out something I know that maybe you haven't figured out. This is why we're here. We are here to protect the person we love, and God help any motherf***ers that stand in our way."
With that in mind, it perhaps fortifies the already brilliant writing on "The Last of Us" that will make this groundbreaking show worth a repeat watch before HBO tees up the second gut-wrenching season. "Maybe the least filler-y thing we did across this entire season was the Bill and Frank story," theorized Mazin, calling it "the skeleton key" for the remainder of Season 1. Hear that, haters? Now maybe go grow some strawberries and feel better.