All The Ways COVID Changed The Film Industry Forever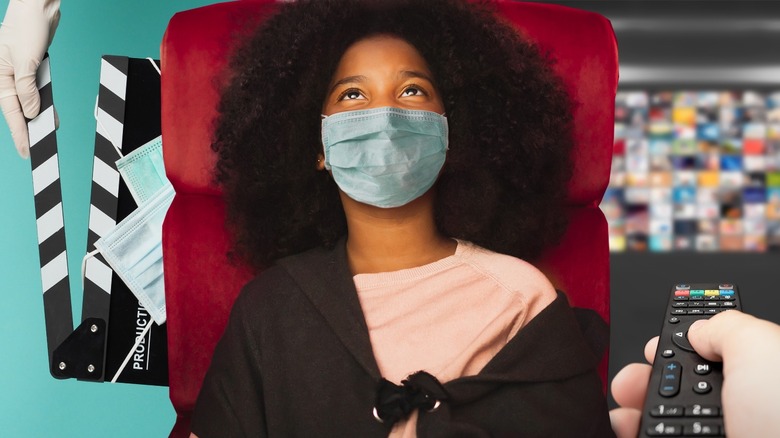 Static Media, Getty
Now that a vaccine is widely accessible and COVID restrictions are being lifted nationwide, it feels as though we're officially living in a post-pandemic society. Although the virus has not disappeared, the number of cases and deaths has declined significantly since COVID was first declared a national emergency back in March 2020. Today, we're dealing with the aftermath of all the ways our lives have changed as a result of the pandemic, and one of those major changes has been workplace culture.
Before COVID, the film industry was a booming global commodity. In fact, in 2019, right before the pandemic, the industry made an astounding" $100 billion. However, a new era of entertainment emerged as everything began to shut down, and the country went into lockdown. The entire industry was disrupted with cinemas closing, causing set release dates to be postponed or canceled, and productions halted, leaving hundreds of thousands of workers jobless.
Even in our so-called post-pandemic society, the industry is still desperately trying to adjust to long-term changes in an attempt to catch back up. Everything from the way we make entertainment to the way we consume it has been redefined. To better understand the impact these lingering effects have had, let's break down all the ways COVID changed the film industry forever.
The rise of streaming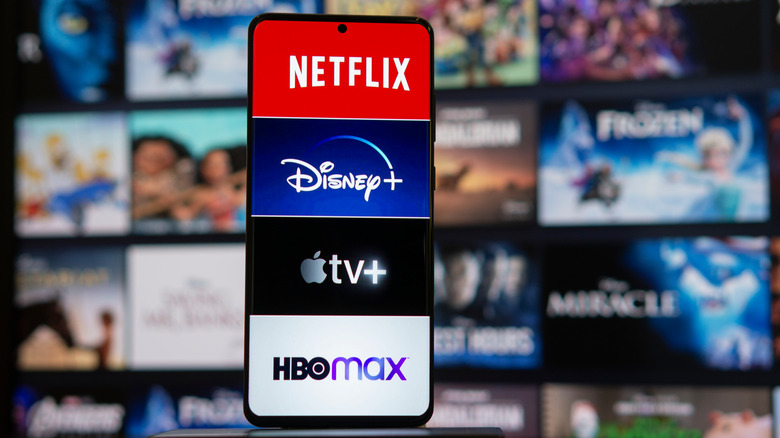 Top_CNX/Shutterstock
In 2019, a significant shift in the film industry was already on the horizon. Netflix had proven streaming's domineering vitality in the industry, and some of the largest media companies finally bit the bullet to follow Netflix's lead. After Disney's streaming distribution deal with Netflix ended in 2019, the conglomerate worked fast to release its own streaming service, Disney+, in November of that year. HBO Max, Peacock, and Apple TV+ joined soon after. The transition from linear to streaming entertainment was in full motion before COVID hit, but its eventual presence expedited the change tenfold. Streaming subscriptions grew more than 50 percent from the previous year. With movie theaters closed and people confined to their homes, there was nothing else to do but find a new favorite show on Netflix or watch a comforting classic on Disney+. But as the world opened backed up and people attempted to go back to a life of normalcy, the damage had already been done.
A What if Media Group survey of 20,398 U.S. adults revealed, "20 percent of the respondents said they have no intention to return to the movie theaters once a COVID-19 vaccine is widely available, while another 10 percent said they are somewhat unlikely to return." Growing pains are never easy, and depending on who you ask, this change can be considered a positive or negative for the industry. Lovers of cinema fear a slow death of the big-screen experience, while others are excited about the accessibility and diversity streaming offers.
Box office turmoil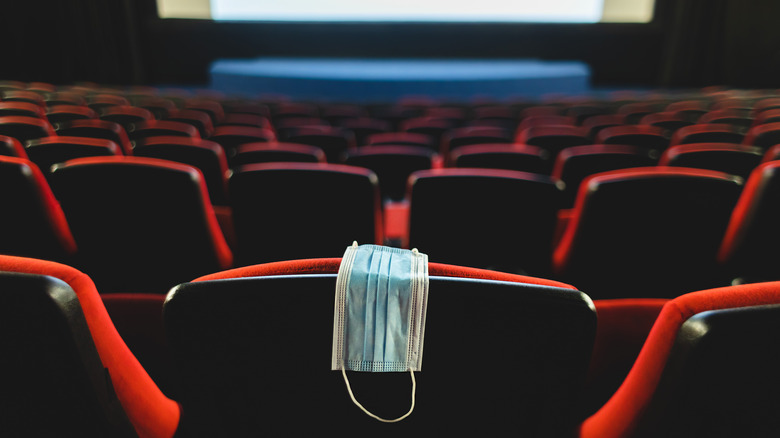 XArtProduction/Shutterstock
Everything streaming services have gained, movie theaters lost. This year's box office sales reflect that, with a 35 percent drop from pre-pandemic numbers. Still, that number is a significant increase from the 80 percent drop in 2020, proving that there's still hope for the future of cinemas. The recovery has been slow and painful. Compared to pre-pandemic times, theatrical releases have plummeted, with only 387 releases in 2021 down from 987 in 2019. Part of that has had to do with delays and cancelations caused by COVID, in addition to shorter or nonexistent theatrical windows in favor of streaming. Not only has a trip to the theater become an inconvenience, but COVID has also made it a safety hazard.
We're also seeing an amplified focus on established franchises thanks to the pandemic. Sequels and reboots are overtaking theaters as safe bets to attract audiences, and it's working. "Spider-Man: No Way Home" and "Avatar: The Way of Water" have been among the highest-grossing movies post-pandemic. Unfortunately, while larger chain theaters are in the midst of bouncing back, many independent theaters have shut their doors for good. In an attempt to adjust to the times and stay in business, theaters have implemented a number of changes, such as private screenings and safety precautions. But will this be enough to alter newly instilled attitudes towards theaters?
Binge watching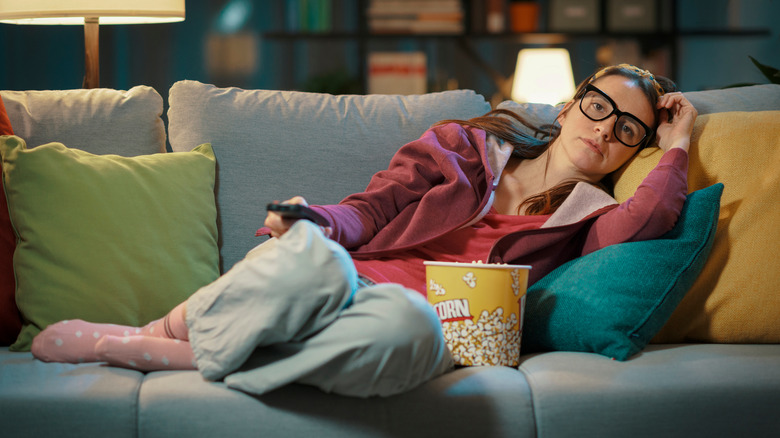 Stokkete/Shutterstock
America's favorite pastime, otherwise known as binge-watching, is yet another concept introduced pre-pandemic that has only grown in popularity since COVID. With the streaming boom in 2019, sitting down and plowing through 10 seasons of "Friends" at an unfathomable speed became more than normalized. Even as streaming services opt for weekly releases for newer shows such as Dinsey+'s "Wandavision" and HBO Max's "The Last of Us," there are still viewers who decide to wait until all episodes have been released to binge at their own pace. A study conducted by Susan Carnell, Ph.D., found that the number of people who engage in binge-watching rose from 15 percent to 33 percent during the pandemic. The length of time spent binge-watching also increased.
Dr. Renee Carr, a clinical psychologist, explains the phenomenon to NBC News, "When binge watching your favorite show, your brain is continually producing dopamine, and your body experiences a drug-like high. You experience a pseudo-addiction to the show because you develop cravings for dopamine." This would make sense as to why so many people used binge-watching as a coping mechanism during the high-stress and anxiety-riddled pandemic — a coping mechanism that's been hard to break in a post-pandemic society. As the film industry continues to find its footing in the new streaming age, we're likely to see more experimentation with TV scheduling.
Hybrid film festivals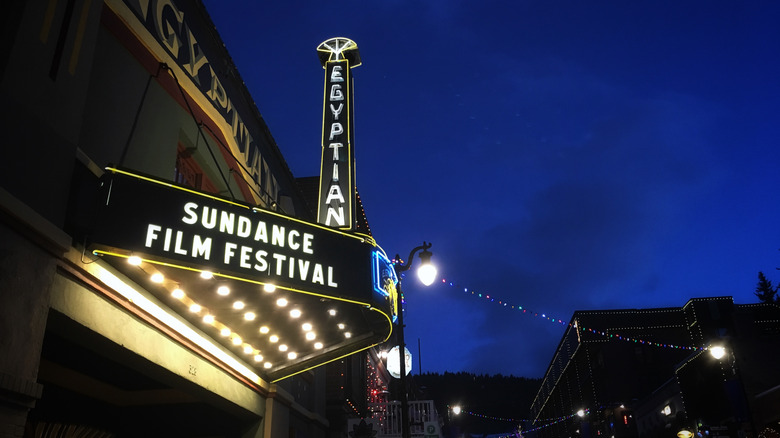 PureRadiancePhoto/Shutterstock
Thousands of active film festivals take place around the world, but Venice, Cannes, Berlin, Toronto, and Sundance are among the most prestigious to exist. These events are a time for artists and cinephiles to gather and celebrate the art form that binds them together. This consists of mass gatherings, congratulatory hugs, and close contact celebrations — all big no-no's when attempting to stop the spread of COVID. So when the world went into lockdown, film festivals were either postponed, canceled, or moved online. This seemed to be a band-aid fix to a larger problem. As film festivals attempted to adapt to the rapidly evolving landscape, a new form of the format was born.
The hybrid film festival is the marrying of in-person and online platforms. Among those that have adopted this model is the ever-popular Sundance Film Festival. Sundance Festival Director Tabitha Jackson expressed her excitement for the future of festivals, saying, "One of my goals was to increase access to the festival ... I certainly didn't know it was going to be driven by a pandemic, but now that we have the opportunity to expand the conversation and expand the participation, that is something that I'm very committed to. I'm less interested in simply returning to the before times because we know that that was not unproblematic." With greater accessibility and higher attendance rates, it's only a matter of time before this new hybrid approach becomes the norm.
Remote and hybrid work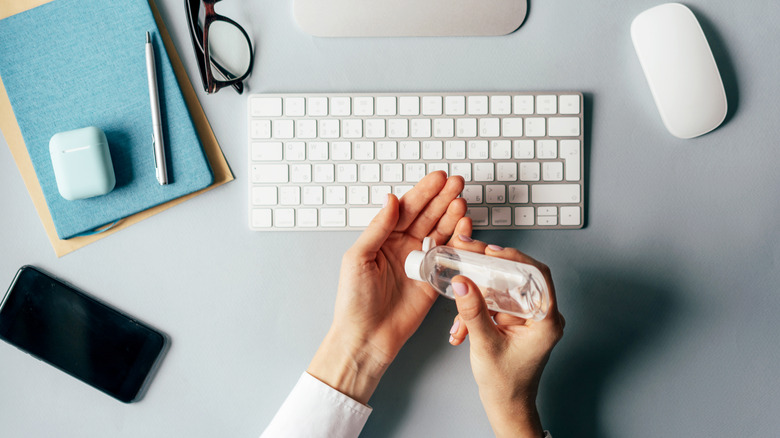 Ilona Kozhevnikova/Shutterstock
When productions were forced to shut down, it was unclear when they'd be able to resume. Weeks? Months? Years? These were unprecedented times. The film industry couldn't wait around until things went back to normal — what if they never did? More importantly, in show business, time is money. The solution: remote work. Aspects of preproduction and postproduction were more intuitive in work-from-home environments, but to make up for the lack of on-set productions, storytellers got creative. Cast members like those from the TV series "Community" reunited for virtual table reads, audio dramas like Jesse Eisenberg's "When You Finish Saving the World" were released, movies like "Host" were filmed entirely over Zoom, and small casts replaced big ensembles like in Sam Levinson's "Malcolm & Marie."
In May 2020, the Association of Independent Commercial Producers released a set of COVID guidelines, and a reopening plan was on its way. As for those working in offices at companies such as WarnerMedia, Disney, and Viacom, it was discovered that working from home came with its perks. Not everything needed a face-to-face interaction. Money could be saved on real estate, and productivity increased. Remote work was reshaped into a hybrid. Two or three days out of the week could be spent working from home, while the rest of the work week was spent in guideline-abiding offices. In many ways, this new work culture couldn't have been achieved without the pandemic.
Budgeting changes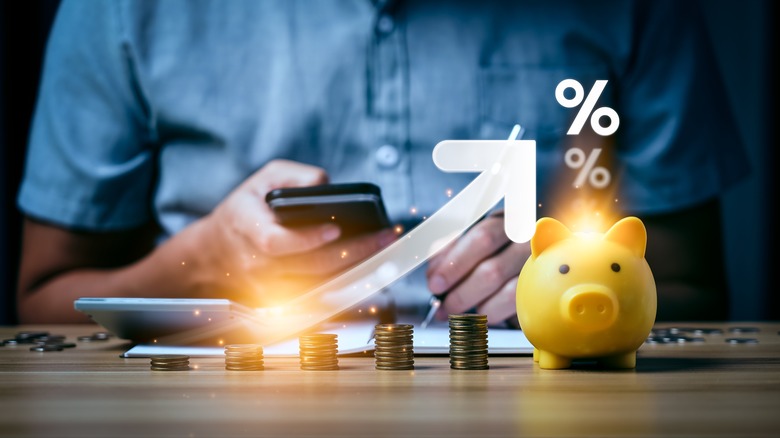 Sutthiphong Chandaeng/Shutterstock
The complexity of film budgeting only became more challenging in the wake of COVID. Suddenly, in addition to standard costs, producers and accountants now had to take costly safety protocols put into place by unions, studios, and government officials into account. "About 40% of those costs go to labor — COVID safety officers, testers, drivers, location assistants, and medical personnel. The remaining 60% goes to 'materials,' which includes outside testing vendors and stipends for quarantining, as well as things like masks, face shields, and sanitation materials," an analysis conducted by the California Film Commission revealed, making up an additional 5 percent of the overall budget. 
Even as guidelines are modified, these costs are expected to stay for the long run in one form or another. Big studios will have a considerably easier time coughing up the money compared to smaller indie projects where financing has long been a major hurdle to overcome.
Animation boom
One sector of the film industry, in particular, had a much smoother transition amid CVOID. Although it came with its own challenges, animation was much better suited for remote work compared to live-action projects. "It's a remote business and there are no sets — everybody's drawing, and it all comes together on the computer. So we're kind of set up for this," writer-director Jorge Gutiérrez tells Variety. As a result, we've seen a surge of animation that isn't going away anytime soon.
In 2020, newly released animated films hit streaming services, such as "Soul," "Onward," "Scoob!," "The Croods: A New Age," and many more. Meanwhile, animated shows such as "Bob's Burgers" and "The Simpsons" were back to delivering regularly scheduled episodes within a week. Not only was animation a more secure way for studios to get their stories made, but consumer trends also proved in favor of the medium. As viewership increased during the pandemic, so did the demand for animation.
Franchise security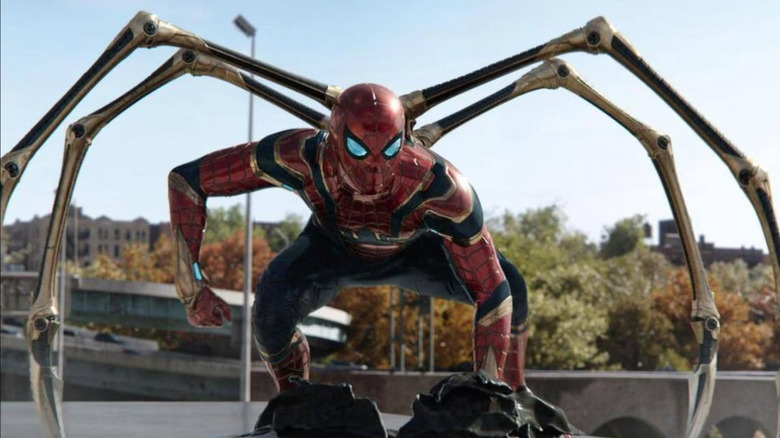 Sony Pictures Releasing/Marvel Studios
The world of filmmaking had a serious problem on its hands even before COVID struck. Gone are the days when original stories were prioritized and sat high on the box office rankings. Since the franchise rise that took over the film industry in the 2010s, you're lucky even to see an "Everything Everywhere All at Once" or "Get Out" sprinkled in cinemas once in a while. Audiences are as much to blame as money-hungry studios. There's a reason they keep making sequel after sequel, and it's because people are forking over the cash to see them. Now, since COVID, there's a greater fear of risk-taking in the industry, leading to a reliance on franchises that have a higher probability of bringing in audiences.
According to CBS News, the top 10 movies at the box office in 2022 were all sequels or prequels. Nostalgia was already a powerful drug on its own, but adding the pandemic into the mix only made people long for the "good ole' days" even more. This could also explain the pull audiences feel toward franchises. The stories and characters are familiar and comforting after a time that caused so much fear and uncertainty. If we're ever going to get out of this strange, unimaginative time warp where the same movies are made over and over again, moviegoers will have to show more support toward the types of stories that have become the underdogs in this industry.
The fight for indie films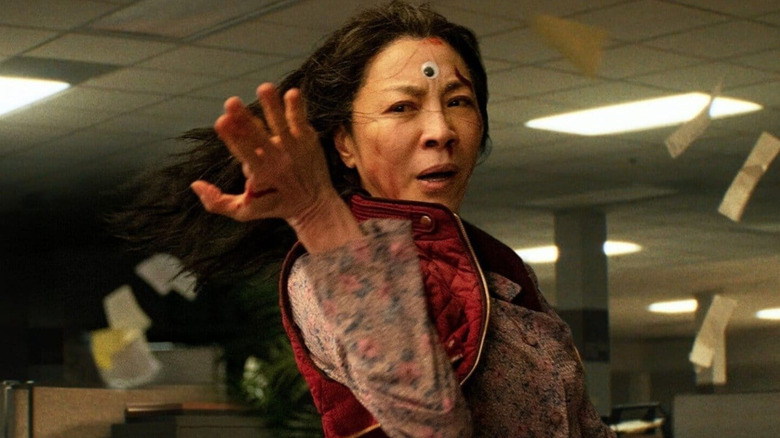 A24
Despite Hollywood's franchise mania and COVID budget increases, independent films have been able to carve out a space for audiences tired of superhero blockbusters. The flame representing hope for original storytelling hasn't been completely smothered yet, and in a way, the aftermath of COVID has brought more awareness to these kinds of projects. Indie films that can compete with franchises are a rarity, but when they happen, it's something worth celebrating. A24's "Everything Everywhere All at Once" is a fantastic example of this phenomenon, accumulating $50,130 per theater when it opened in 10 locations in 2022.
The height of the pandemic was also an unexpected window of opportunity for independent films that often get overshadowed by big-budget blockbusters. While major studios were postponing release dates in an attempt to draw in the largest audience possible, this gave independent projects a chance to shine. However, now that most theaters have opened back up and studios are back to releasing their franchise films, it's uncertain if independent films will ever take back the spotlight.
Safety protocols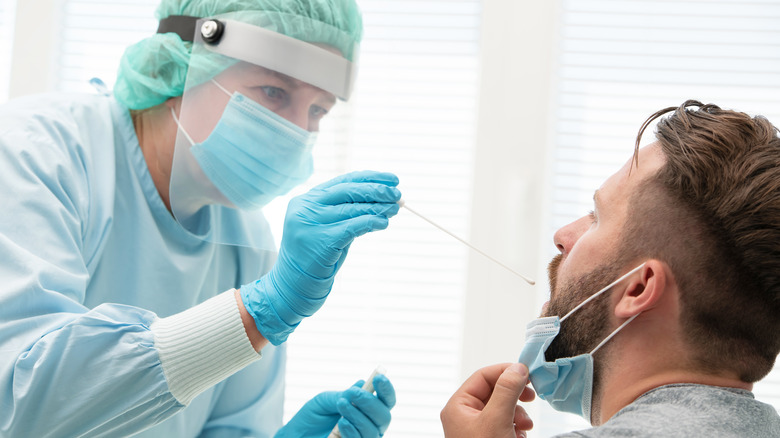 Alexander Raths/Shutterstock
In order to protect workers from unsafe working environments and get productions back on schedule, COVID safety guidelines were implemented, as agreed upon by unions, studios, and CDC mandates. This new workplace culture affected both workers on set and in offices. The original agreement states, "Guiding principles include strictly enforced testing regimens and safety protocols, a zone-based system, and diligent use of personal protective equipment (PPE)." Mask mandates, social distancing, and frequent disinfecting were staples for any public space during this time. COVID sick leave and quarantine pay were also put in place to prevent wrongful termination and protect livelihoods.
On sets, a COVID compliance supervisor is required to be present during all shooting hours. In offices, capacity was cut by 50 percent, with plexiglass dividing workspaces. First put into motion in September 2020, these safety protocols have been extended multiple times with minor modifications — the most recent extension through April 1, 2023.
Respecting boundaries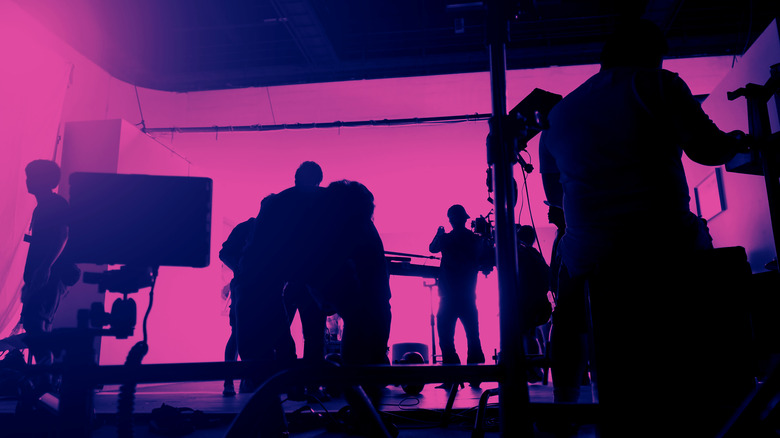 gnepphoto/Shutterstock
COVID safety protocols also helped foster a new emphasis on physical and mental safety among those working in the film industry. For the first time, personal space and boundaries were being more carefully considered in an industry that often requires close-contact intimacy and risky stunt work. Since the pandemic began, on-set intimacy coordinators have become more commonplace after their emergence in response to the #MeToo movement. COVID's presence added an extra layer of anxiety to an already vulnerable act. That's where the intimacy coordinator comes in. "Their physical safety really affects their mental safety," intimacy coordinator Marcus Watson told Vanity Fair. "We were now viewing a kiss as just as heightened a circumstance as a simulated sex scene." The more comfortable an actor feels, the more energy they can put into their performance. 
Slowly but surely, safety is being prioritized in the fast-paced world of filmmaking, and workers' voices are finally being heard on an amplified scale.
New COVID genre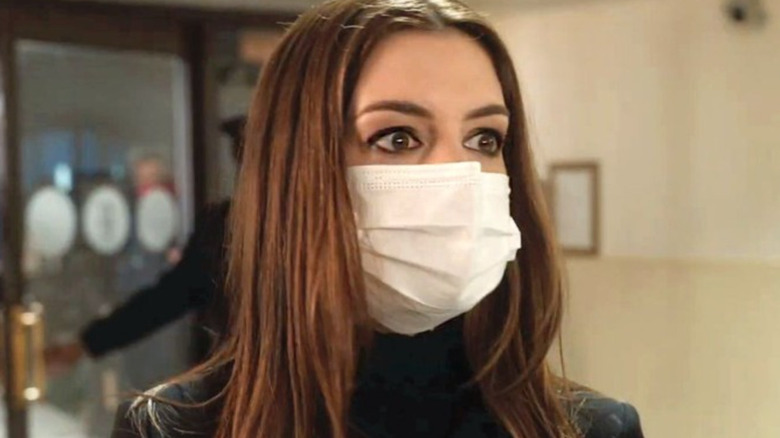 Warner Bros. Pictures
More often than not, storytelling comes from a place of personal experience. The art of filmmaking can be cathartic for both the artists creating and the consumers who relate to the subject matter. Therefore, it was only natural for COVID-related stories to sneak their way into our entertainment in recent years. It became a decision for TV shows and movies taking place in current times on whether or not to acknowledge the pandemic. Television examples that went down the road of COVID include the NBC sitcom "Superstore" and AppleTV+'s "The Morning Show." Both wrote the pandemic with entirely different approaches in their sixth and second seasons, respectively.
Simultaneously, the COVID film genre was emerging. Among the many films that use the pandemic as the main storyline are the dystopian science fiction thriller "Songbird" which introduces a new variant of COVID known as COVID-23; the psychological thriller drama "Ayar" which isolates a daughter from her mother due to the virus; the heist romcom "Locked Down" which forces a separated couple into quarantine together; and the comedy "The Bubble" which satirizes the real-life COVID challenges experienced by the Jurassic World Dominion production.
Whether it was a matter of limited resources, accurate timelines, or a stroke of inspiration, the COVID genre erupted onto the scene. With so much COVID content in such a short amount of time, it makes sense that audiences would quickly tire of the recycled themes. After all, we all lived it, so do we really want to watch it?