12 Things Teased In The DCEU That We Probably Won't See Anytime Soon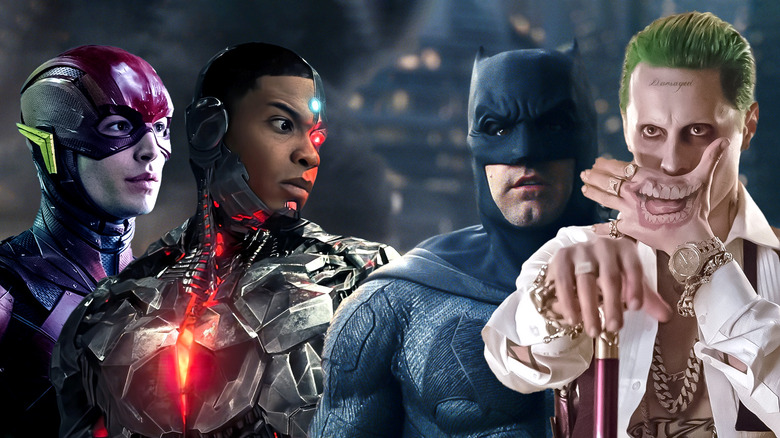 Static Media
In late 2022, it was announced that James Gunn — director of the "Guardians of the Galaxy" films and "The Suicide Squad" — would be taking control of DC Comics' extended universe (DCEU). In doing so, much of what had come before would be wiped away, making room for a fresh start. Despite nearly a decade of stories from directors like Zack Snyder, Patty Jenkins, James Wan, and David F. Sandberg, the DCEU never quite seemed to gel in the same way DC's biggest rival, the Marvel Cinematic Universe, does.
But while the now-former DCEU had its ups and downs, it also continually pushed its interconnected nature, teasing future projects with easter eggs, cameos, and post-credits stingers that gave clues about what was to come. Some were followed through, some were seemingly abandoned, while others may now never get the chance to be seen thanks to the erasure of the old guard. But no matter how promising the next version of the DC cinematic universe may be, we can't help but look back at what might have been. From scrapped sequels to the promised return of old favorites, these are some of the many DCEU teases that we're not going to be seeing any time soon.
A war with Darkseid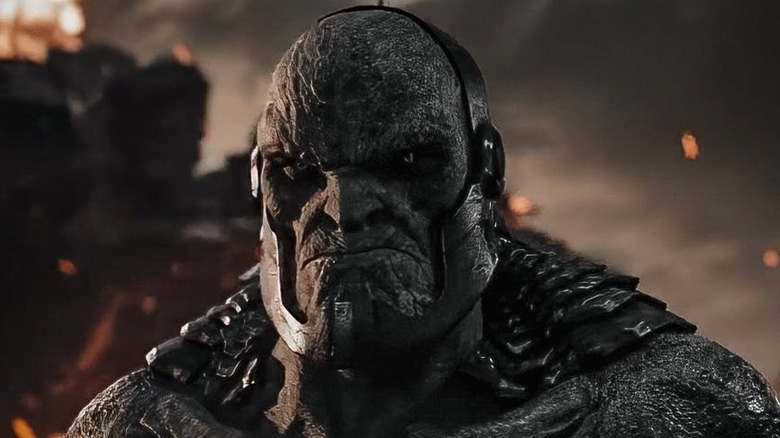 Warner Bros. Pictures
The DCEU made its debut in 2013 with the release of "Man of Steel," helmed by auteur director Zack Snyder, who would serve as the steward of this new cinematic universe. The film's sequel set the stage for an epic team-up by bringing together Batman, Superman, and Wonder Woman. But things got complicated when production on the follow-up "Justice League" was halted and Snyder walked away from the picture, with "Avengers" director Joss Whedon controversially stepping in to complete it.
Originally announced as part one of a two-part saga, "Justice League" arrived in cinemas in 2017 as much more of a standalone event film. But a divisive reaction led to fan outcry for the release of Zack Snyder's original cut of the film, with petitions finding hundreds of thousands of signatures. Against all odds, Warner Bros. relented, and in 2021, "Zack Snyder's Justice League" received a release on HBO Max. It even restored the director's tease for a two-part story, with the cosmic villain Darkseid now present as the overarching big bad.
Let's face it: if there's any villain in the pantheon of DC comics that could make Marvel's Thanos look like a pipsqueak it would be Darkseid, and that's exactly who fans wanted to see take center stage in a sequel. Alas, it seems his return in a "Justice League Part Two" will never see the light of day.
Mr. Mind's revenge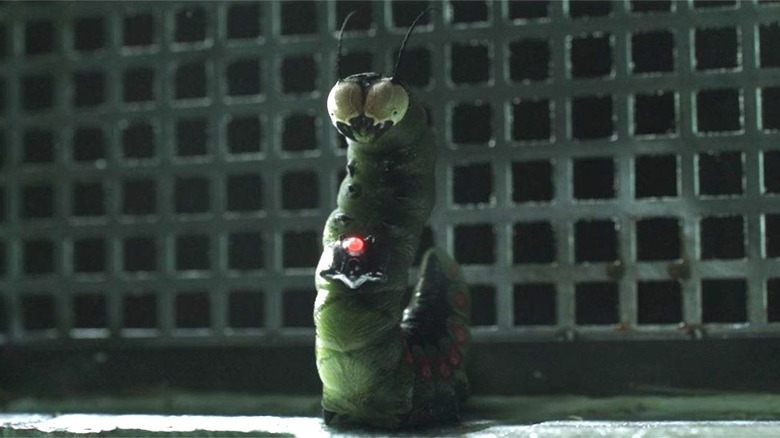 Warner Bros. Pictures
Sadly, the first few films in Zack Snyder's cinematic universe were met with a mixed reception, even leaving many fans divided over its grim style and dark atmosphere. But later films like Patty Jenkins' "Wonder Woman" and James Wan's "Aquaman" helped right the proverbial ship, receiving warm responses and giving hope for a renewed DCEU. "Shazam!," directed by David F. Sandberg, landed in 2019, and it helped convince audiences that things were headed in the right direction with a more upbeat and colorful tone, embracing the light-hearted side of the DC universe.
But what got fans of the comics even more excited was the appearance of one of Captain Marvel's biggest — and silliest — foes called Mr. Mind. A super-intelligent telepathic alien worm, Mr. Mind pops up in the film's post-credits scene where he teases a team-up with Doctor Sivana, ostensibly in a follow-up film. But when "Shazam! Fury of the Gods" was announced, it featured an entirely different roster of villains. Director Sandberg later revealed in an Instagram Q&A that Mr. Mind wouldn't be making an appearance in the sequel at all, leading us to wonder if Mr. Mind might be the villain in a third installment.
With an all-new DCU, though, the "Shazam!" films sit in limbo, with the odds of a threequel lowering by the day. As a result, it's looking more and more like Mr. Mind will remain just an easter egg in the post-credits sequence of a film wiped from continuity.
Ben Affleck vs Jared Leto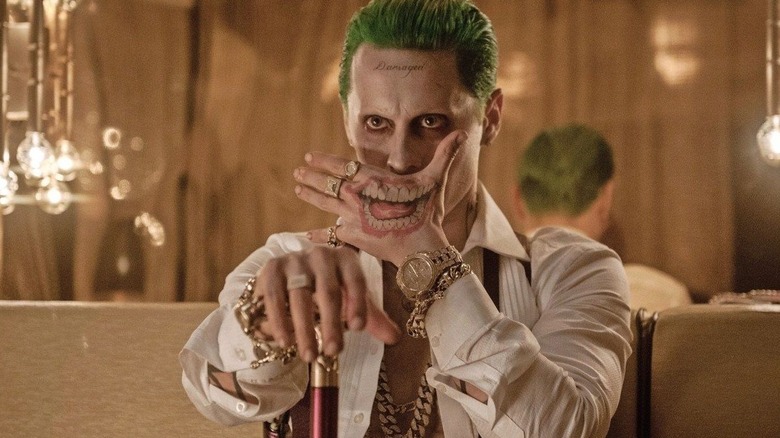 Warner Bros. Pictures
The casting of Ben Affleck as the Caped Crusader in the DCEU was met with jeers from a large segment of the movie-going public. But once he turned out to be a highlight of Zack Snyder's "Batman v Superman: Dawn of Justice," fans came around and began begging for more of the actor's take on the character. Not long after, Academy Award-winner Jared Leto was cast to play Batman's nemesis the Joker in David Ayer's "Suicide Squad," and while much of his scenery-chewing was left on the cutting room floor, it teased the possibility of a future "Batman" film that might see these two tremendous Hollywood talents squaring off.
"Suicide Squad" gave only a brief glimpse of what that might look like, with a car chase between the Joker, Harley Quinn, and the Batmobile. While we did get one more tantalizing scene between them with the release of "Zack Snyder's Justice League," these were hardly the battle of wits that fans were surely hoping for. Audiences wanted to see a gritty crime story with the Dark Knight detective piecing together the puzzle of the Joker's latest sadistic caper, and the maniacal villain somehow outwitting him at every turn. 
Sure, that may be just what we get in Matt Reeves' "The Batman" sequel starring Robert Pattinson and Barry Keoghan. But now it seems that we might never get the chance to see Affleck and Leto's monumental showdown as those two iconic characters.
A Flash and Cyborg team-up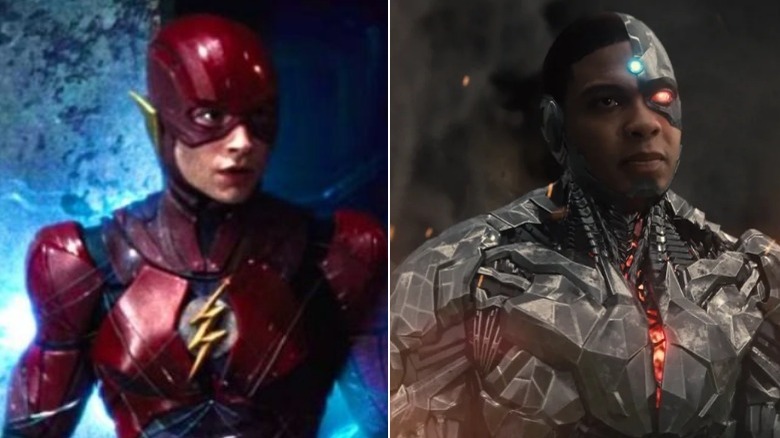 Warner Bros. Pictures
Part of what makes a shared universe of superheroes so special is the opportunity it provides to see disparate heroes interact in ways usually reserved for comic books and cartoons. Because prior to the MCU, movie superheroes kept to themselves: we never got to see Spider-Man meet the X-Men or Hulk hang out with Daredevil or Batman and Green Lantern spend a night on the town. So what fun it was for DC fans when in "Justice League" we finally got to see them all meet for the first time. And one meeting that stood out with loads of potential for the future of the DCEU was the budding friendship between Barry Allen and Victor Stone.
Also known as the Flash and Cyborg, played by Ezra Miller and Ray Fisher, the two heroes' opposing personalities played off each other impeccably. The on-screen chemistry between them suggested they could work well together as partners, possibly appearing in each other's planned solo movies, or even in a team-up adventure at some point down the road. However, it looks like that's no longer in the cards, but not just because James Gunn will be reshaping the DCU with an all-new roster of stars.
Thanks to some behind-the-scenes drama, it's unlikely Warner Bros. wants to bring back either Fisher or Miller. And that's too bad, because both impressed on screen as their respective heroes, and seeing them adventure together could have made for a thrilling romp worthy of the big screen.
A Justice Society spin-off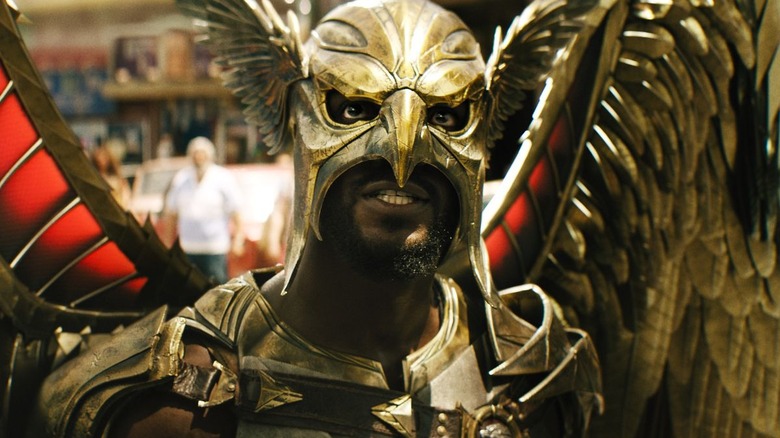 Warner Bros. Pictures
In 2008, well before the start of the DCEU, Dwayne "The Rock" Johnson was announced to play the villain Black Adam. The character was a villain of the hero Shazam, but Black Adam would star in his own feature film, and it would take more than a decade and a half to come to life. When the film arrived in theaters, however, it landed with a thud, a box office bomb that Johnson claims James Gunn would be writing out of the new DCU. And that's too bad, because while the movie was a disappointment, its supporting cast was being hyped up for more adventures that we'd have loved to see.
That supporting roster of DC heroes included Doctor Fate (Pierce Brosnan), Atom Smasher (Noah Centineo), Cyclone (Quintessa Swindell), and Hawkman (Aldis Hodge). Together they comprised the Justice Society of America, a group of Golden Age heroes who became a high point of the film for many. Some lamented that they were sorely underused, and it seems possible if not likely that they were being primed for their own spin-off film series or at least appearances in other adventures down the line.
Admittedly we don't know if Gunn has plans for Brosnan, Centineo, Swindell, and Hodge to reprise their roles in the new DCU. But in the off-chance that he does, it probably won't be any time soon as his first slate of projects seems to leave little room for them. 
Man of Steel 2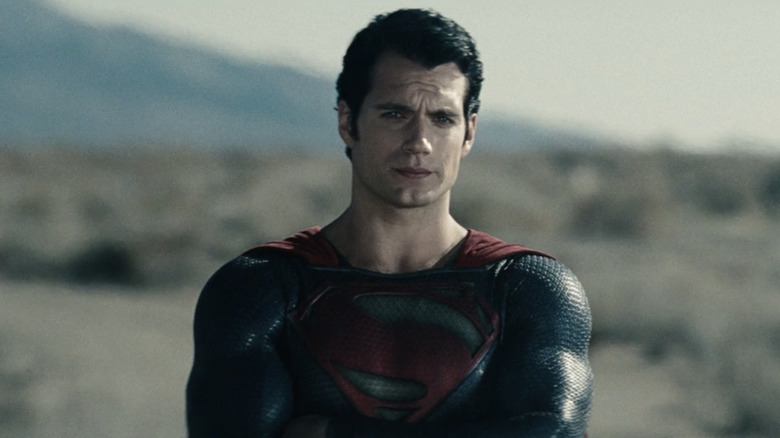 Warner Bros. Pictures
The film that kicked off the DCEU, "Man of Steel" was the Superman movie that audiences had long craved: a rollicking action adventure with an emphasis on the action. While some critics and audiences bristled at some of the film's questionable choices, it did quite a few things right — which is why so many were excited about the start of the cinematic universe. From the casting of Henry Cavill as Superman to the film's epic scale and elaborate world-building, everything boded well for the franchise's future.
But while Warner Bros. and Zack Snyder forged ahead assembling the Justice League, with a sequel focused on the meeting of Batman and Superman for the first time ever on the big screen, plans for a proper "Man of Steel" sequel never seemed to materialize. As "Justice League" came and went, and films like "Wonder Woman," "Aquaman," and "Shazam!" were raising the bar, a return that might have pit fan favorite Henry Cavill against one of Superman's most deadly foes — be it Brainiac, Metallo, or Mongul — was nowhere to be found. 
In 2018 it was announced that Cavill was out as Superman, but things seemed to turn around in 2022 when "Black Adam" star Dwayne Johnson convinced Warners to bring Cavill back. It seemed now like a true "Man of Steel" follow-up might be a possibility, but just weeks after Cavill's return, Gunn pulled the rug out from under everyone when he declared the actor was being replaced in the new DCU.
Black Adam's showdown with Superman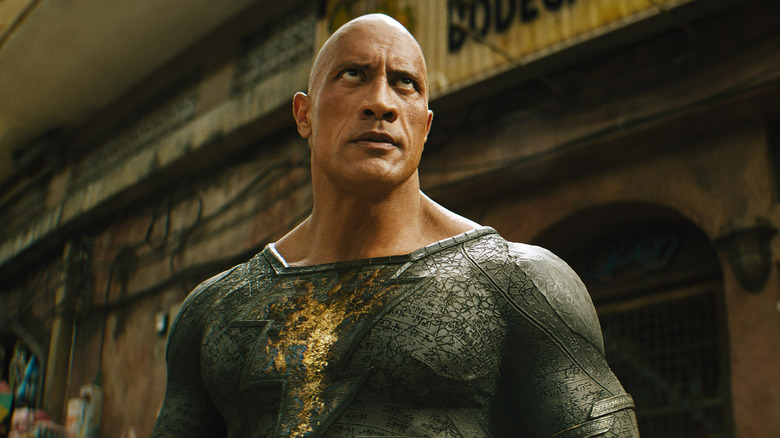 Warner Bros. Pictures
Of course, when Dwayne "The Rock" Johnson convinced Warner Bros. to re-engage Henry Cavill to return to the role of Superman, it wasn't specifically with the intention of a "Man of Steel" sequel. Instead, Johnson — playing Black Adam, an adversary of Shazam from the comics — wanted to go toe-to-toe with Cavill's powerhouse hero. Because with Superman as his enemy, it would not only amp up the action and give himself a worthy adversary but provide as big a draw for audiences. 
Cavill returned, in a post-credits scene in "Black Adam" that made clear that a match-up between the two titans was on the cards. Though it wasn't said when it would happen or in what film, it's likely they were planning on a face-off in a "Black Adam" sequel or even an epic "Shazam!" threequel. Sure, "Black Adam" wasn't a huge hit at the box office. But it's likely that the inclusion of "Superman" could have been just what a sequel needed to win back fans, and there's no doubt that a knock-down, drag-'em-out brawl between the two characters would put butts in seats for the spectacle alone.
But with Johnson nixed from James Gunn's DCU plans, Cavill being replaced by a new, younger actor, and "Shazam!" unlikely to receive a third film, with a Black Adam-Superman fight feels impossible.
Martian Manhunter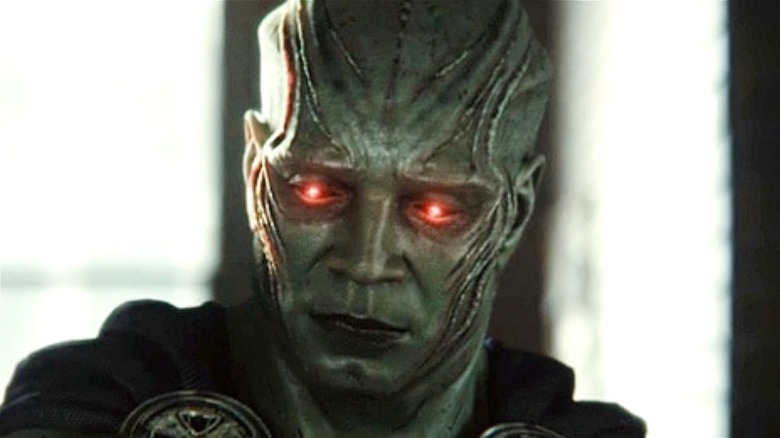 Warner Bros. Pictures
Some teases we won't get a follow-up on weren't always there to begin with. Case in point is the reveal of Martian Manhunter in "Zack Snyder's Justice League." Director Zack Snyder's original plan was to feature Green Lantern at the tail end of the film but was pressured by the studio to replace the cosmic hero. In his stead, Snyder substituted the Martian Manhunter, the shape-shifting alien and founding member of the Justice League in the comics.
Though the scene was added late and is little more than a cryptic inclusion, it featured Harry Lennix as the Martian Manhunter. In a surprising twist. It was clearly setting up a major role for the hero that would have happened had Warner Bros. restored the so-called "Snyderverse." Alas, rather than allowing the director to make his own sequel, or having a new creative team follow the threads laid bare in "Zack Snyder's Justice League," they turned to James Gunn to reboot the cinematic universe. Out with the bathwater was Lennix and Martian Manhunter.
Though it's possible — if not likely — that Gunn's new DCU will include a new version of the character, it definitely won't be the version we met in "Zack Snyder's Justice League." This leaves fans of the film left to ponder where that story was going and what could have been.
Joe Manganiello's Deathstroke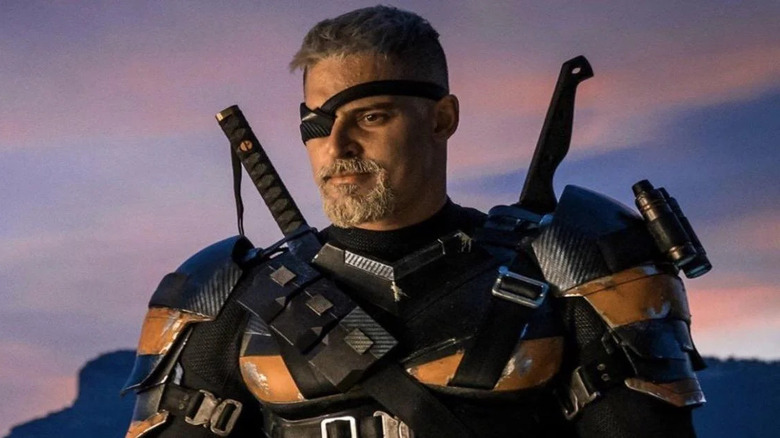 Warner Bros. Pictures
Marvel turned the use of post-credits scenes into an art form, but when the DCEU first launched, they largely eschewed the use of such late-movie stingers. Perhaps they stayed away from them because they wanted to avoid making promises they couldn't deliver on. If that's the case, it would make the inclusion of a post-credits scene in 2017's "Justice League" all the more curious. 
The scene caps off the theatrical cut of "Justice League"  with an appearance by a now-bald Jesse Eisenberg as Lex Luthor. Aboard his yacht, Luthor meets with hired assassin Deathstroke, played by Joe Manganiello. Luthor tells Deathstroke of the Justice League's formation and suggests they form their own league of villains to counter them. Could this have been a tease for a "Justice League" sequel, different from the one devised by original director Joss Whedon? Or was this a set-up for the long-rumored Ben Affleck solo "Batman" film, for which Deathstroke was being planned to serve as the primary villain?
Well, none of it matters anymore. Not long after "Justice League," the Affleck "Batman" movie was scrapped. Meanwhile the disappointing box office performance of "Justice League" left the franchise's future uncertain, and that tease was never followed up. Perhaps there could have been plans for Manganiello's Deathstroke to return in another, different project, but Gunn's new DCU seemingly leaves fans on the tease of more to come.
That Knightmare future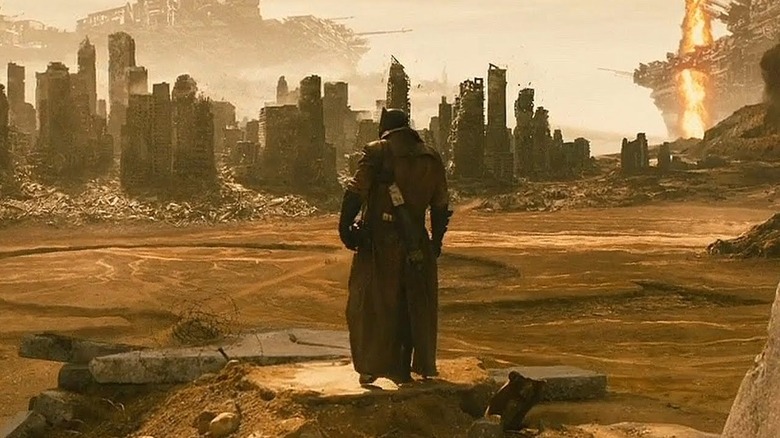 Warner Bros. Pictures
First seen in the sequel "Batman v Superman: Dawn of Justice," the so-called "Knightmare future" is a post-apocalyptic possible future where Superman is evil. It mirrors various comic book storylines seen before, and supposedly was the result of Darkseid conquering the Earth and taking control of the Man of Steel. In this future, Batman is one of just a few remaining heroes, decked out in a duster and goggles he tries to bring justice to an unjust world. 
But that glimpse is pretty much all we'd get of it, save a brief follow-up in "Zack Snyder's Justice League" that even brought back Manganiello's Deathstroke for a single-line cameo. It's probably safe to assume that if Snyder's originally planned sequel had ever come to fruition, it might have included an extended look at this world, and this broken, lost version of Batman. We'd have loved to see this twisted take on the Dark Knight, and his fight against a power that is so far outside of his league that all he can hope to do is save one life at a time. 
There's also no denying that a "Justice League" sequel set in this timeline would have given it a truly distinctive feel, and could have even led to its own spin-offs. Plus, it just looks so darn cool. Who wouldn't want to see Batman blasting baddies in a trenchcoat?
Lynda Carter in Wonder Woman 3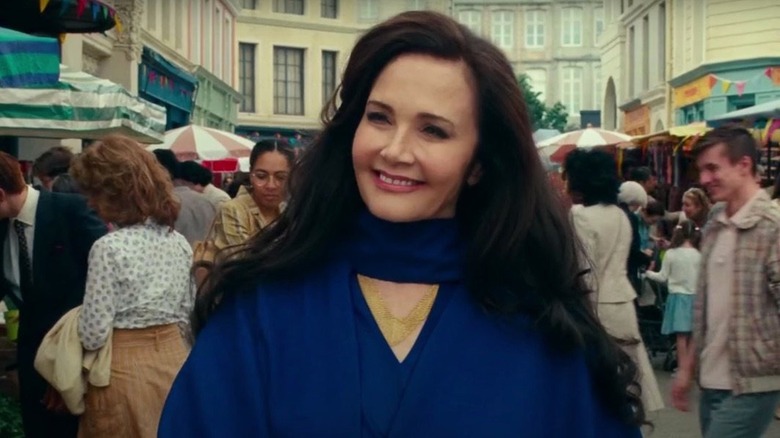 Warner Bros. Pictures
It's hard to deny that Patty Jenkins' "Wonder Woman" was a high point of the first iteration of the DCEU. After two films by Zack Snyder, and a "Suicide Squad" film that by all accounts was heavily meddled with by the studio, some critical response to this new cinematic universe was unkind at the very least. But "Wonder Woman" changed all that, met with an overwhelmingly positive reaction from fans and critics, who showered it with praise for its hopeful story and thrilling adventure.
While the sequel, "Wonder Woman 1984" didn't light the world on fire, it was still a worthy successor with heart and soul, and things were looking bright for Gal Gadot's future as the lasso-wielding hero. In the sequel's closing moments, there is even a tease for a third entry in the series that sees the return of actress Lynda Carter, who had been the first person to play Wonder Woman in live-action in the 1970s TV series. The scene reveals Carter as a legendary Amazonian warrior named Asteria, and it's seriously suggested that the next adventure could have included her in a major role. With the DCU restarting the Wonder Woman mythos with an HBO Max series, it's unlikely we'll get a follow-up any time soon, and this could wind up Carter's last appearance in a Wonder Woman project.t
Michael Keaton & Batman Beyond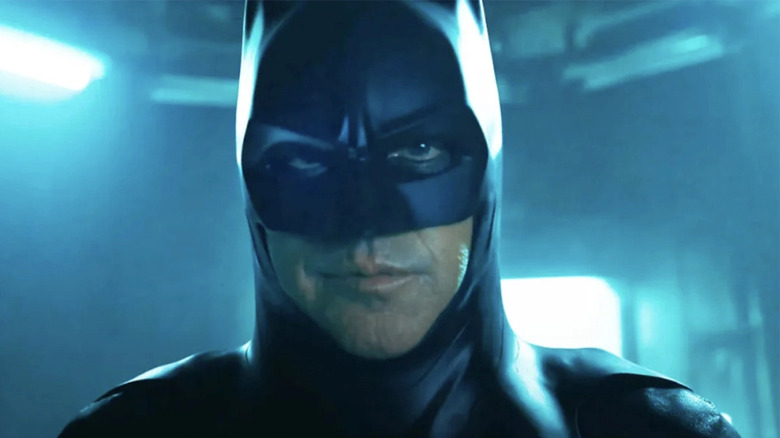 Warner Bros. Pictures
In 1989, Michael Keaton starred in "Batman," a seminal superhero film that ushered in a new era of comic book movies that took the source material more seriously. Though Keaton would only star in two films as Batman, he'd long be held as the gold standard for the character, and still ranks as the best actor to ever play the role on the big screen. No matter how beloved, though, the idea of Keaton ever returning to play the role seemed like a pipe dream.
But in 2021, it was announced that the actor — now in his 70s — was indeed coming back, reprising his role as Bruce Wayne and Batman in the 2023 film "The Flash." It was a stunning turn of events, especially considering he'd recently starred as the villain in Marvel's "Spider-Man: Homecoming." But according to rumors, Keaton's comeback in "The Flash" was to portend a whole host of new projects for him in the DCEU as the Dark Knight, with appearances in "Batgirl" and more.
According to some, who claimed to have insider intel, the plan was for Keaton's Batman to supplant Ben Affleck's Batman in a new, rejiggered version of the DCEU. There was even talk that it might lead to a loose adaptation of "Batman Beyond," with Keaton as an aging, elder Batman who passes the mantle to a new hero while serving as a mentor. This seems far less likely now that James Gunn has plans for a new Batman, and the once-thought-impossible return of Keaton in future movies is again relegated to mere fantasy.