The American Pickers Collector Who Rented Vehicles To Films Like Forrest Gump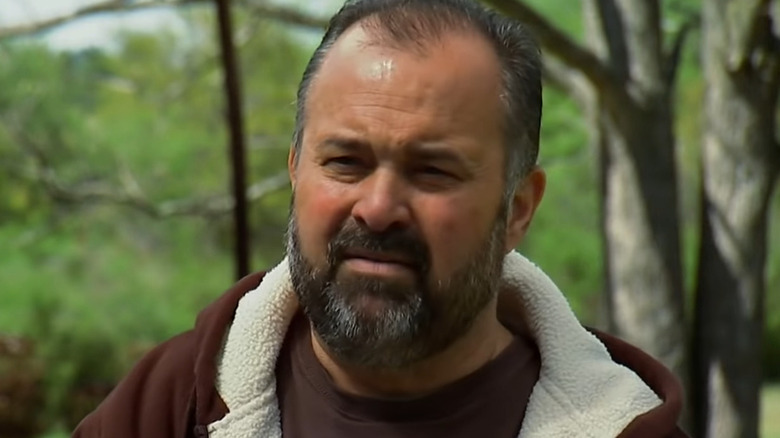 History/YouTube
There's a certain kind of collector that tends to pop up on "American Pickers." Most of the time, when Mike Wolfe and the crew turn up at someone's property, there's a ton of memorabilia just laying around. Most of it probably hasn't been seen by anyone else in years, but Zipp, featured on Season 19's "Bubba Gump Picks," was different. 
When Wolfe and Frank Fritz show up to his property, they're appropriately greeted by a barking dog as well as a ton of vintage military vehicles scattered across the grounds. Many of them are in fine condition, and Zipp even reveals how he's made some money off his collectibles by renting them out to production companies for film shoots. One such vehicle made its way into "Forrest Gump" while another was included in 1994's "Chasers," starring Dennis Hopper. Wolfe's impressed that Zipp managed to get his collection to make some money, and Wolfe's even more surprised to hear how he wants to get rid of some of his items.
Mike Wolfe and Frank Fritz don't leave empty-handed
A good chunk of the runtime of "Bubba Gump Picks" is dedicated to Zipp's collection. He's one of the more fascinating figures featured on "American Pickers." He's a veteran with his kids also having gone into the military, and he's a collector of all kinds of items, not just vehicles, that have history in World War I and beyond.
Mike Wolfe and Frank Fritz seem to have a great time touring his property and checking out all of the vintage vehicles he has on display. They even get to go inside his house, where he has even more items with a history in the war. One such item that catches Fritz's eye is an old-school German military helmet used in World War I. Immediately, it becomes clear that Zipp is quite the historian, able to tell Fritz about the background of all sorts of items that have been used in war.
Zipp wants $1,600 for a pair of helmets, which Fritz is more than happy to pay. He's even more delighted to come across a footlocker that was turned into a prop used in the armory scene for "Forrest Gump." It even has "Gump F." painted on the top. Zipp wants $300 for it, and Fritz once again makes a deal, probably a little blindsided seeing how "Forrest Gump" is one of his favorite movies. The pickers leave Zipp's site with a good haul and some interesting information about the military.