Ted Lasso: Brett Goldstein's Eyebrows Are A Dead Giveaway In The Writers Room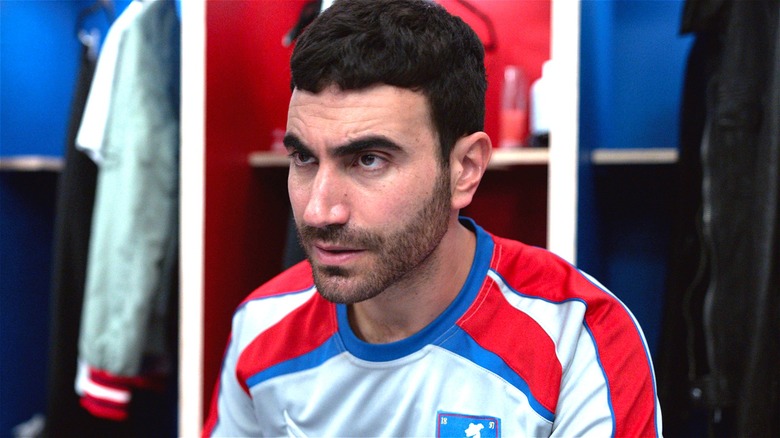 Apple TV+
With its comforting optimism and clash of cultures, AppleTV+'s sports comedy "Ted Lasso" has rightfully earned the acclaim it has received. Winner of 11 Emmys, the story of an American football coach in England is a perfect salve for the gritty landscape of television. But you can't have Jason Sudeikis' heartwarming portrayal of Ted without his direct opposite to take it home. Football captain turned coach Roy Kent (Brett Goldstein) is gruff and passionate, with a flurry of swearwords punctuating every sentence he utters. While at first glance he may not seem like one of the most likable "Ted Lasso" characters, we quickly find the different sides of Roy that make him so endearing.
This is in part due to Goldstein's portrayal of the character. Though he was initially hired as a staff writer, Goldstein soon felt compelled to play the angry footballer. As you would expect, this may have caused some interesting dynamics in the writer's room. With a feeling of such ownership over the beloved character — and his mysterious iconic growl — Goldstein realized that his opinions aren't always easy to suppress when working with his fellow writers.
Goldstein tries not to pitch Roy too much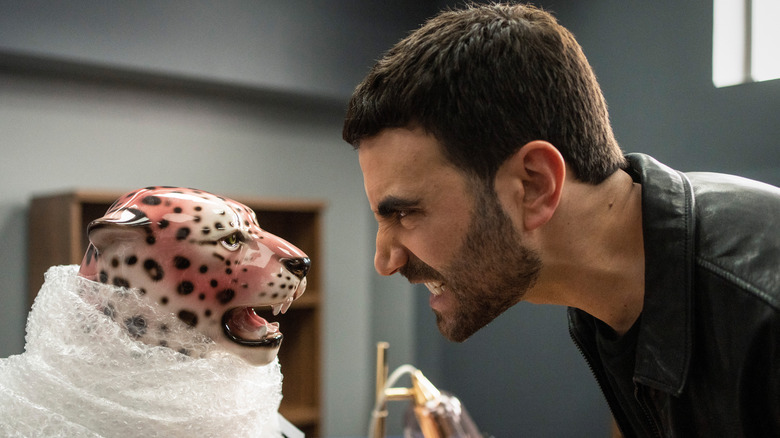 Apple TV+
When writers were breaking the story for "Ted Lasso" Season 1, Brett Goldstein had the luxury of not being cast yet. His official casting as Roy Kent would come later, after sending his team a self-tape audition for the character. But when pitching stories with the rest of the team later down the line, Goldstein knew he had to be conscious about not favoring the character he portrayed.
"I love all the characters equally," Goldstein assured Stephen Colbert on "The Late Show," before adding as a side note: "a little more Roy." Attempting to avoid any bias toward the fan-favorite character, the writer went on to explain that he does his best not to pitch Roy storylines, despite his obvious expertise in the character's psyche. According to other writers in the room, however, this doesn't do much to solve the problem. They always know if Goldstein approves a Roy story, no matter what.
"I was told by one of our writers that whenever they pitch something for Roy, they look at me and they can tell by my eyebrows if I like it or not," Goldstein continued. He explained that while he tries to keep his face impassive, the angle of his head seems to be the indicator that gives him away. Even in the confines of a professional setting, Goldstein still can't help the classic Roy glare that breaks through.