Whatever Happened To The Actor Who Played Stranger Things' Demogorgon?
Before foes like Vecna and the Mind Flayer would come to terrorize Hawkins, Indiana, the cast of Netflix's "Stranger Things" only had one monster to deal with — the Demogorgon. Named after a two-headed "Dungeons & Dragons" beast, the Demogorgon was the main antagonist of the show's sleeper-hit 1st season. While these initial episodes would make instant stars out of actors like Millie Bobby Brown, Finn Wolfhard, and David Harbour, some fans may still be unaware of the man behind the series' defining monster — actor, puppeteer, and choreographer Mark Steger.
Though he has been performing on film since the early 1990s, it wasn't until his work in "I Am Legend" that Steger cemented his place as one of Hollywood's go-to creature creators. This soon led to a recurring role on the hit series "Heroes" (in which he played the Constrictor) as well as various horror movie monsters. Eventually, the Duffer Brothers called Steger and pitched him on their concept for the soon-to-be iconic "Strange Things" enemy known as the Demogorgon. Steger has continued to follow this career trajectory ever since, and he's even set to star in one of the most anticipated films of 2023.
Mark Steger went into the mountains as Bigfoot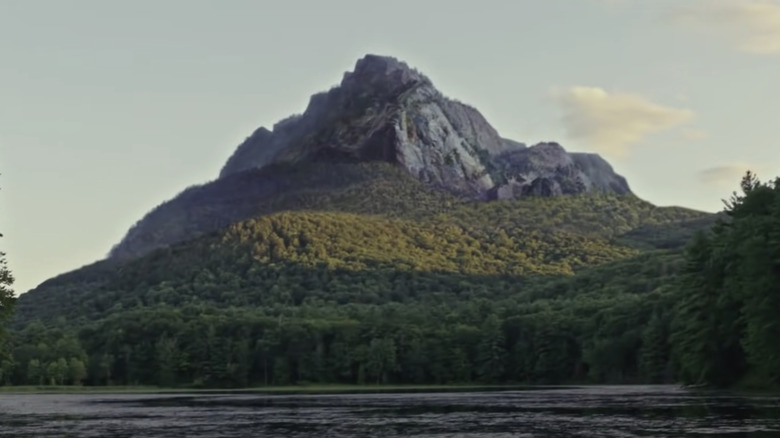 RLJE Films
About a year after "Stranger Things" aired on Netflix, Mark Steger joined the cast of the low-budget indie adventure film "The Man Who Killed Hitler and Then the Bigfoot." It starred Sam Elliot ("1883") as an aging and angry man struggling with the meager sum of his life (which evidently included the covered-up assassination of Adolf Hitler). Steger played his ultimate prey, Bigfoot, who was in this universe the victim of a mutating virus. The two chased each other around the Canadian wilderness for a while until they were both finally killed — or were they?
Speaking to The Horror Show at the Arizona Mad Monster convention in 2017, Steger seemed happy that "The Man Who Killed Hitler" would be a straightforward attempt at horror rather than a found footage film (a sub-genre that became immensely popular after the release of 2007's "Paranormal Activity"). Steger jokingly pretended to yawn when his interviewer began discussing the amount of found footage films being made. "Once in a while, someone comes up with a novel idea ... but when it becomes a fad [and] every other film is a found footage film ... it gets tedious," he said. Ironically, Steger played the antagonist in 2015 found footage sequel "Paranormal Activity: The Ghost Dimension."
He summoned a demon in The Nun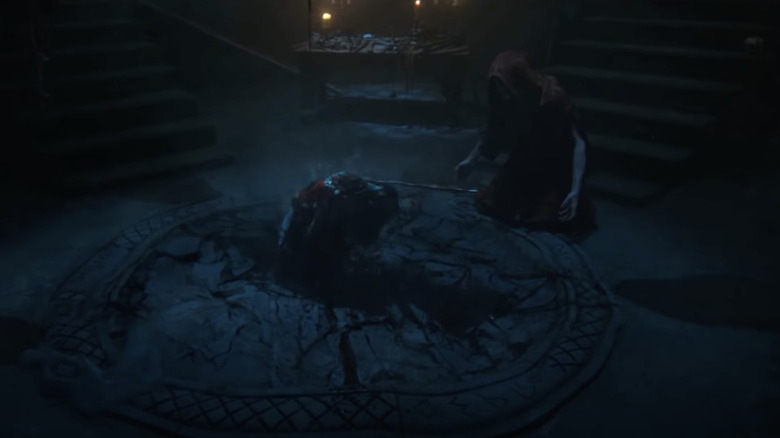 Warner Bros. Pictures
Spinning out of James Wan's overgrown "Conjuring" universe, "The Nun" was a 2018 prequel to the series that tracked Valak (the titular villain) all the way back to the 1950s. The story followed a priest (Demián Bichir), a nun (Taissa Farmiga), and a duke (Mark Steger) — and no, this is not the set-up for a joke, though perhaps some critics would have preferred that to the film they ultimately saw.
Formally referred to as the Duke of St. Carta, Steger's "Conjuring"-verse character was seemingly going to have a larger role down the line as an overarching antagonist throughout the franchise (Thanos who?). Unfortunately, likely due to the poor reviews received by the film, director James Wan revealed on Instagram that The Duke's next film appearance — "The Crooked Man" — was indefinitely shelved. In "The Nun," it's shown that Steger's Duke was a satanic devotee who attempted to open a portal to hell. Thankfully, he was assassinated by the Vatican, which thwarted his plans with the literal blood of Jesus Christ himself.
He created art in Velvet Buzzsaw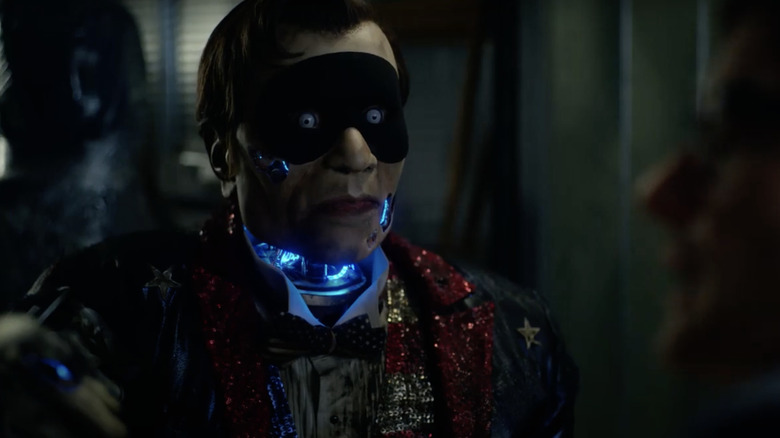 Netflix
This 2019 hidden Netflix gem starred Jake Gyllenhaal ("Ambulance," "The Covenant"), Zawe Ashton ("The Marvels"), Toni Collette ("Hereditary," "Knives Out"), Tom Sturridge ("The Sandman"), Daveed Diggs ("Hamilton," "Snowpiercer"), fellow "Stranger Things" alum Natalia Dyer, and John freaking Malkovich. A bizarre tale about literally and figuratively haunted artists, "Velvet Buzzsaw" follows a critic (Gyllenhaal) who becomes increasingly obsessed with an unearthed art portfolio created by a deceased vagrant. When these newfound works become the subject of public fascination, mysterious art-related deaths begin to occur.
Mark Steger plays Hoboman, a robotic art installation that normally makes small, sudden movements and spits out bizarre non-sequiturs (like "Once, I built a railroad!"). Of course, after the spirit of the dead artist enters him, Hoboman becomes a murderous robot. "It looks really creepy," Steger said of his costume to Entertainment Weekly. "There was something about the mask that had this life to it, but there's something just off in such a way that it makes you feel just a little uneasy. And then he has this gawdy superhero, red-white-and-blue outfit with a cape that has tire treads on it and is tattered and he has parts of his body have been broken away to reveal the mechanism inside."
The actor also notes that in the world of "Velvet Buzzsaw," the piece is meant to be a commentary on the commercialization of the superhero genre. "Because of the budget restrictions for the film, they couldn't actually make a full mechanical sculpture," he continued. "So they decided the best thing to do was have somebody pretend to be a robot."
He got literal in Scary Stories to Tell in the Dark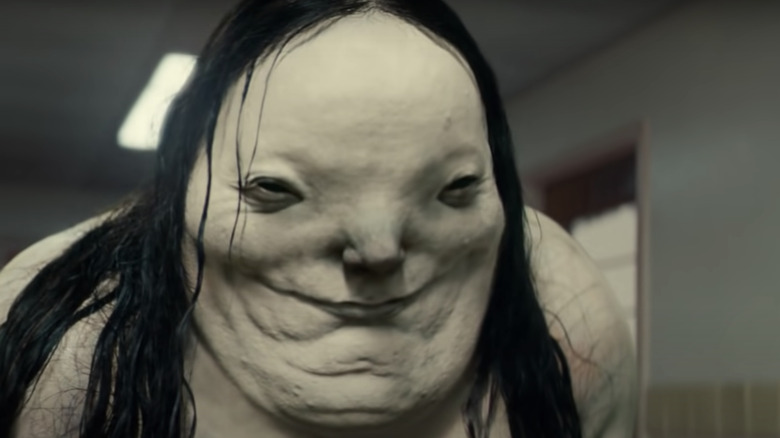 Lionsgate
Remember that book that was largely known for its beautiful, nightmare-inducing illustrations by Stephen Gammell? Guillermo del Toro thought it'd be a good idea to bring that to life. 
With del Toro as producer, "Scary Stories to Tell in the Dark" debuted as a surprisingly decent horror offering in late 2019, thanks to its incredibly faithful depiction of Gammel's haunting visuals. To bring his gangly creatures to life, the studio employed the help of Mark Steger, who played the globulous Pale Lady and Harold the Scarecrow. 
"The two characters that I played ... were very faithful representations of the illustrations from the books," Steger told ComicBook.com. "That's what [director] André [Øvredal] and Guillermo wanted, as far as the actual look of the character." He went on to describe how he embodied each character, stating that, for Harold, "I wanted to make it look like there was nothing inside there. He's supposed to be this ghost inhabiting this scarecrow. Part of what I was going for was to make it not seem like there was actually anyone inside animating it." 
For the Pale Lady, Steger actually worked to restrain his usual tendencies and let the design speak for itself. "It was one of those things where sometimes what's required is to do less," he said before adding later, "The look of this character just sold it. She's really one of my favorite characters that I've ever done, actually."
He was hypnotic in The Girl in the Woods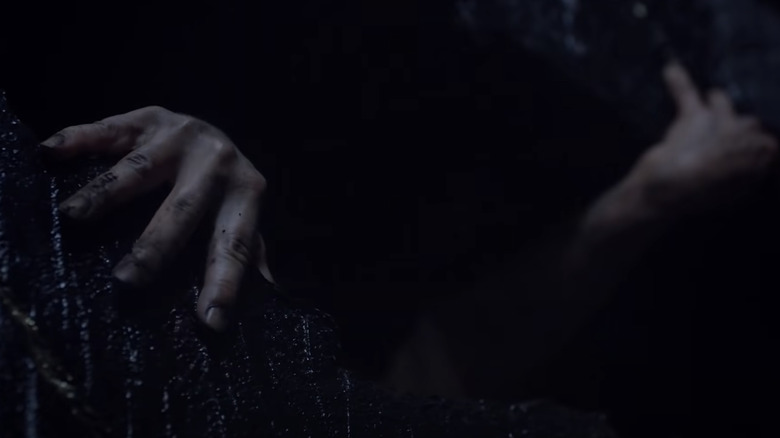 Peacock
If you love horror, you should definitely make yourself acquainted with the folks at Crypt TV. The brainchild of Jack Davis, Eli Roth, and Jason Blum, Crypt TV began as a short-form horror universe that has scaled into major productions. Whether telling a story in six minutes or 60, the digital studio is consistently praised for its inventive and mostly practical creature designs. 
In 2021, Peacock began streaming a series based on their short "The Girl in the Woods," which is about a group of friends who fight otherworldly monsters crawling through an abandoned portal. Mark Stegar appeared in five episodes as The Hypnotist, a masked creep with decaying fingers. 
The series also starred former Disney Channel actor Stefanie Scott, Misha Osherovich ("Freaky"), and Sofia Bryant ("I Am Not Okay with This"). Krysten Ritter ("Breaking Bad," "Jessica Jones") directed several episodes of the series. Despite decent reviews, however, it has yet to be canceled or renewed by Peacock as of this writing.
He became a drone on Westworld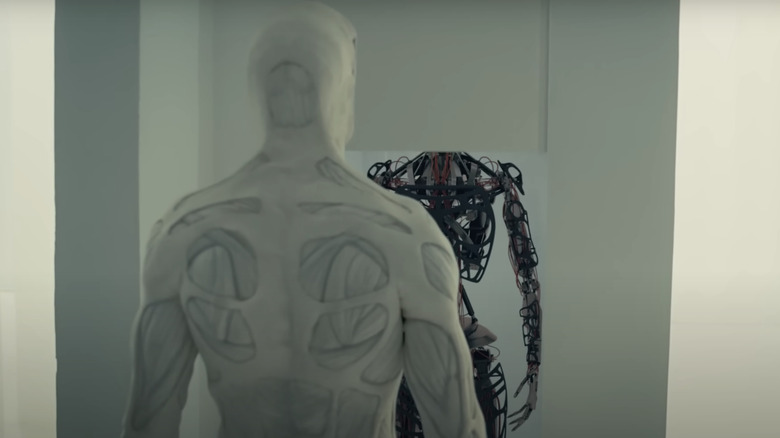 HBO
It wasn't too long ago that HBO's "Westworld" was considered one of the best prestige sci-fi dramas of the modern television age. Now, after a somewhat shocking cancellation following four seasons (which some would say steadily declined in quality) and an even more shocking removal from the HBO Max streaming platform, "Westworld" seems destined to be forgotten among the wider late-2010s TV offerings.
Regardless of one's opinion on the series as a whole, it's difficult to deny the ambitiousness of the concepts they continued to introduce until the very end — one being the oddly terrifying Drone Hosts. The monochromatic — dare-we-say milky — robots were designed to be less "human" versions of the hosts that were once relegated to the park.
Though they were introduced in the series' 2nd season, Mark Steger first debuted as one of them in the final Season 4 episode (which ultimately became the series finale), "Que Será, Será." A number of Drone Hosts are seen in the episode, making it impossible to tell which one is Steger.
He's set to appear in Zack Snyder's Rebel Moon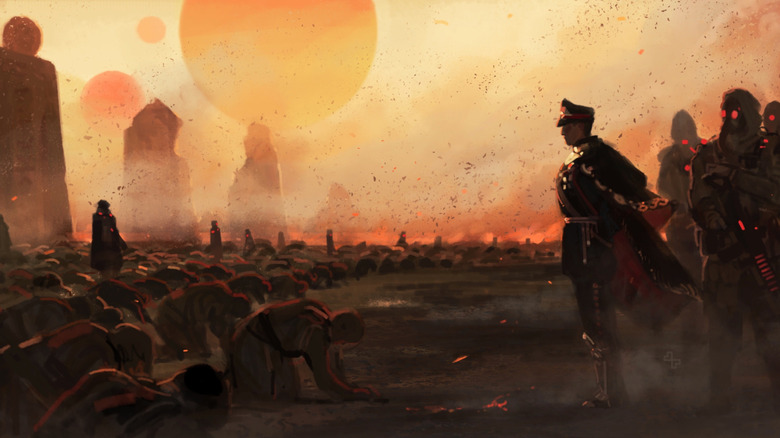 Netflix
In the aftermath of his noisy exit from the DC Extended Universe (as it was called at the time) and his subsequent yet brief return with the director's cut of "Justice League," Zack Snyder found a new home on the streaming platform Netflix. Having launched a new universe with his zombie-homecoming feature "Army of the Dead" (which itself has already spawned one spin-off, with at least two more on the way), his most ambitious new project seems to be a proclaimed "Star Wars"-inspired space opera titled "Rebel Moon." The first part of the epic is set to land on Netflix much later this year, with Mark Steger attached as a mysterious character called the "Lifter."
Though nothing is known about what this role will specifically entail, it can be assumed based on concept art and Steger's work that the Lifter will be an inhuman creature of some kind, which suits the actor's specialized talents. Despite starting out as a pitch for the galaxy far, far away, Snyder has spent the last several years turning this story into a unique adventure. A synopsis released by The Hollywood Reporter reads, "['Rebel Moon'] is set in motion when a peaceful colony on the edge of the galaxy is threatened by the armies of a tyrannical regent named Balisarius ["Deadpool's" Ed Skrein]. Desperate, the colonists dispatch a young woman ["The Mummy's" Sofia Boutella] with a mysterious past to seek out warriors from neighboring planets to help them make a stand."