Stranger Things' Joe Keery Changed How The Duffer Brothers Saw Steve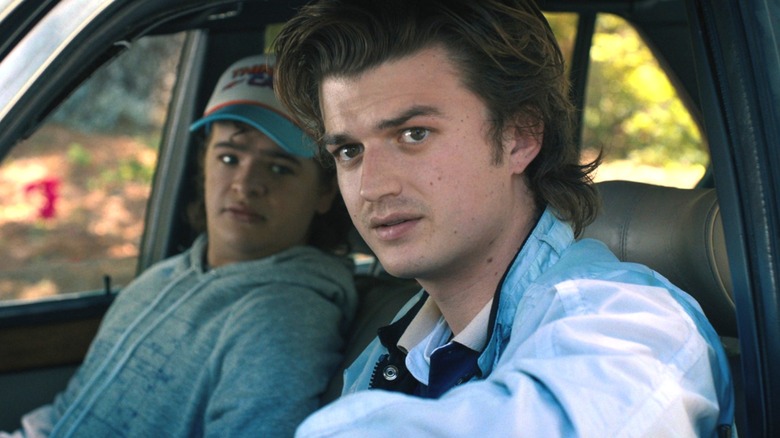 Netflix
Steve Harrington (Joe Keery) has had to bridge many gaps in his character to become the man we all know and love on "Stranger Things." The constant babysitter of the core group of kids offers comic relief in the demonic battle for Hawkins' soul. So beloved has the character become that it's easy to forget what happened in the first episode. Some may not remember that there was a time when the only role Steve was filling was that of a stereotypical villain in an '80s teen comedy.
Introduced as a clear obstacle for the Nancy (Natalia Dyer) and Jonathan (Charlie Heaton) romance, Steve contributes to the story by damaging property and starting beatdowns at the high school. But after he joins the Demogorgon fight with his trusty baseball bat, the character seems to take a sudden 180. He doesn't fade away from the main conflict — instead, he and Nancy actually make amends at the end of Season 1 and continue their relationship for a time. This is the start of Steve being a softer, more developed version of himself that has made him one of the most likable characters on the series. More caring and humorous, this iteration of the character could only come from one person.
A Steve and Nancy reunion was not initially in the cards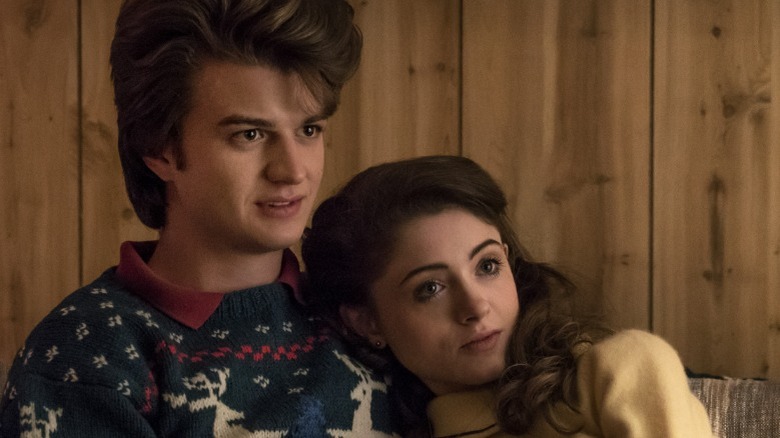 Curtis Baker/Netflix
The transformation of Steve into an affable everyman (who habitually vocalizes the audience's thoughts) didn't take too long to materialize. After casting Joe Keery, the Duffer Brothers quickly realized how profoundly the actor affected the material. Considering how easily he could have been a one-note character, the "Stranger Things" creators acknowledge the Steve as we know him may not exist without Keery. Much to the surprise of audiences — and Variety — Nancy chooses Steve at the end of Season 1, not Jonathan.
"A lot of credit goes to Joe Keery because he was much more likable and charming than we originally had envisioned," Ross Duffer told the outlet. "If you read the pilot, he's the biggest douchebag on the planet. It's not that he's a flawless character, he's flawed, but Joe was so good we started to fall in love with the idea that he has an arc himself." Steve has many run-ins with Jonathan, the more sensitive object of Nancy's affection. He lashes out at his romantic rival and dispenses the usual tropes of a high school bully. However, he also learns from his mistakes. It's Keery's nuanced portrayal of Steve that makes him someone who realizes he can do better.
"He's maybe not the perfect guy, but he's maybe in with the wrong crowd," Duffer continued. "As opposed to him turning Nancy to his side, maybe it's more Nancy turning him to her side. We liked giving him that arc."