Kathy Bates Had No Problem Finding The Office's Comedic Rhythm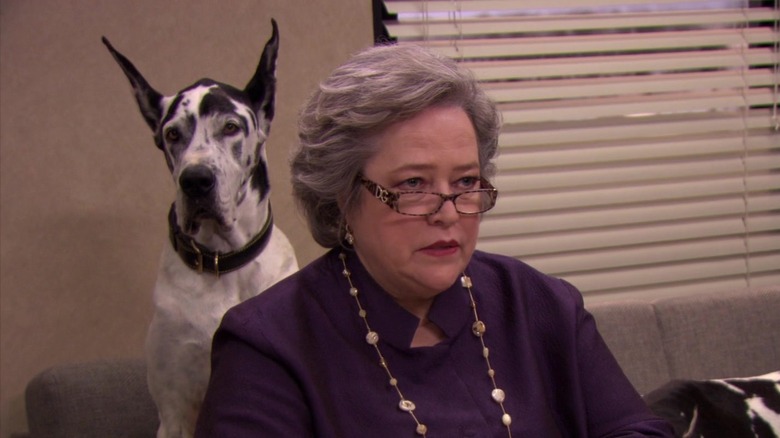 NBC
For a show about the inner workings of a small-town paper company, "The Office" features a staggering number of celebrity talents. Granted, many of those talents weren't considered celebrities at the time. Names such as Steve Carell and John Krasinski only achieved household status because of their respective tenures on the NBC mockumentary series. But names like Jessica Alba, Jim Carrey, and Jack Black (and some others that don't begin with "J") were already well known. Many of these famous faces dropped in for barely a handful of minutes, but some stuck around far longer.
Enter Kathy Bates. Long before she was Jo Bennett, cutthroat CEO of Sabre with a veneer of false sweetness, Bates was a legend. She starred in everything from "Misery," the psychological thriller in which she introduces James Caan's poor ankles to a sledgehammer, to "Fried Green Tomatoes, the heartfelt drama in which she adopts a new granny. There are, of course, numerous other projects with her name splashed across the top of the poster, and she's the proud owner of an Academy Award, two Golden Globes, two Primetime Emmys, two Screen Actors Guild Awards, two British Academy Film Awards, and a Tony Award nomination. And, to be clear, most of those she earned before joining "The Office."
Despite this — or maybe because of it — Bates stepped onto the set of Dunder Mifflin Paper Company beneath a shadow of unease, which she immediately dispelled with grace and skill. Here's the story. 
Queen of drama, queen of comedy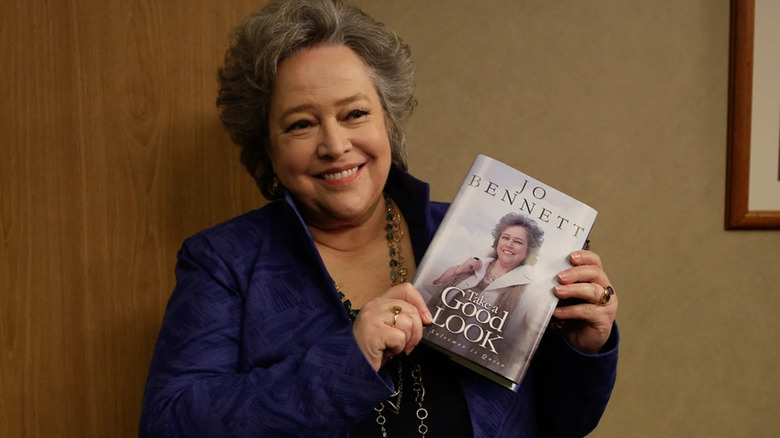 NBC
The stigma wasn't anything new, neither was it solely linked to Kathy Bates. Big names come with big egos — not always, but enough of the time that a certain wariness is natural. Besides this, it can sometimes be difficult for more serious, dramatic actors to understand the language of comedy. Fortunately, none of those generalizations applied to Bates. 
The truth about Kathy Bates is that she was a gem to work with. Producer Randy Cordray described her as an incredibly patient woman, content to spend her time between takes reading in her trailer. Kate Flannery, who portrayed Meredith Palmer, told "Inside of You" that Bates approached her work on "The Office" with the same fervor she took to "Misery." 
Most importantly, as shared by Cheat Sheet, "The Office" director Jeffrey Blitz praised her comedic skill. "Her presence on the set was that of a total pro and she got the humor of it, " said Blitz. "Sometimes, they would bring people from a world of drama that just didn't quite get the rhythm of the comedy of it; she did."
For those feeling nostalgic or wanting another dose of Bates' comedy, "The Office" is currently streaming on Peacock Premium. She can be seen in Seasons 6, 7, and 8, but let's not pretend that anyone starts in the middle.