GOT's Indira Varma Details The 'Demanding' Process Of Filming Oberyn And The Mountain's Fight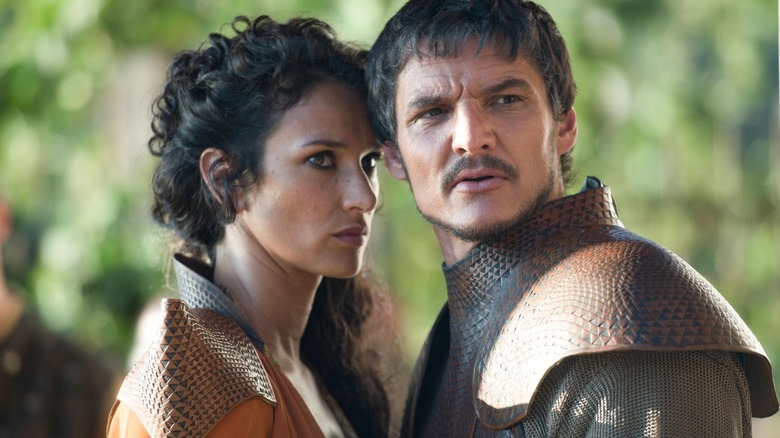 HBO
HBO's "Game of Thrones" provided a little something for everyone throughout its eight seasons on the air. It contains some fascinating political conflict, a bit of humor, and no shortage of fantastical worldbuilding, making it quite a well-rounded fantasy series. Of course, it also has plenty of action and, as a result, some incredibly brutal deaths. Background characters and fan favorites alike meet horrific ends on the program, with some standing out from the rest as especially hard to watch. Case in point: the demise of Oberyn Martell, as portrayed by Pedro Pascal.
Martell would meet his end in the Season 4 episode titled "The Mountain and the Viper." With Tyrion Lannister's (Peter Dinklage) fate hanging in the balance, Martell stands toe-to-toe with the monstrous Gregor "The Mountain" Clegane (Hafþór Júlíus Björnsson) in a duel. For a portion of the fight, it seems that Martell would have a chance to win, but such thoughts dissipate in short order. Using his bare hands, the Mountain crushes Martell's skull — a moment many fans feel went too far – dooming Tyrion to execution and ending Pascal's run on the program.
According to Indira Varma, who played Oberyn Martell's paramour Ellaria Sand, filming the battle between Martell and the Mountain was a rather demanding experience for all involved.
Pascal and Björnsson went through the wringer to make the fight happen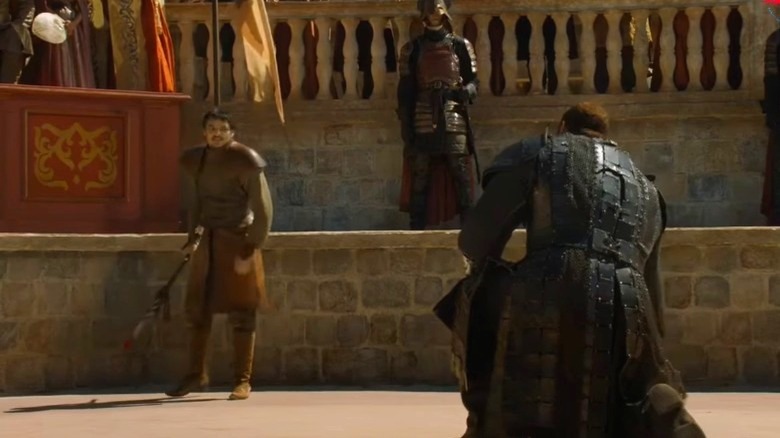 HBO
Speaking with The Hollywood Reporter, Indira Varma recalled that the process of filming Oberyn Martell and the Mountain's big fight was a grueling experience. "It was demanding for Pedro because he'd had to train for so long to be up to speed with that incredible fight," she said first of all, adding that Pascal's preparation was only part of it. The weather just outside of Dubrovnik, Croatia, where they were filming, was merciless too. Varma continues, "He [Hafþór Júlíus Björnsson] was losing weight literally by the hour because he was sweating so much inside his gear."
Despite the hardships that came with filming the Mountain and Martell's clash, Pascal doesn't seem to regret any of it. He actually told Entertainment Weekly that he's incredibly glad he took on the job in the first place. "All I can really say is, I had the time of my life, and I wouldn't be sitting here if it weren't for that role," he shared with the publication. As for Björnsson, he told Men's Health that getting to work on "Game of Thrones" was a life-changing experience for him. "I knew it was a huge thing for me, but I didn't know how huge," he said of the show that launched him into international superstardom.
"The Mountain and the Viper" has gone down as one of the most unforgettable "Game of Thrones" episodes of them all, and as it turns out, those involved went through the wringer to make its biggest moment happen.