James Gandolfini's 60 Minutes Interview Had Sopranos Fans In Awe Of His Accent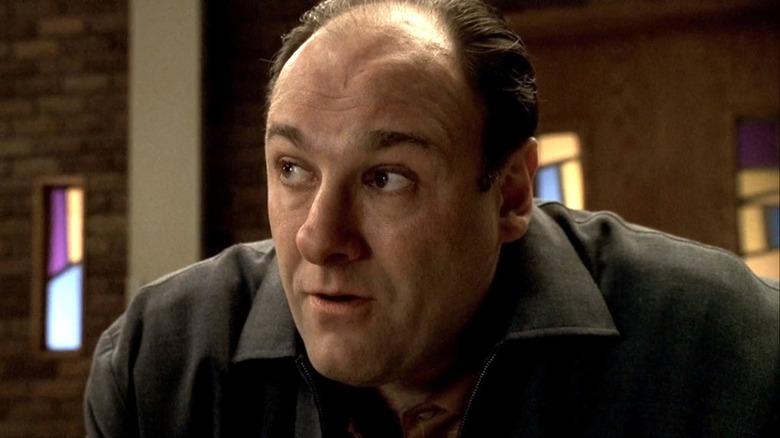 HBO
There are many reasons why Tony Soprano (James Gandolfini) eventually becomes the boss of the DiMeo crime family (sorry, waste management consultant). Not only does he stem from a line of mafia leaders, including his father Johnny (Joseph Siravo) and uncle Junior (Dominic Chianese), but he also instills fear in others — a necessary trait for this type of career.
What is it about Tony that makes grown men cower? It could be his towering stature, his willingness to kill a man at the drop of a hat, or his heavy Italian-American New Jersey accent, which adds to the aura of toughness. Tony's way of speaking is slightly high-pitched and eliminates letters at the end of words. For example, when speaking about his nephew Christopher Moltisanti (Michael Imperioli), he pronounces the name "Christopha." As the series progresses, the accent only seems to get stronger. 
In fact, Tony's accent is so distinctive that a quick Google search of "Tony Soprano impression" garners thousands of videos, all featuring fans who sound pretty darn close to the original. After six seasons of hearing Tony talk in this manner, it can be easy to assume that Gandolfini, the man behind the bowling shirt-wearing mobster, sounded like that in his everyday life. However, this assumption couldn't be further from the truth.
James Gandolfini didn't have a Jersey accent in real life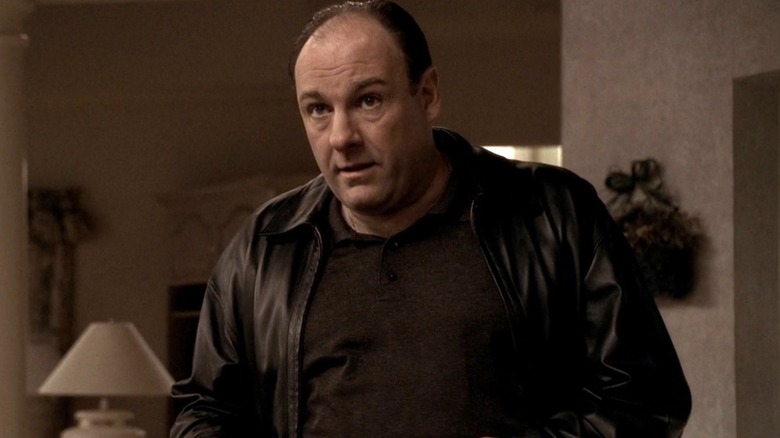 HBO
In 2005, James Gandolfini was interviewed by Bob Simon on "60 Minutes." As the actor shared his thoughts on why "The Sopranos" was such an instant success, there was something noticeably different about him. Unlike his on-screen persona of Tony Soprano, Gandolfini was extremely articulate. There was no Jersey accent to be heard nor the elimination of letters. That's because, off-screen, Gandolfini wasn't a tough-as-nails mob guy and, therefore, didn't speak as such.
For many fans, this was their first time hearing Gandolfini's true speaking voice. They were stunned and simultaneously impressed. In response to a video clip of the interview on YouTube, @Layla.63 said, "It's insane that he was doing an accent on the show. It's so lifelike I thought that was his actual voice and how he actually talked. He was truly talented." @lvpo8866 added, "He was such a great actor, and by great actor I mean he was so believable. It shocks people to hear his regular voice."
Gandolfini didn't win the Emmy Award for Outstanding Lead Actor In A Drama Series for nothing. Away from the camera, he was a completely different man, which was made clear by his "Sopranos" co-stars upon his untimely death in 2013. Edie Falco, who portrays Tony's wife Carmela, told USA Today, "He was a man of tremendous depth and sensitivity, with a kindness and generosity beyond words."