The Office's Angela Kinsey Explains Why She Still Ships Jim And Pam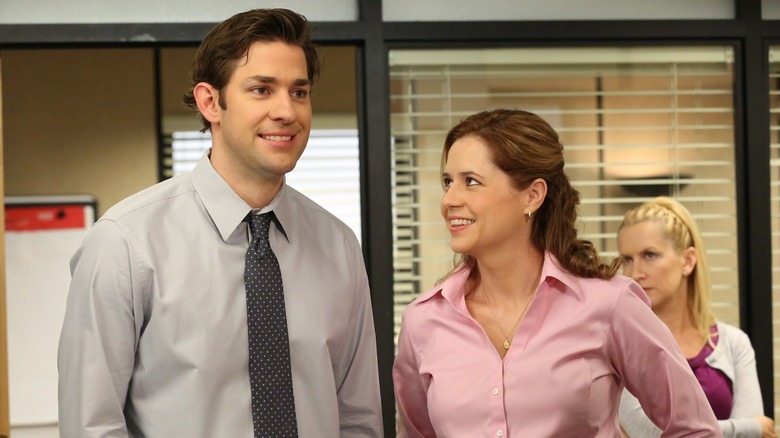 NBC
Many things changed on "The Office" over the years. From promotions to resignations, fans experienced it all over the course of nine seasons. New managers took over following the departure of Michael Scott (Steve Carrell) in Season 7, and the original cast welcomed new co-workers, like Erin Hannon (Ellie Kemper) and Gabe Lewis (Zach Woods). No matter the personnel changes, Jim Halpert (John Krasinski) and Pam Beesly's (Jenna Fischer) relationship was a constant storyline throughout the show's successful run, even when Pam and Jim each spent time away from Dunder Mifflin  to pursue different dreams.
And while some fans may get emotional thinking about Pam and Jim's office flirtations, or their wedding at Niagara Falls, others just can't seem to stand the couple, with some pointing out faults in Jim's behavior. In a 2022 interview on The Tonight Show with Jimmy Fallon, the host asked Krasinski about the various internet theories that Jim is actually a villain. Krasinski joked back, "Well, they're on to me because I played it as a supervillain."
While some fans may not be fond of Jim and Pam's relationship, co-star Angela Kinsey recently shared why she's still shipping the "Office" power couple.
Kinsey says that Jim and Pam's story is about growth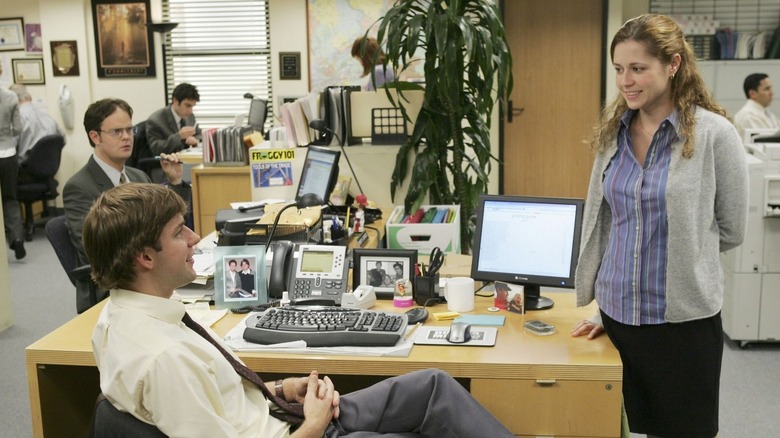 NBC
For nine seasons of "The Office," Angela Kinsey played the tough but lovable Angela Martin, the lead accountant at Dunder Mifflin's Scranton office. While Angela dates Andy Bernard (Ed Helms) and falls for Dwight Schrute (Rainn Wilson), Pam and Jim are trying to figure out if they're actually meant to be. The series begins with Pam engaged to Roy Anderson (David Denman) and Jim dating Katy (Amy Adams). Jim tells Pam that he loves her in Season 2 Episode 22, "Casino Night."
In a recent interview, Kinsey told Showbiz Cheat Sheet that Pam and Jim's story is really about a couple that grows together. "What I love about Pam and Jim is that when we meet them, they're both so young, you know? They're both at that job that they don't think is going to be their forever job," Kinsey said. She discussed both characters' arcs and the way they mature as their lives change throughout the series. "They needed to grow up, and they did," Kinsey said.
Sticking together wasn't always the plan for Jim and Pam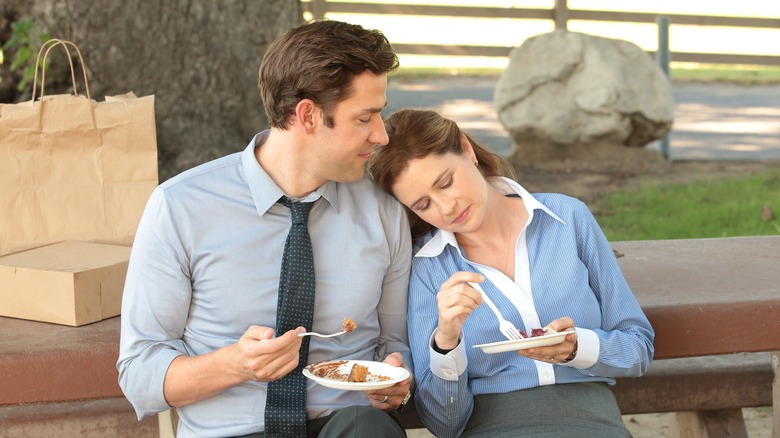 NBC
Even when the road is rocky, Jim and Pam find a way to stick together. But according to the cast and crew, that wasn't always the plan. In Andy Greene's book "The Office: The Untold Story of the Greatest Sitcom of the 2000s," John Krasinski said that he pushed for Jim and Pam to have a brief breakup (via Collider). In the same book, producer Brent Forrester said that the plan was for the couple to break up halfway through Season 9 and rekindle their relationship during the series finale. The show even introduced Brian (Chris Diamantopoulos), a documentary crew member who was supposed to have a crush on Pam. The intention was to briefly explore that relationship, but the introduction of Brian made fans angry, causing the crew to ditch the idea of a breakup.
While fans continue to debate if Pam and Jim were really the perfect couple, Angela Kinsey knows where she stands on the subject. As she told Showbiz Cheat Sheet, "I just always ship Jim and Pam. I'm glad they made it."