The Seven Kings Must Die Trailer Teases The Bloody Culmination Of Alfred's Dream For A Unified England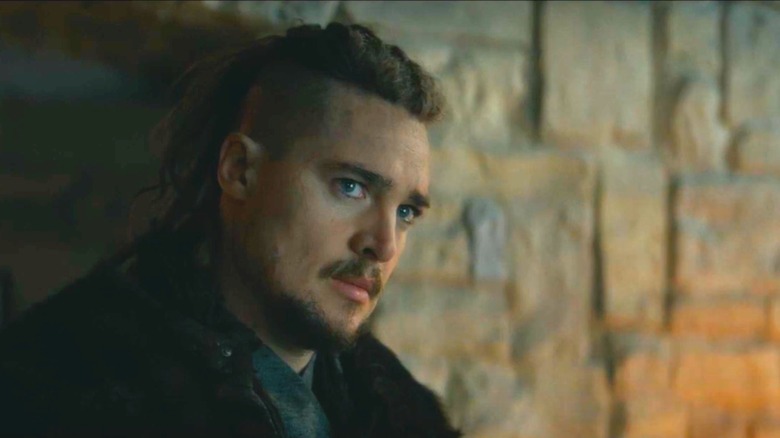 Netflix/YouTube
If you thought the five-season arc of "The Last Kingdom" was dark, prepare yourself for "Seven Kings Must Die."
A full-length movie based on the Netflix series — which originally aired on BBC for its first two seasons — is on its way, with Alexander Dreymon returning as Uhtred of Bebbanburg. Based on "The Saxon Stories" by Bernard Cornwell, the series and its first film spin-off focus on the bloody, violent origins of England, and the infighting between those who fought to rule the then-young nation.
Dreymon's Uhtred, the son of a Saxon lord, spends the majority of the books and series fighting for King Alfred (David Dawson), whose dream is to bring all English speaking people together as one united country — and though Uhtred doesn't always agree with the king, he goes to war for him time and time again to help him achieve just that. Here's where "Seven Kings Must Die" will take this story.
Seven Kings Must Die promises a bloody battle over England
"Seven Kings Must Die," meanwhile, picks up after the death of another king — King Edward, played in the series by Timothy Innes. Without Edward in the seat of power, the Saxon kingdom is in shambles, and it's not even safe to assume that Æthelstan (Harry Gilby) will take his father's crown. Meanwhile, Uhtred has a prophecy to contend with — specifically, that "seven kings will die" and then "all of Britain will unite."
With war brewing between those who want to see the country unified and those that don't, it's anybody's guess as to who will win (that is, unless you've been brushing up on your Anglo-Saxon history lately). In any case, you can catch "Seven Kings Must Die" streaming only on Netflix on April 14, 2023. If you need to catch up on "The Last Kingdom" or you haven't even started it yet, all five seasons are available to stream on Netflix now.