Breaking Bad's Charles Baker Worked Hard On The Piano Scene But Most Of It Got Cut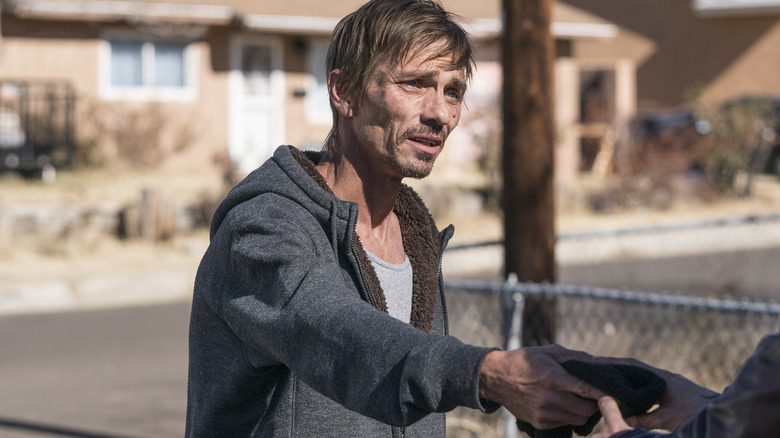 Ben Rothstein/Netflix
One of the greatest strengths of AMC's critically-acclaimed drama series "Breaking Bad" is the show's immense roster of compelling, complex side characters. While meth kingpins like Walter White (Bryan Cranston) and cartel heavyweights like Gustavo Fring (Giancarlo Esposito) were busy stealing the spotlight, the margins of each episode were populated by some of the most memorable (and often hilarious) side characters in television history, which helped flesh out the world of "Breaking Bad" and make the Albuquerque crime scene seem just that much more lively.
Indeed, what would the criminal lawyer and con man Saul Goodman (Bob Odenkirk) be without his lovable enforcer Huell Babineaux (Lavell Crawford), or his crass no-nonsense assistant Francesca Liddy (Tina Parker)? And what would low-level street dealer Jesse Pinkman (Aaron Paul) be without his two best friends, Badger (Matt Jones) and Skinny Pete (Charles Baker)? Perhaps the most impressive part of this enormous gallery of fun and interesting characters is that each one plays an important role in the story, particularly Badger and Skinny Pete, who help get Walter White's drug empire off the ground and eventually help him secure his family's future with some well-placed laser pointers.
Although these two fan-favorite characters made a significant impact on "Breaking Bad," both Badger and Skinny Pete did so with an extremely limited amount of screen time. So limited, in fact, that one of Skinny Pete's most iconic moments was cut short for time.
Baker never got to play the 'hard part' of the song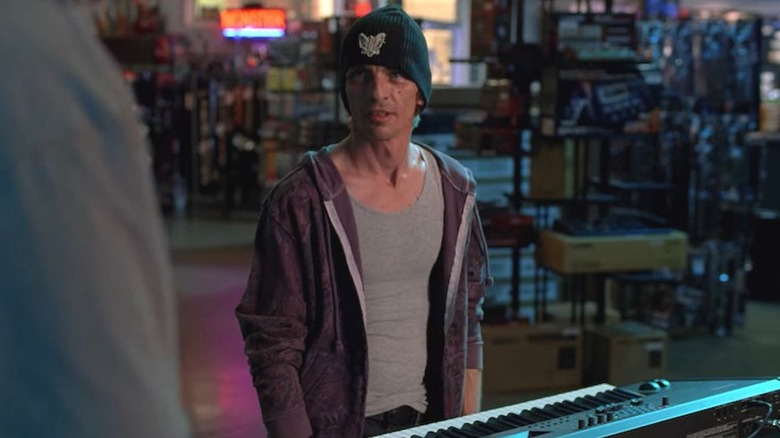 AMC
Despite running with a crew of crass, lowlife drug dealers, fan favorite Skinny Pete proved to be a much deeper character than the rest of his cohorts (particularly in his tear-jerking cameo during "El Camino"). This is especially evident in Season 5 Episode 3, when Badger, Skinny Pete, and Jesse visit a guitar shop, only for Skinny Pete to end up on a classical piano playing a beautiful piece of music nobody would've ever expected him to know.
During an interview with The Hollywood Reporter, actor Charles Baker revealed that he prepared religiously for this sequence and was somewhat disappointed at the small amount of music they used in the final cut. "I spent three hours a day working on that song ... I was playing it every day to try and make sure I could get that one hard part. Where the fingers overlap," explained Baker. "And so I learned how to play it, got it down, and showed up to the shoot ... and I started the song. And then they went, 'Cut,' and I'm like, 'I only made it through the first section.' 'That's all we need.' I'm like, 'Oh, I wish I would have started in a different place.'"
Knowing that Baker had prepared so thoroughly for this performance (and even mastered a tricky bit of finger movement) only for most of the song to be cut is certainly very frustrating, though Baker went on to explain that you can still hear the "hard part" on the scene's blooper reel. Though the scene remains a defining moment for Skinny Pete's character, it's still very impressive to learn that he was actually playing the "easy part" in that scene.