Impractical Jokers' Sal Couldn't Shower For Hours After The Cow Punishment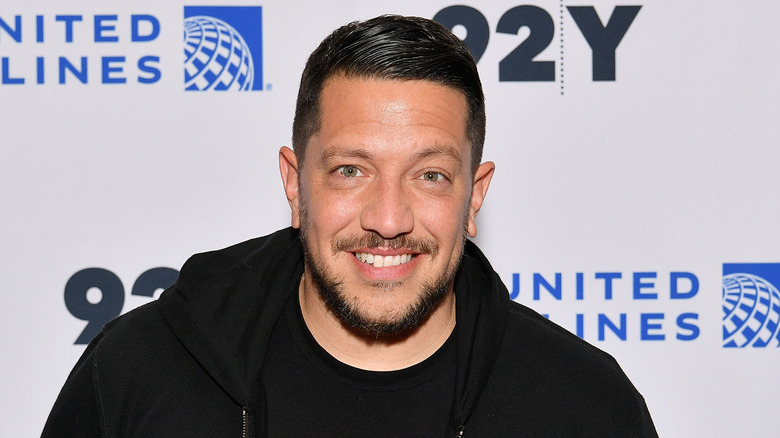 Dia Dipasupil/Getty Images
TruTV's "Impractical Jokers" is a series that forces its titular 'jokers' (co-hosts Sal Vulcano, James "Murr" Murray, Brian "Q" Quinn, and former host Joe Gatto) to participate in a series of embarrassing pranks and dares on the unsuspecting public. Although these dares serve as the show's bread and butter, the climax of each episode is the so-called "punishment," –- which is awarded to the joker who performed the worst throughout the rest of the episode.
These punishments take the cringe factor of the previous dares and crank it up to 11, putting the jokers into some of the most uncomfortable (and frequently degrading) situations you could possibly imagine. A few memorable examples include the punishment that saw Murr swatting cigarettes out of the hands of people smoking, one in which Q hosted an art class for children and then ruined all of their paintings, and the time Q had to pull the emergency line on a theme park ride until he was kicked off.
Although these punishments certainly left a lasting stench of shame on the jokers involved, one particularly nasty punishment left Sal (a notorious germaphobe) stinking for hours after he was forced to deliver a baby cow.
Sal felt disgusting for hours
The punishment in question saw Sal and the other jokers traveling to Wil-Roc farms to watch Sal deliver a baby cow — a pure nightmare for the self-proclaimed germaphobe, as just the stench of the farm itself had him sweating from the moment they arrived. Although Sal wore three pairs of shoulder-length plastic gloves while delivering this cow, he later discovered that the other jokers had poked holes in them to really get his arms dirty. On top of that, the calf ended up falling into his arms once it was out.
In a 2016 Web Chat for TruTv's YouTube channel, Sal revealed that he had to wait several hours before he could finally shower and resorted to using buckets of soap and water to clean himself directly after the incident. "We had to travel like hours and hours away from where we live, so after the cow punishment, they had buckets of soap and water for me, and they had these big, big family-sized jugs of antibacterial, and I doused myself in those," said Sal. "But I couldn't take a shower until I got home hours later." 
Sal went on to say that the soap and water might've been enough for the average person, but after the "cow juice" had seeped through his gloves, he felt like another shower was necessary. Even though the jokers did their best to keep Sal clean at the farm, his comments make it clear that it just wasn't enough to wipe out the memory of this punishment –- and that he didn't feel clean until he was able to shower several hours later.