Who Plays Trina On Blue Bloods?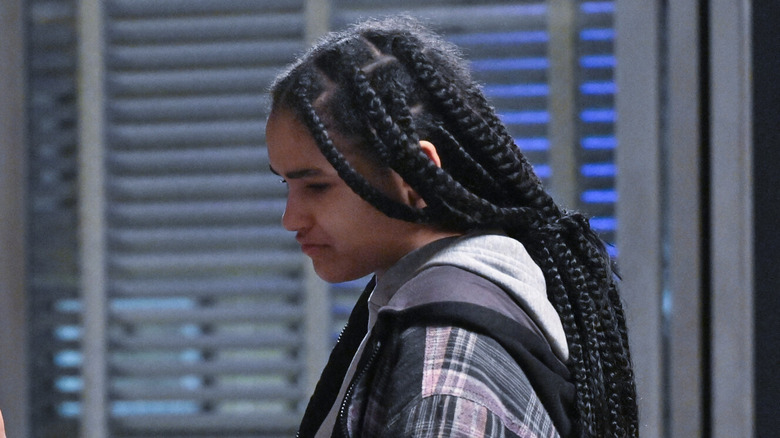 John Paul Filo/CBS
According to Deadline, "Blue Bloods" continues to garner millions of viewers each entry, and anyone who enjoyed Season 13, Episode 14 might be wondering who played Tina.
While it may seem like any other police procedural, showrunner Kevin Wade has made it clear the show takes all the necessary steps to stand out from the competition, resulting in several arguably engaging entries like "Collision Course," which starts things off with a bang. When Detective Danny Reagan (Donnie Wahlberg) and Maria Baez (Marisa Ramirez) are enjoying frosted donuts covered in M&Ms, they are hit by another car — only to discover that the girl driving isn't the owner of the vehicle and has a dead body in the trunk. The driver is Trina, a foster kid who ran away searching for her biological parents and ended up in New York after leaving Pittsburgh. Later, the investigators uncover from Trina that she and several other kids on the street work for a man named Jayden, who has them steal things and sell drugs. If they don't, he kills them, which is where the body in the trunk came from. After a considerable amount of teenage angst and bickering with the detectives, Trina decides to help the police take Jayden Wilson (T.L. Flint) down, and in return, they arrange a meeting with her birth parents.
Things seem to have worked out for the troubled teen in the end, and after the touching story came to a close, some were quite curious to know who portrayed Trina.
Trina is played by Sumaya Bouhbal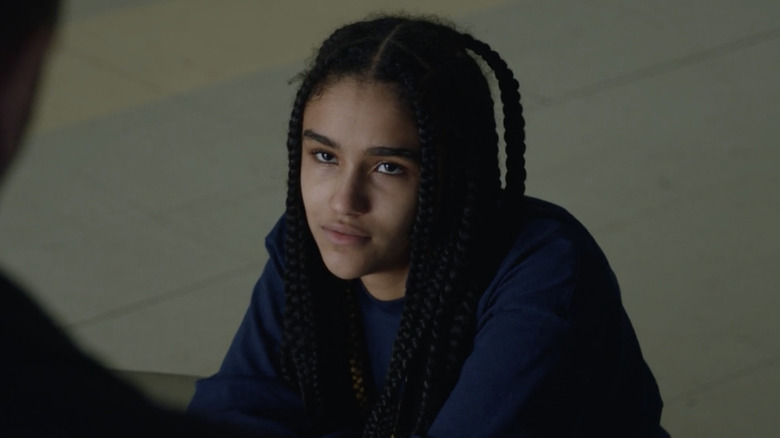 CBS
Sumaya Bouhbal is the actress that was chosen to take on the role of Trina in the "Collision Course" entry of "Blue Bloods." According to her website, she began her journey in the realm of performing arts in 2009. Bouhbal started cultivating her craft in stage plays and off-broadway productions, eventually leading her to star in the short film "Contender." And when it comes to her work on the small screen, "Blue Bloods" isn't her first time showing up in a big-name TV show — her other credits include appearances on heavy hitters like "Mozart in the Jungle," "Law & Order: Special Victims Unit," and "New Amsterdam."
While her early achievements and demonstrated passion for performing are both noteworthy, Bouhbal isn't just doing well when she's on stage or in front of the camera. Speaking to Vogue, the actress spoke of her role as the founder of Young Lordes Collective (YLC), an arts-focused activist group known for distributing food to families in need, spreading awareness about underrepresented communities, and raising money through various festivals and events to assist in these endeavors. The actress may be young, but she has wasted no time taking the right steps toward making a name for herself in the industry and using her passion for the arts to advocate for necessary change. It will most certainly be fascinating to see how things play out for this talented individual, and there is a good chance one day she might end up on the list of famous people fans forgot showed up on "Blue Bloods."