Keanu Reeves' List Of Favorite Films He's Made Includes A Forgotten Sci-Fi Gem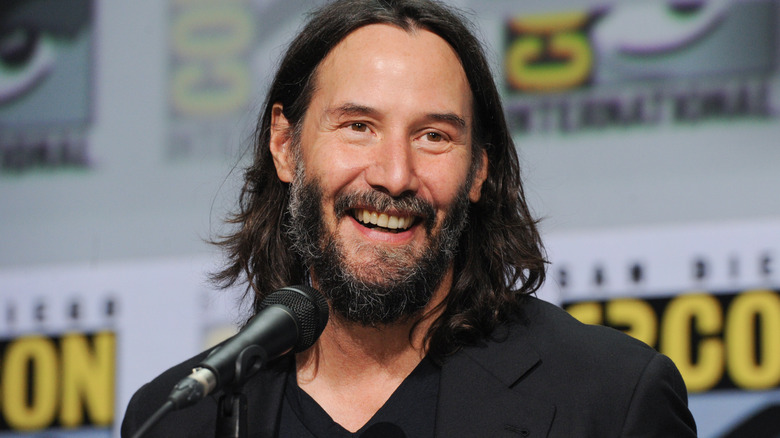 Albert L. Ortega/Getty Images
There aren't many working movie stars who have starred in more iconic films over the past 40 years than Keanu Reeves has. After cutting his teeth with a number of minor TV and commercial appearances, Reeves began to achieve breakout success in the late 1980s when he appeared in films like "River's Edge," "Bill & Ted's Excellent Adventure," "Dangerous Liaisons," and "Parenthood." His status as a bona fide movie star was then cemented in the 1990s, thanks largely to his roles in beloved action movies like "Point Break," "Speed," and "The Matrix."
Although his career has had some ups and downs over the years, Reeves has remained one of Hollywood's most recognizable and beloved mainstream actors for nearly four decades now. While he may be best known for his work in blockbuster franchises like the "Matrix" and "John Wick" films as well, Reeves hasn't been afraid to venture out of the action movie genre throughout his career. The actor has, in fact, starred in more than his fair share of straightforward and experimental dramas like "My Own Private Idaho," "Bram Stoker's Dracula," and "Thumbsucker."
It turns out that Reeves himself still holds some of his lesser-known films close to his heart, too, including one underrated, oft-forgotten sci-fi crime gem.
A Scanner Darkly is one of Keanu Reeves' favorite films he's ever starred in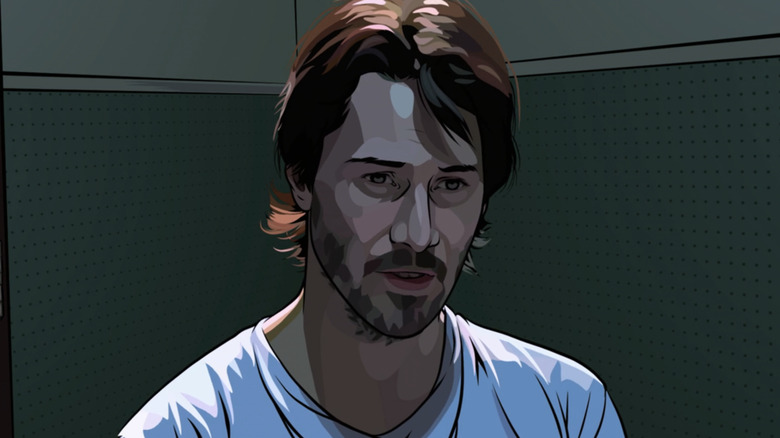 Warner Independent Pictures
In anticipation of the release of "John Wick: Chapter 4," Keanu Reeves participated in a Reddit AMA session where he answered online fan questions. During the Q&A, one fan asked Reeves to name his favorite film he's ever worked on. In response, Reeves wrote, "I've been very fortunate to work on a few films that have changed my life. I can't pick just one. But here are a few —'River's Edge,' 'Bill and Ted's Excellent Adventure,' 'Matrix' trilogy, 'The Devil's Advocate,' 'A Scanner Darkly,' 'My Own Private Idaho,' 'Point Break,' [and] 'John Wick.'"
Reeves' list, of course, features a handful of obvious titles, including the "Matrix" trilogy and "John Wick." However, those who are a little less familiar with Reeves' career will likely be surprised to see a few of his more obscure films on this list — specifically, 1986's "River's Edge" and 2006's "A Scanner Darkly." The former title is a Tim Hunter-directed crime film that follows a group of teenagers who are forced to deal with the revelation that one of their friends has killed his girlfriend.
"A Scanner Darkly," meanwhile, is an adult animated sci-fi drama directed by "Dazed and Confused" director Richard Linklater. Based on the 1977 novel of the same name by Philip K. Dick, the film takes place in a not-too-distant future and follows an undercover cop (Reeves) who becomes addicted to the very drug he was assigned to investigate. The trippy animated film received mostly positive reviews when it was released, but it currently ranks as one of the more underrated entries in both Reeves and Linklater's filmographies, which is partly why it's so surprising to see it on the former's list of favorite films he's ever made.